China Labour Bulletin is quoted in the following articles. Copyright remains with the original publishers.
Latest Foxconn suicide raises concern over factory life in China
Hon Hai Turns to Counselors, Monks as Employee Suicides Mount
Employee dies at suicide-plagued company in China

Latest Foxconn suicide raises concern over factory life in China

Overcrowding and long hours adding to workplace stress, warns expert
Tania Branigan
17 May 2010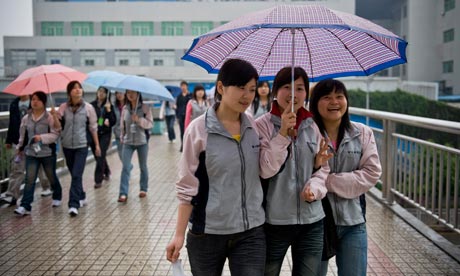 A spate of suicides by employees of an electronics giant in China has fuelled concern about the pressures of factory life and the emotional vulnerability of young employees.
Taiwanese-owned Foxconn last week saw the seventh such death this year, despite hiring Buddhist monks and 100 personal counsellors in an attempt to stem the problem. The company is one of the world's largest contract electronics manufacturers and is thought to supply Apple, Dell and Hewlett-Packard among others.
Police confirmed at the weekend that a young man with knife wounds had fallen from a building at one of the firm's plants in Shenzhen, southern China, on Friday.
Another employee died after falling from a building earlier last week, but police have yet to confirm the cause of her death.
Foxconn has expressed sorrow over the seven deaths, all involving workers aged between 18 and 24, and two suicide attempts. It blamed personal issues such as romantic troubles, family problems and loneliness, but has called in experts for advice on preventing further deaths.
The company has set up a helpline for depressed workers, established rooms with punchbags to help employees vent frustrations and offered 200 yuan (£20) bonuses to staff who warn managers when colleagues have emotional problems. It has even called in Buddhist monks to conduct religious rites to get rid of misfortune, hoping to dispel staff anxieties.
It said the measures had allowed it to prevent 20 "possible" suicides in the past three weeks, although it has not explained whether that figure refers to actual or threatened attempts, or simply to the identification of potentially vulnerable workers.
Suicide clusters, often involving young people, have occurred in many countries. Experts say that suicidal behaviour can increase among people exposed to suicides.
The firm also has a huge number of employees, with an estimated 800,000 workers, more than 300,000 of them at a single plant in Shenzhen.
The World Health Organisation quotes China's suicide rate as 14 per 100,000 people in 1999 and some believe that an underestimate. A study published in the Lancet in 2002 put the rate at 23 per 100,000 people; in comparison, the UK saw 17.7 suicides per 100,000 men in 2008 and 5.4 per 100,000 women.
A Foxconn spokesman has said the company had usually seen only one or two suicides a year. Most of this year's deaths also seem to have involved the same method.
Another spokesman, Arthur Huang, wrote in an email: "Foxconn has provided workers with a far better environment and benefits [than] the manufacturing industry as a whole, yet has long striven to be a leader in corporate social responsibility and continuously pushes for [improvement]."
Geoff Crothall, of Hong Kong-based campaign group China Labour Bulletin, said Foxconn's new measures were an attempt to ameliorate the problem but did not go to the root of the issue.
While stressing that the causes of each death would be complex, he added: "These young workers have to work 10 or 11 hours a day and are under extreme pressure to produce products under very intensive conditions. Once they get off production line they live in cramped dormitories, often with strangers. They're away from their families and other support networks. It can be difficult for them. This is not just Foxconn; this is the way the vast majority of factories operate across China."
Foxconn's rival Huawei, also in Shenzhen, saw several suicides between 2006 and 2008. Six employees reportedly killed themselves or died in uncertain circumstances.
An opinion piece in the English language Global Times newspaper argued that people should pay more attention to the "fiercely competitive atmosphere, the pressure [migrant workers] are under and the effects it has on them."
Others argue that younger people are less used to dealing with hardship than their parents' generation and lack the resilience to cope with problems.
Last year Foxconn worker Sun Danyong took his life after his house was raided during an investigation into the disappearance of an iPhone prototype.
Hon Hai Turns to Counselors, Monks as Employee Suicides Mount
May 17 (Bloomberg) -- Hon Hai Group, the Taipei-based maker of Apple Inc. iPhones and Hewlett-Packard Co. computers, said it's recruiting mental-health professionals and building leisure facilities in its Chinese factories after at least seven employee suicides this year.
The company has deployed 100 counselors and its health division plans to work more closely with local governments and academic institutions to support its 800,000 workers in China, Edmund Ding, a spokesman at the world's largest contract manufacturer of electronics, also known as Foxconn Technology Group, said by phone yesterday. He declined to comment on why workers may be taking their own lives.
The measures, which include the establishment of an "emotional support hotline" and prayers from Buddhist monks, have prevented more than 30 suicide attempts, according to the company. The deaths underscore the need to improve the quality of life for Chinese factory workers, say groups including China Labor Watch and China Labour Bulletin.
"It's not just related to Foxconn. There's a lot of pressure on young workers in factories all over China," said Geoffrey Crothall, communications director at Hong Kong-based China Labour Bulletin. "Very few people pay attention to other factories, Foxconn is always in the spotlight, largely because of its relationship to Apple."
A worker died from injuries after falling from a company dormitory on May 14, three days after a 24-year-old worker jumped to her death from an apartment block in Shenzhen, according to Hon Hai statements last week.
Rising Deaths
Excluding the May 14 death, whose cause has yet to be determined, seven Hon Hai employees have killed themselves this year and two workers have attempted suicide, Ding said.
On July 16 last year, 25-year-old Sun Tanyong jumped off a Shenzhen dormitory after one of the 16 iPhone prototypes he was assigned to mail went missing. Apple said at the time that the company was "saddened by the tragic loss."
"Recently, there's been a series of unfortunate events at Foxconn," the Hon Hai said in a May 12 statement. "Although the events aren't closely connected to the operations and management of Foxconn, we hope to improve our management and increase mental-health counseling."
Hon Hai was founded in 1974 by billionaire Terry Gou, Taiwan's richest man, according to Forbes magazine, who maintains control over the company and its affiliates. Taiwan's biggest company by revenue, whose customers include Dell Inc. and Sony Corp., operates factories throughout China as well as Central America, Vietnam and Eastern Europe.
Employee dies at suicide-plagued company in China
BEIJING – A young man died after falling from a Foxconn Technology building in southern China, the firm's ninth employee to be killed or injured in such circumstances since January, state media reported Saturday.
The 21-year-old man, surnamed Liang and employed by Foxconn, died Friday after falling from the seventh floor of a company dormitory in Shenzhen, a Foxconn spokesman told Xinhua news agency.
No spokesman for Foxconn was available to AFP for comment Saturday.
Police were trying to confirm whether the death was suicide after discovering a bloody knife and stab wounds to Liang's body, Xinhua reported.
The death brings to seven the number of Foxconn workers suspected to have committed suicide since January in Shenzhen, a special economic zone bordering Hong Kong, with two seriously injured in suspected suicide attempts.
Foxconn, whose headquarters are in Taiwan and which is also known as Hon Hai Precision Industry, is the world's largest maker of computer components, which are used in Apple's iPhone and in Dell and Hewlett-Packard computers.
According to the China Labour Bulletin (CLB), a workers' rights group based in Hong Kong, Foxconn employs more than 300,000 workers in China.
CLB said in April that a spate of apparent suicides among Foxconn workers highlighted the pressure faced by young workers in China, who must labor for long hours far away from their families.
Reported cases of violence in dormitories provided by companies for their workers were also "not uncommon," according CLB.
In July, a Foxconn worker committed suicide when the company held an inquiry into the disappearance of an iPhone, for which the employee had been considered responsible.