Positive Covid-19 cases at the world's largest iPhone plant in China drove management to lock 300,000 workers down under unsafe conditions, and thousands of them fled on foot. The crisis might have been averted by heeding workers' calls, which is the job of a real trade union.
More than a month has passed since the first Covid-19 cases hit Foxconn's iPhone plant in Zhengzhou, Henan province, prompting management to place workers under lockdown while maintaining production in a closed-loop system. Workers were required to take daily PCR tests and were prevented from leaving the factory campus.
Precarious living and working conditions for the nearly 300,000 workers at the Zhengzhou facility, the world's largest iPhone production base, drove thousands to flee the plant on foot. The unfolding crisis has been a disaster for the Apple supplier in terms of both public relations and production, exposing the poor treatment of workers and jeopardising supply ahead of the gift-giving holidays.
But the crisis might have been averted or mitigated had the union intervened early to represent workers who voiced strong concerns that production was being put ahead of work safety, and had the government balanced the rights of workers with the priorities of pandemic prevention.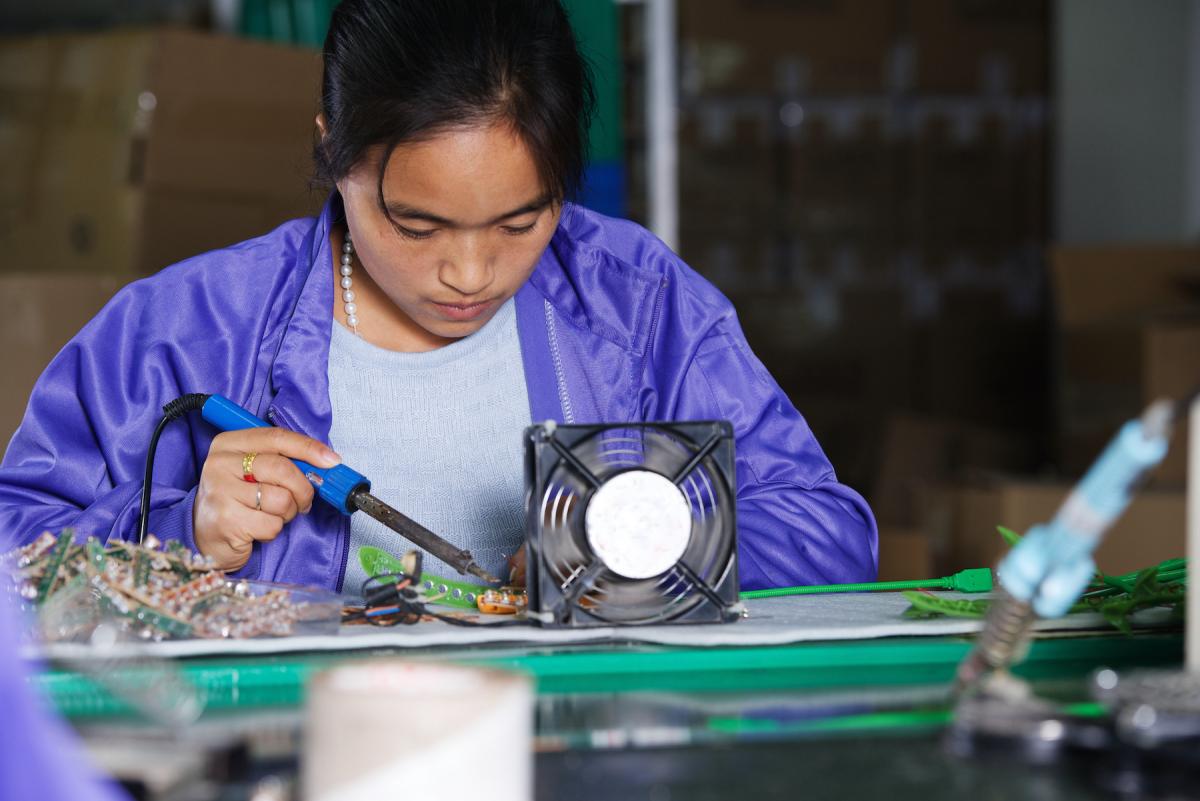 Photograph: ArtWell / Shutterstock.com
Workers escape the closed-loop production system
Workers demanded action long before the company or the government were willing to move. One worker in an online video, which has since been deleted, described the precarity of the closed-loop system and lack of information leading to rampant rumours and rising fears: 
I thought coming here would be a new start, but I didn't expect it to be like jumping into a big fire pit. Now, I'm here amid the fire and water. No matter how we struggle, it's to no avail.
Though Foxconn's production troubles began in mid-October, viral videos of worker unrest began circulating on social media later in the month. After workers spoke out about unbearable working conditions, mismanagement of virus control, and fears about their basic wellbeing, Foxconn let workers decide whether they wanted to leave.
China's "Zero Covid" restrictions on movement and the company's sudden decision led to workers to flee the facility on foot. This mass exodus of thousands of migrant workers was unlike anything seen since the city of Beijing ejected thousands dubbed the "low end population" from the city in 2017.
Workers who elected to stay at the Foxconn facility have been persuaded by hefty bonuses from Foxconn, while workers who returned home have risked not finding work after leaving.
Who is responsible for risking workers' lives and health? 
In mid-October, Foxconn reassured the world that iPhone production was normal, despite the detection of Covid-19 cases in the factory and the resulting lockdown. The company has not released how many positive virus cases have been detected, but it refuted claims that 20,000 workers had contracted the virus. Foxconn responded to the incident by vowing to improve working conditions, allowing workers to leave the factory, and providing some forms of transportation.
The official government position puts the blame on workers, specifically a Covid-19 positive delivery truck driver that entered Henan's provincial capital on 4 Oct. In response to the rising cases in Zhengzhou, the city has gone into lockdown, which also likely affects production targets as deliveries may be spotty. 
And Apple has since confirmed that iPhone shipments may be delayed and blames China's Zero Covid policy and situation in Zhengzhou specifically. 
Workers identified a host of issues at the factory level. In the now-deleted account of one Foxconn worker, he says he was new to the Zhengzhou plant and worked in the research and development section. He alleges that not only did management do too little, too late, but also that the company was also conducting a coverup that, with suspect testing and health code management, put production ahead of work safety:
We know that production always comes first in Foxconn's eyes, but we really want to live a normal life. We don't want to be worried and cautious all day long. We just want to eat a normal meal, take off our masks and sleep, take a look at the outside world and restore the beauty of life.
Foxconn's enterprise unions and the ACFTU
Worker organizing is one solution to addressing worker grievances early and avoiding a labour crisis. One blogger said workers couldn't be blamed for leaving the plant en masse, as the incident showed that there was no trust between management and workers. 
The most important point is that workers have no right to know, and on top of that, they have no organization that can really help them defend their rights… Even if there is [a union], I think it's just a decoration, and it doesn't play its due role.
In China, all worker organizations must be affiliated with the All-China Federation of Trade Unions (ACFTU). Foxconn does, in fact, have an enterprise union affiliated with the ACFTU. 
As early as 2006, a Foxconn plant in Shenzhen was ordered by the local government to set up an enterprise union after a series of media exposés of deplorable conditions at the factory, which at that time manufactured iPods. The Zhengzhou plant, too, has had more than a decade to build bridges between workers and management since its enterprise union was formed in 2011. 
China Labour Bulletin conducted our own investigation into the ACFTU's response to the Zhengzhou Foxconn crisis. We called both the Zhengzhou municipal union and the municipal union of the nearby Xinzheng, where the Foxconn factory is located, to find out about the ACFTU's role and any response. 
The union officials admitted that they had not assisted workers who fled the factory and had been mainly assisting the government. 
The Xinzheng union official who we reached was on pandemic-prevention duty ordered by the local authorities as we spoke with her. We asked whether the union has negotiated on behalf of workers with the company management, and she responded:  
At the moment, I don't have a full understanding, and I'm in the community doing pandemic prevention. Right now, I can't answer your question, because I'm not that familiar. When the epidemic broke out here, the government has given us our role to fight the virus. 
The Zhengzhou municipal union official we reached was less responsive and even denied that union officials were involved in pandemic prevention work. 
CLB Executive Director Han Dongfang urged the union to step up and represent workers' needs and defend their rights. When union officials are mobilised to be "on the front lines" of the pandemic, they abdicate their role to frontline workers: 
In any company, the union's job is to represent the rights of workers. That's "being on the front lines." Instead, the union is running around checking health codes, and managing the flow of equipment and supplies. It's as if the union is prepared to cry all day long, without really knowing who exactly has died. This is the key, existential question for China's union today. 
Further CLB reading: