A group of Meituan food delivery workers in the northern city of Weinan staged a symbolic protest last month, reportedly over their onerous working conditions and the fact that, even though they are not technically Meituan employees, they still have to wear the company uniform and essentially act as brand ambassadors.
In an act of defiance, one worker, surrounded by colleagues outside the Meituan depot in Weinan, lowered his uniform into a takeout box bearing the company logo and set it on fire, sending smoke billowing into the air.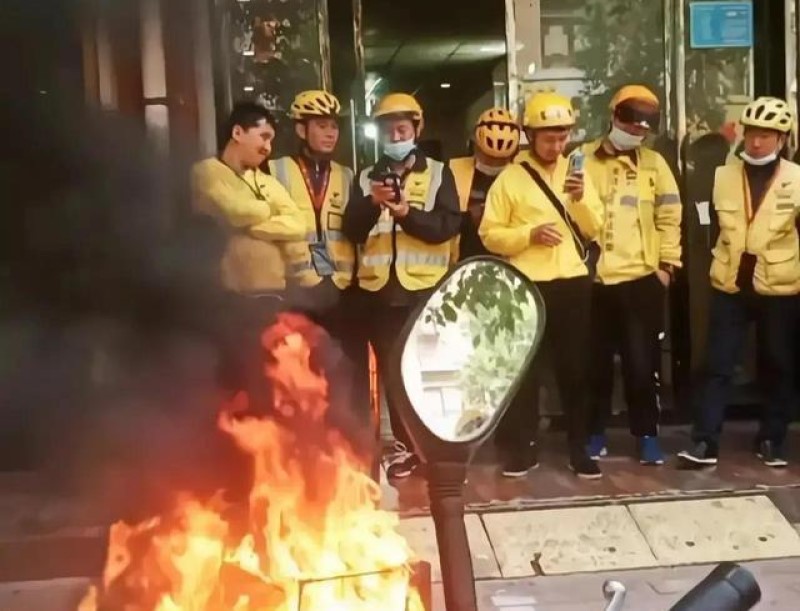 Photograph from Chinese social media
In a 21 May social media post on the incident, which garnered more than a thousand largely supportive comments, workers complained that they only receive a meagre wage from Meituan and have to provide their own vehicle; buy their own insurance, uniforms and equipment; and bear the brunt of bad customer reviews all on their own.
The social media post said workers are given two days off each month, but they still need to complete 15 orders during that period, otherwise Meituan will deduct from their salary. "Customer services refuse to help with any of our problems, but they are very quick to hand out fines to us for late deliveries," it quoted workers as saying.
A separate report claimed that the worker burnt his uniform after being involved in a traffic accident and having to bear all the medical and repair costs himself with no assistance from Meituan.
Regardless of the worker's exact motivations, the protest is a powerful gesture that highlights the fundamental problem at the root of drivers' complaints: the lack of a formal labour relationship with their employer.
Food delivery worker protests are not as common as they were two or three years ago. Because of the recent influx of new workers, many laid off from factories and other struggling industries, competition is increasing among riders. However, occasional protests still occur. In early March, for example, Meituan drivers staged strikes over cuts in delivery rates in at least three cities: the southern metropolis of Shenzhen, Linyi in Shandong, and Tongxiang in Zhejiang.
Meanwhile, food delivery worker and activist, Chen Guojiang, remains in detention, charged with "picking quarrels and provoking trouble" (寻衅滋事) after being arrested in late February. Chen, better known by his online handle, "Leader of the Drivers' Alliance" (外送骑士联盟盟主), posted videos that called out Meituan and its major competitor, Ele.me, for oppressing workers and violating laws and regulations by fining drivers for late deliveries. He also pointed the finger at government departments for passing the buck on regulating the gig economy.