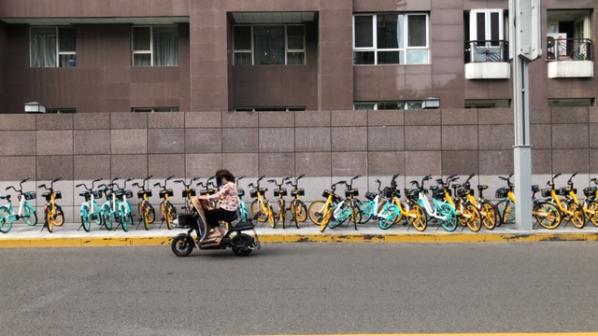 China's biggest food delivery app, Meituan Dianping, announced a major rebound in sales last month. However, neither the company's drivers nor the restaurants that supply customers are cheering. 
The economic fallout from the Covid-19 pandemic has led to a massive influx of laid-off workers into the food delivery industry, causing established drivers to suffer significantly fewer orders and lower delivery rates.
By 16 May, the long-suffering Meituan drivers in the central city of Sanmenxia had had enough and went out on strike. Their specific complaints were directed at the new Meituan franchise holder in the city who had taken over the business and brought in 100 new drivers, drastically reducing the amount of work available to each driver.
In the past, drivers could expect to handle around 17 lunchtime orders each day, but by mid-May that number had been cut to just five or six orders. Moreover, drivers said, their income per order had fallen from five yuan to four yuan, and the new franchise holder was demanding they sign a new contract with no wage guarantees.
As well as squeezing its workers, the franchise holder also raised its commission for merchants in the catering industry from 15 percent to 23 percent. If these restaurants did not agree to the new rate and refused to sign a contract, the franchise holder simply raised the minimum purchase rate for each order from ten yuan to 50 yuan, meaning the business could no longer accept small individual orders.
The Meituan drivers demanded that any new employment contract with the franchise holder should clearly state salary and benefits for employees, and that the company should make fair arrangements for the handling of irregular and problematic orders. The merchants, meanwhile, issued a complaint to the local bureau of industry and commerce asking it to investigate the franchise holder's alleged monopolistic practices.
Of course, it is not just Sanmenxia that has seen an influx of new drivers since the onset of the pandemic. Some reports claim that more than half a million new workers have joined the industry already this year, a figure that is difficult to verify. However, Meituan itself reported that it had hired 336,000 new delivery workers from 20 January to 18 March.
In anecdotal evidence, Sixth Tone quoted a worker in Shanghai as saying, "a lot of factories have dismissed all their workers; they've all come running to delivery, so there are fewer orders for us now. My salary is half what it used to be."
The South China Morning Post meanwhile reported that even some aspiring actors at China's Hengdian studio, where filming has been suspended during the pandemic, have joined the ranks of delivery workers just to get by.
The food delivery industry is relatively easy to get into and offers flexible working arrangements, but new drivers soon discover the drawbacks: intense pressure at peak hours, penalties for late delivery and bad customer reviews, traffic accidents and police fines. Many new drivers do not know the tricks of the trade and often spend too long on deliveries or get lost in unfamiliar neighbourhoods, all of which cut into their income.
The All-China Federation of Trade Unions claims that food delivery workers are one of its top priorities. So far, however, there is little evidence that drivers have benefited from the union's concern. In fact, pay and working conditions only seem to get worse.
For more on this topic, please see: