The president of the newly-formed Amazon Labor Union (ALU) has called on all workers in the U.S. and around the world to start organizing at their own workplaces by giving their co-workers the hope, comfort and community that their employers can never provide. 
"To build a union, all it takes is people coming together," said ALU President Christopher Smalls in an extensive Jacobin video interview with his fellow Amazon worker organizers on Monday. The ALU was independently established at Amazon's JFK8 warehouse in Staten Island, New York, on 2 April. 
The ALU's strategy of relative independence from established union structures in the U.S. contributed to its success. Smalls and his fellow organizers decided to innovate after observing other Amazon unionisation campaigns such as at the facility in Bessemer, Alabama, which was run by the Retail, Wholesale and Department Store Union (RWDSU), a national union that is over 80 years old and represents over 60,000 workers in the U.S.
"We went down to Alabama last year, when they had their first campaign, and we saw some things that we thought that we could do better, independently, so that's what we decided to do. We decided to come back home to Staten Island and start unionising JFK8," Smalls told a crowd of reporters earlier this month, on the day the union election was won.
In Bessemer, the RWDSU votes have twice failed to pass, first in the spring of 2021, and then after a new vote held last month. That second vote is being contested by the union on the basis of the slim vote margin.
In the wake of the first failed vote at Bessemer, CLB's Executive Director Han Dongfang had these words to say based on decades of experience organizing in China and more recently in India: "Our experience has taught us that it may take a long time for workers to embrace their own agency, but once they do, successful organizing and unionization will follow."
Even though they took an independent organizing strategy, the new ALU leadership has maintained solidarity with U.S. labour leaders following their victory. Smalls was in the U.S. capital of Washington, D.C., last week to meet with Teamsters president Sean O'Brien. Teamsters was founded in 1903 and represents over 1.3 million workers in the U.S. and Canada. This meeting was part of the broader Strategic Organizing Center coalition of labour unions that includes two other major unions, Service Employees International Union (SEIU) and United Farm Workers (UFW). While in Washington, Smalls also met with Sara Nelson, President of the Association of Flight Attendants, an affiliate of AFL-CIO, the U.S.'s largest trade union federation.
Amazon workers have faced stiff opposition from the corporation, which is one of the top five tech companies in the U.S. In 2021 alone, the company spent U.S. $4.3 million on a union busting campaign at its warehouses, requiring workers to attend company-led, anti-union meetings. Amazon also mailed anti-union propaganda to employees' homes and posted union busting information in bathrooms. The company's net income in 2021 was U.S. $33.36 billion.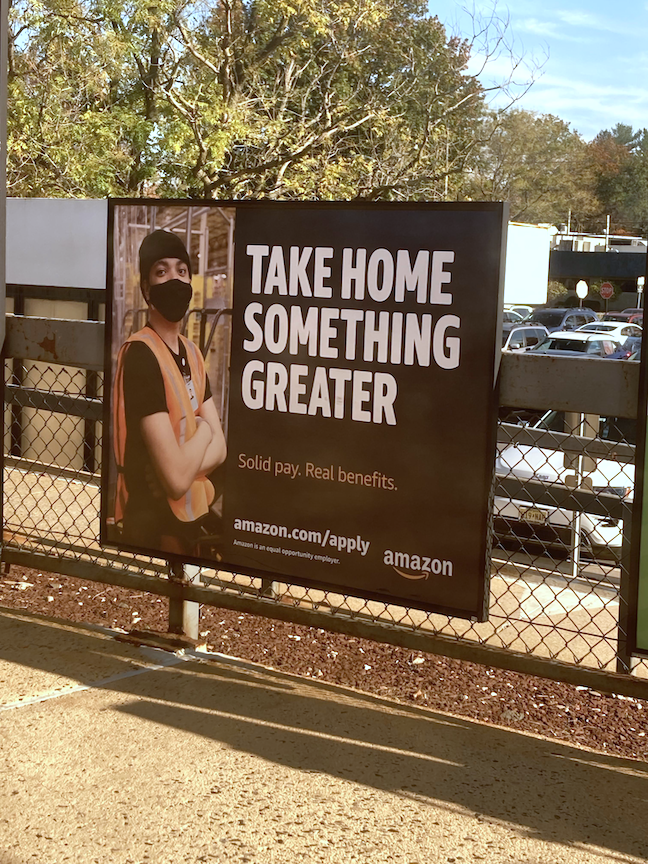 A job ad for Amazon touts good pay and benefits, conflicting with the experience of workers at Amazon's JFK8 warehouse. Photograph: Caitlin Schultz
Despite all of Amazon's anti-union efforts, the organizers at JFK8 successfully filed for a union election with the National Labor Relations Board (NLRB) in October last year after achieving sufficient worker support. The vote this month to establish the ALU at JFK8 sets the stage for an upcoming Amazon union election on 25 April at another Staten Island facility, LDJ5. Results of that vote are expected by May 2.
Smalls said efforts to form the ALU proved that unions could be organized in spite of historic challenges, from the global Covid-19 pandemic, to low rates of unionisation in the U.S., to the enormous power of tech giants like Amazon.
"Who makes unions in 2022? I know it's different, but anybody in America, anybody in the world, can do it," he said. 
In Monday's interview, Smalls and other organizers explained that long hours, low pay, lack of job security and other grievances fuelled worker frustration at the JFK8 facility, which employs as many as 8,000 workers. 
Worker organizers built membership by hosting barbecues, potlucks, bonfires and other events that attracted large numbers of Amazon employees. Smalls said the key to organizing was "doing things your employer can't do," which included not only providing food, but also helping workers struggling with bill payments or housing problems through the union organizing fund.
Angelina Maldonado, a union organizer also at Monday's interview, said that "food is the way to the heart" of workers, and that being considerate of the different cultures at the workplace was key. 
Maldonado said worker organizers began "actually taking into consideration that we all came from different places." ALU organizers served a variety of foods reflecting the backgrounds of the organizers and their fellow workers, from African fried rice to Mexican empanadas.
Smalls was fired by the company in late March of 2020, after staging a walkout of colleagues protesting Amazon's inadequate response to the Covid-19 pandemic. Workers were dissatisfied with inadequate sanitary and safety measures at their warehouse. Smalls then became a full-time organizer, and, with the help of friends still working at Amazon, began a two-year campaign to form an independent, worker-led union at the company.
Smalls emphasised that workers everywhere should stay and organize in the face of workplace problems, rather than give up and leave. This is especially important in high-turnover industries and at companies like Amazon. "If you quit your job, you jump from one fire to the next fire, and nothing gets changed," he explained. 
The ALU victory has contributed to a rising wave of pro-union political sentiment in the U.S., built in large part by worker-led campaigns.
A majority of U.S. citizens, 77 percent, support the right of employees to collectively bargain with their employer, according to a poll conducted by Politico and Morning Consult in February of this year. Even U.S. President Joe Biden quipped, "Amazon, here we come" in an address to a conference of trade unionists last Wednesday, in an apparent nod to the ALU victory and ongoing Amazon worker organizing efforts.
In CLB's experience working in more restrictive environments, often without the legal right to independently organize and other systemic barriers, worker-led initiatives are still possible and can be successful. Global solidarity and recognising common challenges and solutions are key. 
The ALU victory serves as a shining example to workers everywhere that worker-tailored strategies, innovative organizing techniques, and solidarity can succeed and are all the more important when facing challenges such as the global pandemic and the immense power and capital of companies like Amazon. 
Smalls, in his closing words to workers around the world on Monday, encouraged those in all industries and all countries to organize at their workplaces. "The pandemic, in 2020, brought me 20-20 vision of what was wrong with the country. Now is the time for the revolution. Power to all the people," he said.