The powerful tornadoes that swept through the Pearl River Delta this month killed at least six people and injured more than two hundred others. The majority of the casualties were workers employed at the hundreds of workshops and factories in the delta towns of Shunde and Panyu. Thankfully, many of the factories were closed or only partially operational due to the long National Day holiday: If they had been open, the death toll would almost certainly have been much higher.
An investigation by China Labour Bulletin following the disaster has shown that the factories in the tornadoes' path were poorly constructed, there were no emergency evacuation plans in place, and many workers did not even have medical or work-related injury insurance to cover their medical costs.
The tornado that hit Shunde on 4 October left a trail of destruction up to 200 metres wide as it zigzagged its way along a 20 kilometre, north-westerly path between the villages of Longdu and Xiaoyong. See interactive Google Map below.
Some two weeks later, piles of rubble and the skeletal remains of a metal-working factory still clearly marked the tornado's path through the Longyan industrial district in the south of Shunde.  See photo below. Workers clearing the site said that several employees had been injured when the factory collapsed and that some of them still remained in hospital.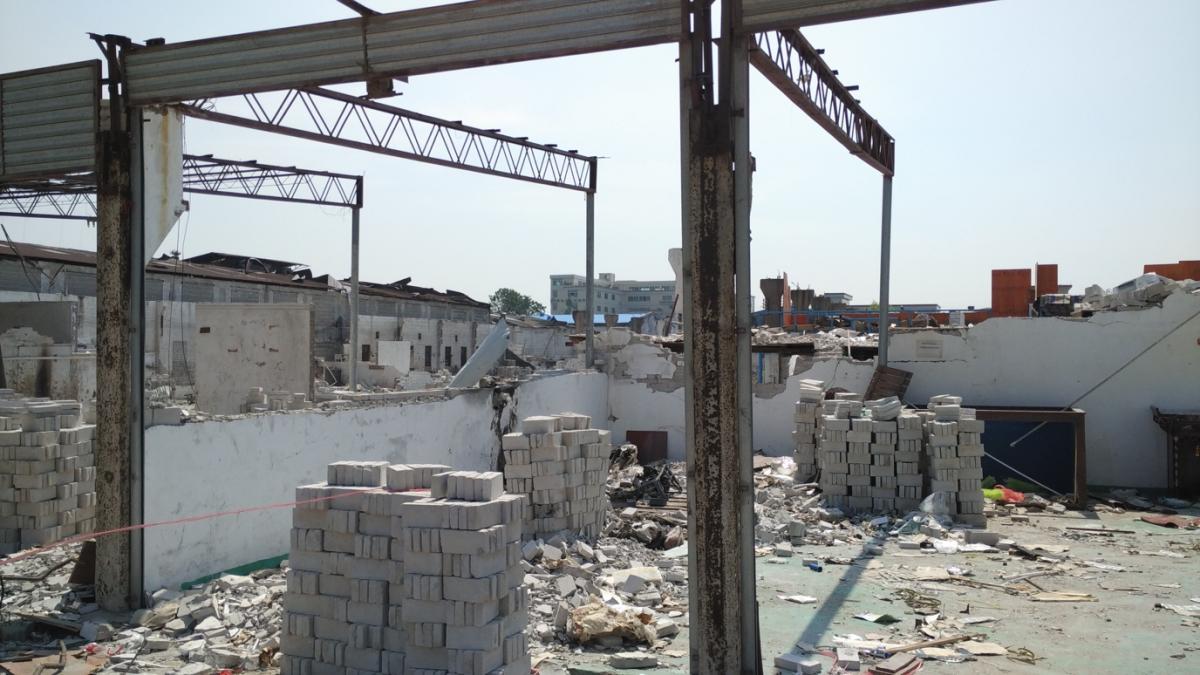 The district is honeycombed with small-scale workshops along with a few slightly larger factories around the size of a football pitch, all between one and three stories high. The buildings are all of a similar shoddy construction – sheet metal roofs perched upon thin steel frames, narrow concrete pillars surrounded by brick walls covered in a thin coat of plaster.
Several factories and warehouses completely collapsed in the storm, others had their roofs blown off or windows smashed by falling trees and flying debris. In addition, the electricity supply in the district was cut off for at least three days preventing other factories from operating.
The managers at a factory producing cigarette lighter parts said they expected production to be delayed for several more weeks because the workshop and warehouse roofs had been blown off and the lighting and electrical systems needed major repairs. Employees had been put on unpaid leave until further notice. Factory workers in the district reportedly earned between 2,000 yuan and 3,000 per month.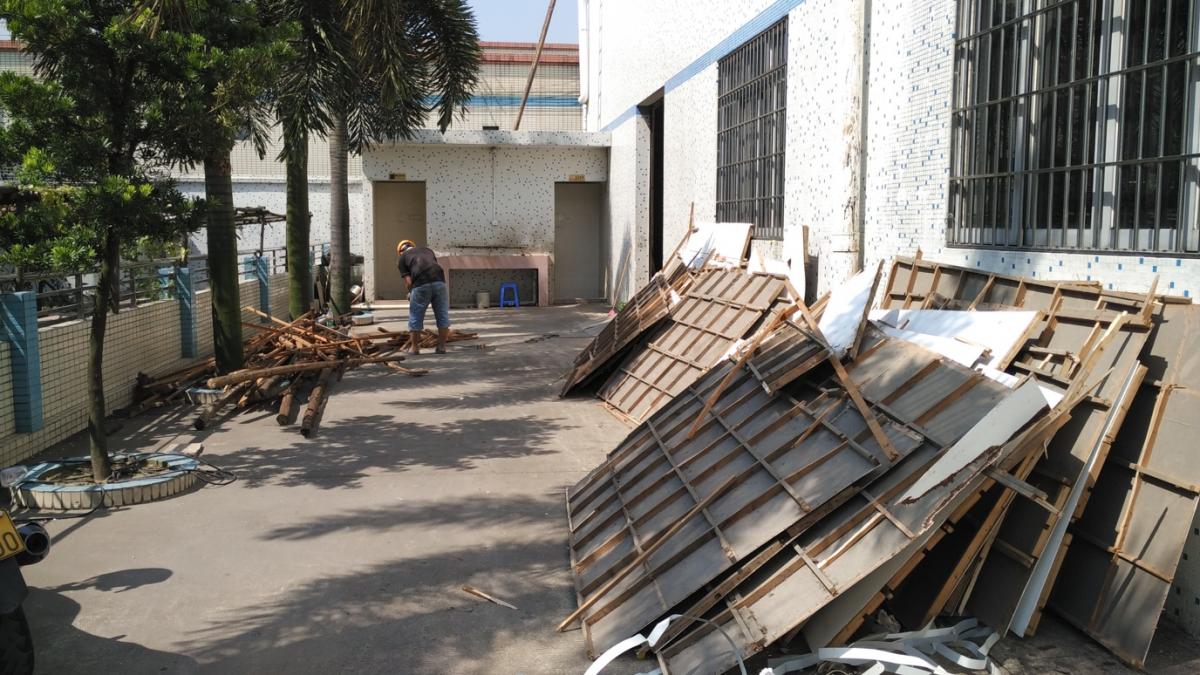 The remains of the Huawei Metals factory in Longyan industrial district
A few kilometres further north, debris from some of the 60 factories damaged in the Shilong industrial district was piled on the roadside awaiting collection and massive warehouses were left gutted. Construction workers clearing the debris said that some of the factories would rebuild while others planned to relocate.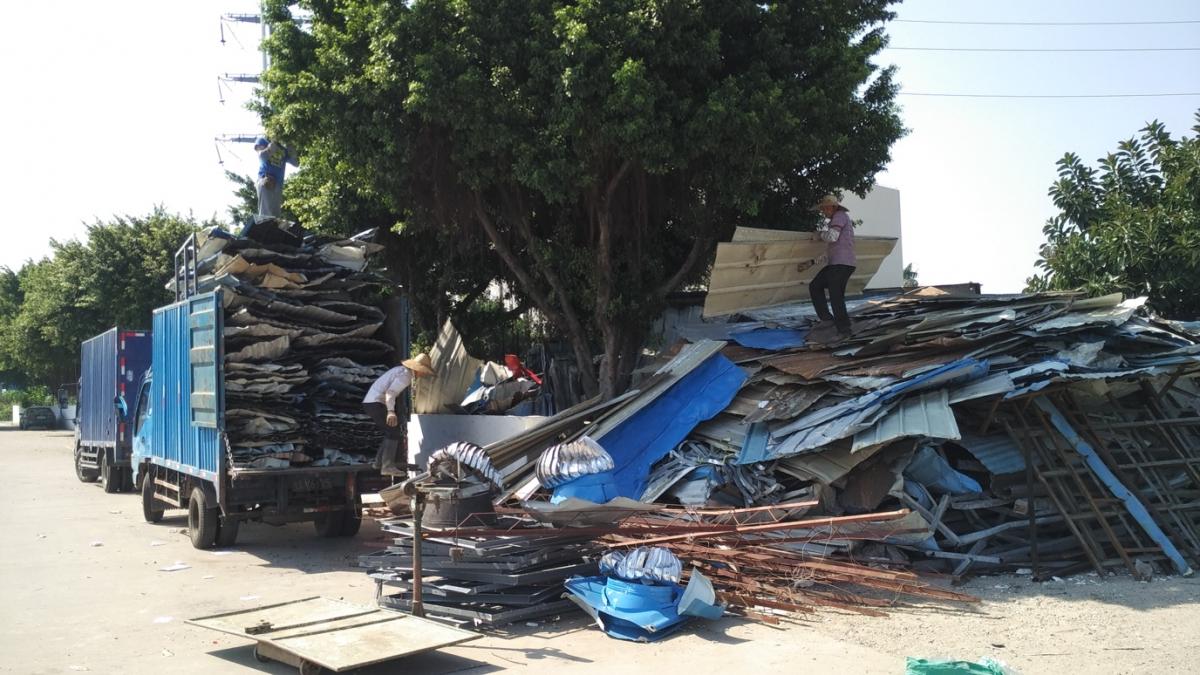 Workers load piles of debris near Shilong industrial district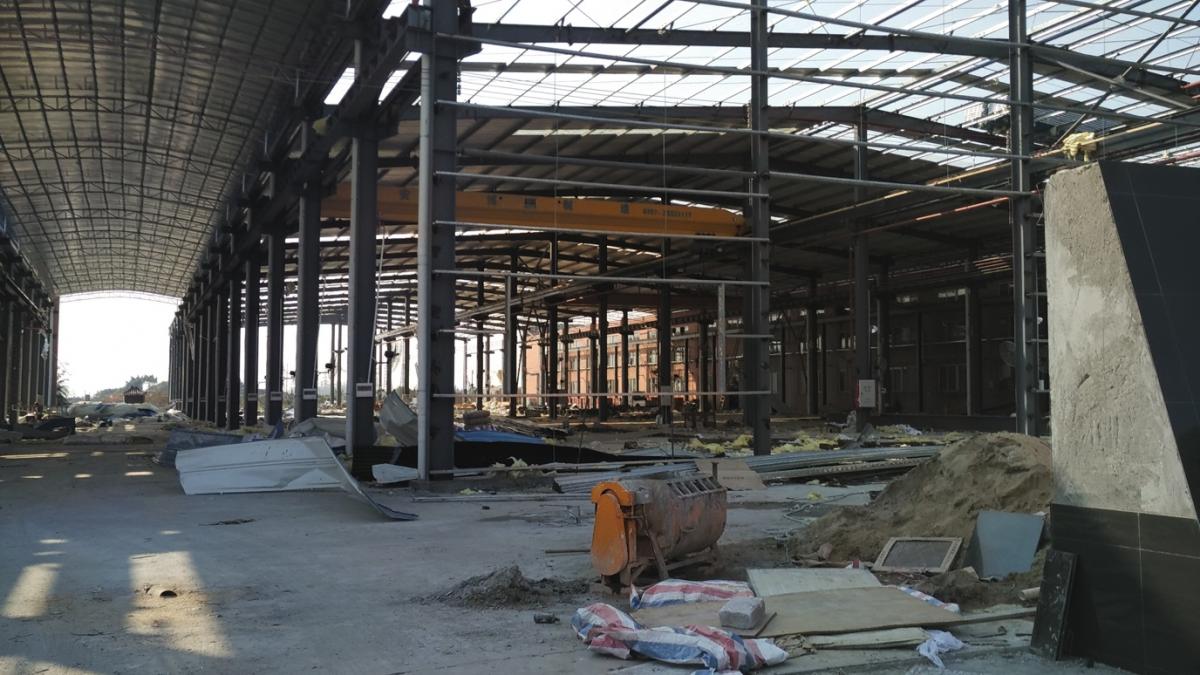 Chang Yue Glass, manufacturer of glass products for home appliances supplying major brands like Midea
Still further north in Malong village, one worker was killed when a toy factory collapsed. Official figures put the death toll in the whole of Shunde at three, with 81 injured, eight seriously.  
Across the river in Panyu, another tornado ripped its way through farmland in Shiji township and then headed northwest towards Guangzhou, hitting some of the luxury high-rise apartments overlooking the river. While property owners in the newly developed districts complained of damage to their apartments, workers in rural shops and residents of shanty towns incurred the highest cost. 
On Jinkeng Road in rural Shiji, a 200 metre row of workshops in a small industrial zone had been completely destroyed. There were half a dozen workers inside one small metal-working shop when the tornado struck. They were buried inside when the building collapsed but all escaped with just minor injuries. One of the elderly workers was later stationed full-time in the ruins to prevent the theft of goods and equipment, sleeping in a makeshift shelter in the corner of the factory. See photo below.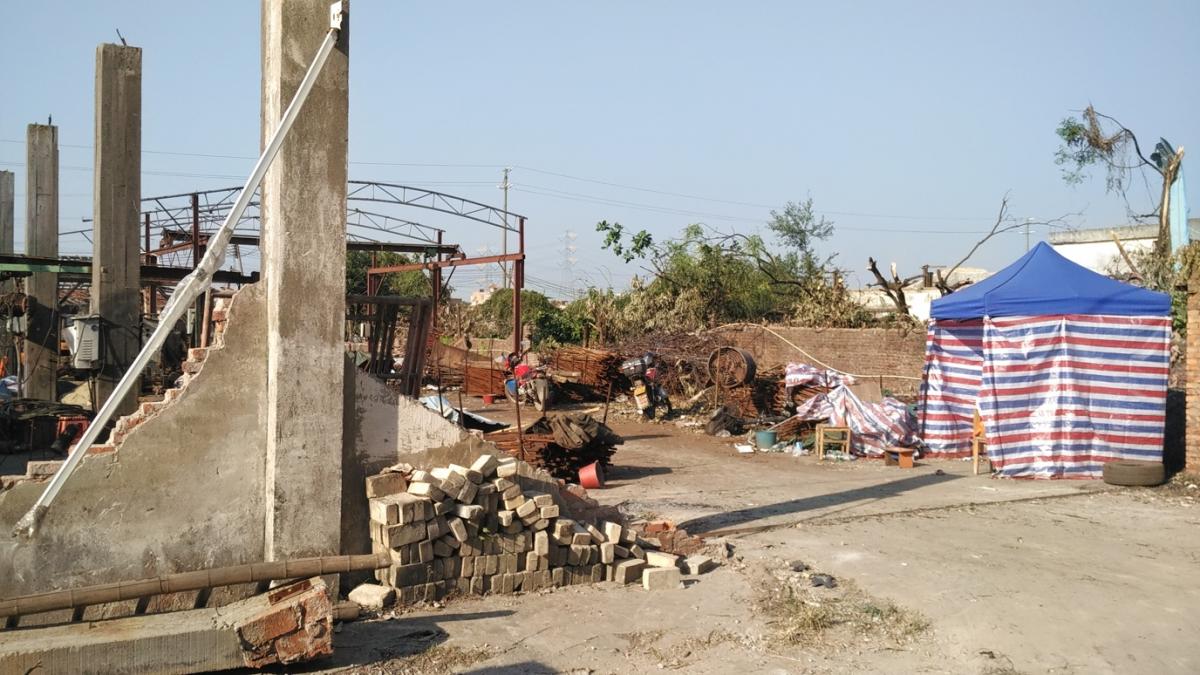 The factory owner's son who was supervising the rebuilding work revealed that although new more efficient machinery would be bought for the new factory, the existing structure would just be patched up. There was no reason to invest in a safer, more stable, building he said because; "this couldn't possibly happen a second time." 
Further north, an electrician was killed when he was struck by falling debris as the tornado passed over his worksite near Luobian market, an area surrounded by a dense network of small factories and old shanty neighbourhoods. All the windows of a small, three-story clothing factory nearby were blown in leaving the workers there with cuts and bruises. The workers said they earned just 1,000 yuan to 2,000 yuan a month with no social insurance of any kind. They all had to pay their own medical costs if they were injured.
It is important to note that tornadoes are a fairly regular occurrence in the Pearl River Delta. Indeed, Foshan (the city that administers Shunde) is home to China's first and only tornado research centre. There have more than 20 tornadoes in Foshan alone in the last decade, while in Panyu, another tornado struck just four months ago in June of this year. In that incident, ten children were injured by flying glass when their classroom windows shattered, and a small-scale metal works collapsed, trapping 40 workers inside.
Despite the frequency of tornados, there are no procedures in place to warn those in their path of their arrival. None of the witnesses interviewed by CLB knew the 4 October tornados were coming until it was too late, most merely noted a stronger than usual wind. One restaurant worker in Shilong was playing pool at an outdoor pool hall before his evening shift when he suddenly saw the tornado swirling his way. He gripped a nearby lamppost, shut his eyes and held as tightly as he could as the tornado passed by. 
Experts from the Foshan Bureau of Meteorology claimed that, with their current technology, tornadoes are difficult, if not impossible to predict. However, in the United States, the National Weather Service issues alerts when tornadoes are likely to occur, triggering emergency warning systems via radio, television, and even local sirens to alert those nearby to take shelter. US work safety laws stipulate that workplaces have emergency action plans that require tornado preparedness like safe assembly zones when alerts occur. 
There are no such contingency plans in the Pearl River Delta. And despite the widespread publicity given to this latest disaster in the local media, it seems unlikely that new measures will be put in place anytime soon.
To see more photographs from Shunde and Panyu, click on the slideshow link.