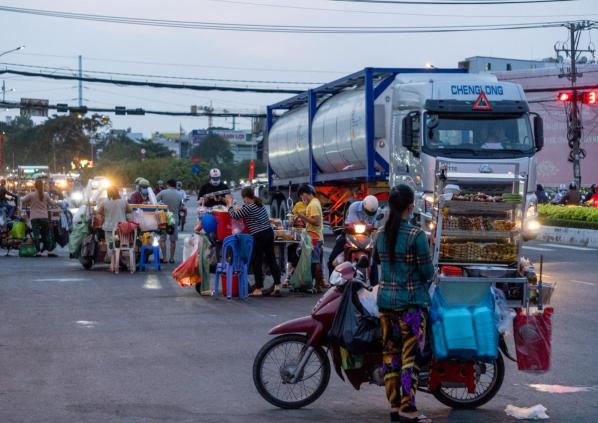 On 18 August, for the first time in decades, the flood waters of the Min River in southwest China reached the feet of Leshan's iconic Giant Buddha, causing widespread alarm. The floods also led to the hasty shuttering of Leshan's major polysilicon plant, Yongxiang Polysilicon Co. Ltd., which later produced a leak of hydrogen chloride, causing even more panic among local residents.
The dangers at the polysilicon plant were well known in the city. As early as 2009, the deputy head of Leshan's work safety department was quoted as saying the facility was a "shiny bomb. It may look clean and innocent, but you don't want to have one in your neighbourhood." Indeed, there were two separate incidents in 2013 and 2015 when combustion events led to clouds of toxic smoke belching out from the plant.
Polysilicon is a major component in the production of solar panels. It is a relatively harmless substance, in and of itself, but the production process creates a range of toxic substances and gases, and the risk of explosions and leaks is high. China is already the world leader in both polysilicon and solar panel production, and as it continues to ramp up production in the clean energy industry, the dangers to workers will only increase. 
The Tongwei Group, which owns Yongxiang Polysilicon Co. Ltd., has announced that it will double its polysilicon production capacity next year, from the current 80,000 tons to 155,000 tons. And China's two main photovoltaic module producers, JA Solar Technology and JinkoSolar, will increase their production capacity by 45 percent and 56 percent, respectively, by the end of this year.
In fact, the Leshan facility is not the only one that has proved a hazard to both workers and local residents in China in recent months. In the far-western region of Xinjiang, which produces about 50 percent of all China's polysilicon, two separate factories had explosions within three weeks of each other in July.
On 2 July, severe pipe vibrations led to an explosion and chemical leak at the Daquan New Energy Polysilicon Plant. And on 19 July, an explosion occurred in the distillation unit of the Xinjiang Polysilicon Plant (owned by "green energy" company GCL-Poly Energy). There were reports of five explosions in total in this latter accident and a massive leak of chlorosilane.
The work hazards apparent in China's so-called clean energy companies urgently need to be addressed before more accidents occur. There is clearly a role for China' trade unions to play in supervising work safety in polysilicon production. However, as we point out in a new report released last week, up until now, the union has been almost entirely absent from China's work safety regime.
Instead, time and again, we see the same cycle of tragedy in which, after an accident occurs, rescue efforts are made under the guidance of government officials, there is an investigation into the cause of the accident, those culpable are identified and punished, and the government orders an urgent inspection and rectification of at-risk industries. But then the next accident occurs and the whole process starts again. 
For more details on this story and links to the Chinese-language news reports, please see our Chinese-language newsletter 连续两月爆炸、泄漏 中国太阳能多晶硅厂释出危险信号.
Photograph:Science in HD, Unsplash