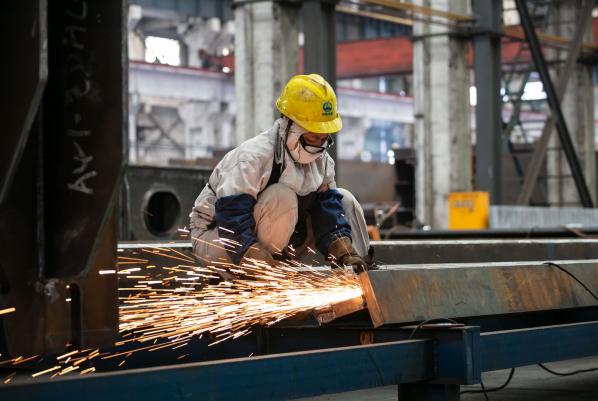 Photograph: humphery / Shutterstock.com
China's economic troubles are revealed in China Labour Bulletin's data on labour challenges that workers face. According to data collected in August 2022 in our Strike Map, Workers' Calls-for-Help Map, and Workplace Accident Map, the effects are particularly acute for migrant workers in the construction sector and in the steel and coal production industries. 
But first, don't miss the content CLB has published recently: 
Migrant workers in construction and mining sectors take action against wage arrears
China's real estate industry going into recession is evident in both CLB's Strike Map and Workers' Calls-for-Help Map, with many wage arrears incidents in August 2022 related to property construction and development. A development company called Greenland Group saw workers post online about wage arrears in Taiyuan, Shanxi province, and stage a sit-in strike in Xi'an, Shaanxi province. In Qingdao, Shandong province, over 100 workers were owed wages for renovation projects at a housing development. 
At a Vanke property in Xi'an, workers posted online that over twenty workers had completed work on the interior walls and roof of a property in July 2021, but the manager of the construction company was only willing to settle the wages for the work on the walls. In April of 2022, workers sought out the project manager to negotiate resolution but received no reply. The workers were owed 770,000 in wages, and by the time of their posting, they were in great financial distress as a result of the ongoing pandemic and their children starting the school year.  
Meanwhile, the official trade union in the city of Xi'an has been carrying out activities aimed at migrant workers and their children, including organizing trips for the children to visit the construction sites where their parents work, and hosting craftsmanship competitions jointly with construction companies. However, these activities have not reduced wage arrears or ensured that migrant children have access to education.
China's steel and coal industries are facing production cuts and layoffs, and this was indicated in our mapping data, particularly in Henan province. CLB previously reported on Henan Anyang Iron and Steel Group notifying employees that the company would reduce salaries by 30 percent starting in August and bonuses and benefits would also be affected. Elsewhere in Anyang, almost 100 coal miners raised a banner to protest wage arrears and unpaid insurance benefits for over ten years at the Xinlong Coal Mine. The special police unit was dispatched in the same area, reportedly related to this protest. 
Summary of CLB Data