China's economic growth appears to be stabilizing, in line with government expectations, but there is little evidence that conditions for workers in China's troubled industries are improving.
China's GDP grew at exactly 7.0 percent (year-on-year) in the second quarter of 2015, with the strongest growth seen in the service sector. Industrial output meanwhile rebounded to 6.8 percent in June, its fastest rate in four months.
However, initial indications in July are that many industries are still struggling and that it is the workers who are feeling the biggest impact. Of the 67 strikes and worker protests recorded on China Labour Bulletin's Strike Map in the first 12 days of this month 48 (72 percent) were directly related to the non-payment of wages.
On just one day, 2 July, there were protests over wage arrears by more than 1,000 workers at a state-owned textile plant in Dezhou, iron workers in Qinghuangdao, employees at a mining and smelting company in Linyi, and theme park employees in Nanchang, as well as demonstrations by construction workers in Nanchang, Chengdu and Mianyang.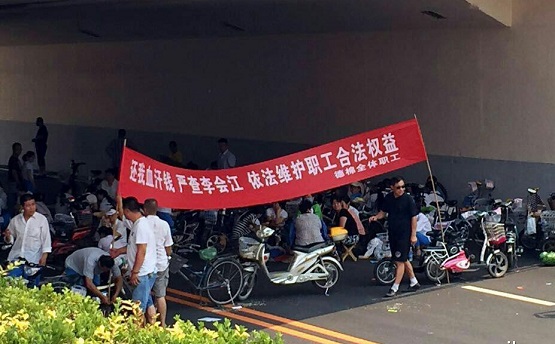 Textile workers in Dezhou, Shandong, block the streets in a 2 July protest over wage arrears
Many other recent protests were related to similar issues, such as low wages, non-payment of social security etc. For example, around 1,700 coal miners in Jining, Shandong, went out on strike on Monday 13 July over pay cuts.
These results are very much in line with the picture from the first half of the year when strikes and protests were dominated by workers in the construction and manufacturing industries demanding payment of wages in arrears. See CLB's strike summaries for the first quarter and second quarter of 2015 for more details.
Despite some signs of economic recovery in China, it seems clear that worker unrest will continue to be the norm for the near future at least as businesses in many sectors struggle to stay afloat and employers seek to cut costs by cheating their employees out of their pay.