The Chongqing government has quietly revoked a discriminatory hiring requirement for teachers following a public outcry. However, the local trade union, whose responsibility it is to protect teachers' rights, was nowhere to be seen.
In April of this year, Zou Mi passed a written test and an interview for a teaching certificate, but the local education department refused to issue the qualification simply because Zou uses a wheelchair and could not pass a physical exam. 
After Zou posted about the discriminatory policy online, the rights protection department of the Disabled Persons' Federation quickly got involved and lobbied the Chongqing government to change the policy.
National government regulations require a physical examination that includes screening for infectious diseases and mental health history, but there is no stated requirement for teachers to be able to walk unaided. Chongqing's additional requirement was clearly discriminatory. 
In June, Chongqing amended the policy to exempt private tutors like Zou Mi from the requirement. The new policy has not been made public, but China Labour Bulletin confirmed the change with a teachers' representative in the city.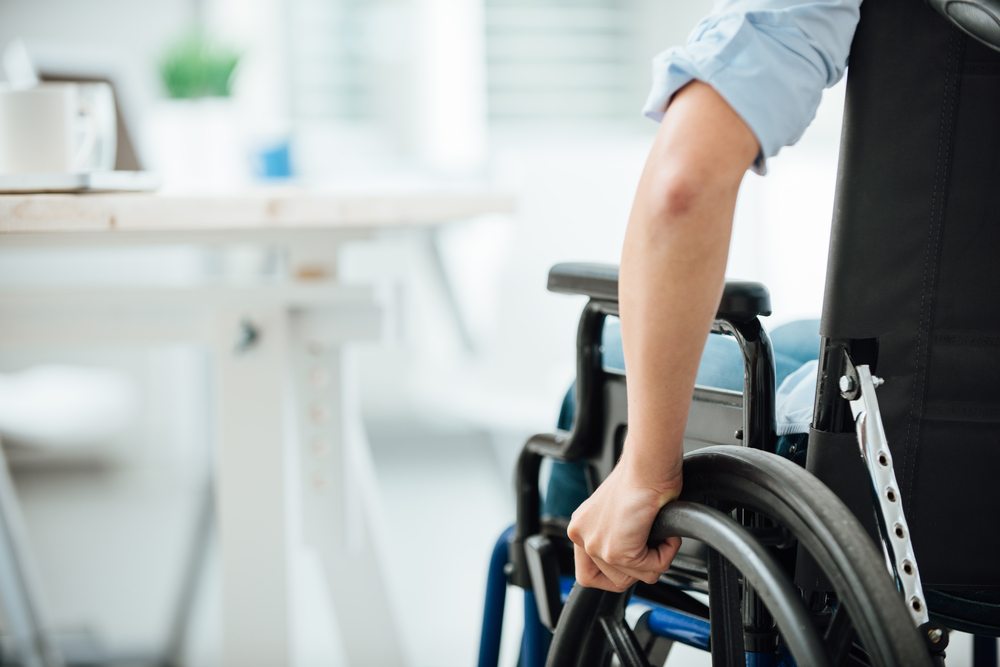 Photo: Stock-Asso/Shutterstock
Prior to the change in policy, CLB had contacted the trade union in Chongqing responsible for education, science, culture, health and sports, and discovered that they had long ignored the government's discriminatory policies and were reluctant to get involved in Zou's case, using the excuse that she was a private tutor and not a teacher in a unionised public school or college. 
"The union's work is currently limited to Chongqing's high schools and vocational colleges. This kind of tutoring is outside our scope, so we really have no way to help in her case," one official explained.
Even though Zou's story had gone viral on social media, local trade union officials claimed that they were "not very clear" about the specifics of the case. And when CLB called back this week to discuss the policy change, the official answering the phone simply hung up. 
Teachers in public schools usually enjoy more stability and security in their jobs, compared to private tutors. While China's tutoring industry has seen a huge expansion, its workforce is not protected to the same extent. The authorities have set up a department to monitor the sector, but it does not ensure that workers enjoy fair pay and treatment. With several tutoring companies going bust in recent years, tutors have often been left with wage arrears and nowhere to turn. 
CLB staff suggested that the union take a more proactive approach in combating disability discrimination and broaden its membership base to include tutors in the private sector. However, officials seem content to absolve themselves of any responsibility and are willing to allow discrimination to continue. 
When she was just 21, a car accident left Zou Mi with an injured spinal cord and paraplegia. She has faced constant discrimination over the last two decades in applying for jobs, and she encounters numerous barriers in everyday life moving around the mountainous city of Chongqing.
In interviews with recruitment companies, she routinely asks whether the workplace is wheelchair accessible. This question alone often causes the person at the other end of the line to hang up. She carries a small tent around with her whenever she goes outside so that she can have privacy in situations where there are no barrier-free toilets in the vicinity. 
Back in 2016, Wang Zhijiang of the Disabled Persons' Federation had already made it clear that "in reality, there are no disabled people who cannot work, just a lack of jobs that are suitable for disabled people." There has been little progress in the last five years, and, as Zou's case illustrates, the refusal of employers to create an accessible and open work environment makes finding any form of employment extremely challenging for people with disabilities.