A worker's call
After being released from police custody, Changchun FAW-Volkswagen worker representative Ai Zhenyu published a letter urging the German parent company Volkswagen Group to break its long silence and take responsibility for labour rights violations according to Chinese law and VW's own Global Framework Agreement.
 
"Germany is a country that always emphasises the defense of human rights, and often criticises China for its human rights record. Now German companies Volkswagen and Audi have been exposed for their discriminatory practices against Chinese agency workers, they've totally disregarded the human rights of Chinese workers. How can you still remain indifferent? Are these your standards of human rights?"
Ai Zhenyu, Worker Representative 
From "An ordinary Chinese worker's demand"
In June 2017, worker representatives Fu Tianbo, Ai Zhenyu and Wang Shuai were arrested by police for organizing their fellow agency workers in a months-long campaign for equal pay Ai and Wang have been released while Fu Tianbo remains in detention. Fu's family has been harassed by police and his mother posted a video expressing her wish to see her son and her plan to bring her grievances to higher authorities in Beijing. Fu's coworkers and family maintain his innocence, and his arrest has only strengthened the resolve of the workers.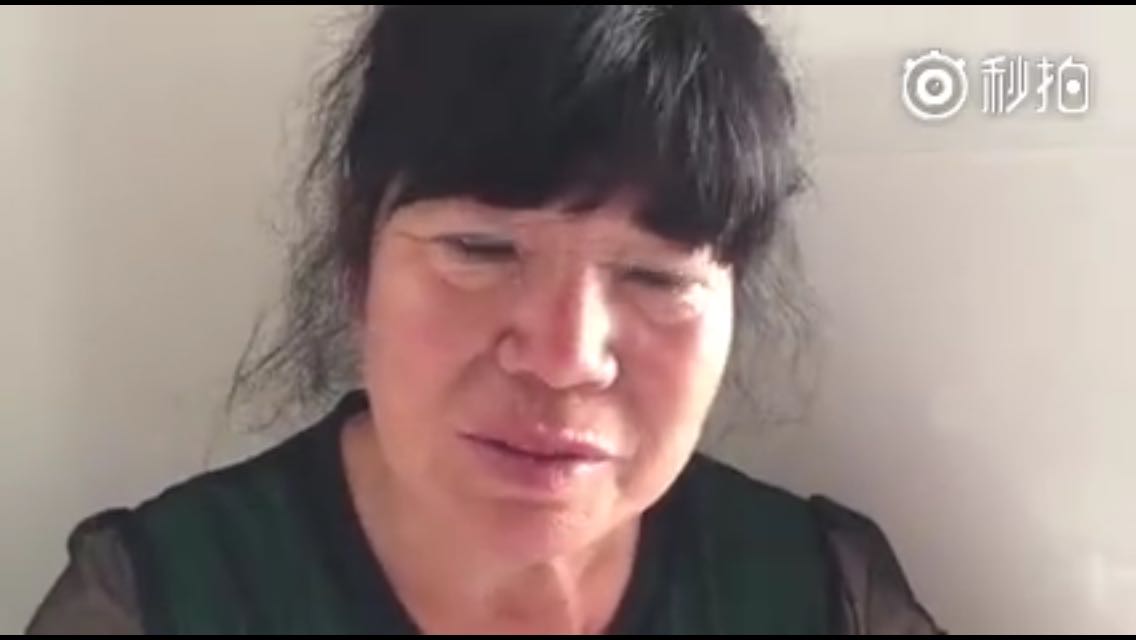 Screenshot of a video of worker representative Fu Tianbo's mother: "I want to see my son again!"

Several thousand FAW-Volkswagen agency workers in China's northeast city of Changchun have been demanding equal pay since 2016. For half a year workers have conducted a highly organised campaign and met with management and government officials to settle their dispute through collective negotiations. When negotiations grew difficult, the company backed away from negotiations with representatives and police began targeting worker representatives
 
Of over 3,000 agency workers (sometimes referred to as "dispatch" workers) at FAW-Volkswagen, a large number have over 10 years seniority. They claim their salaries are only half of what a full FAW-VW worker is paid, and they do not enjoy any of the benefits of a full employee. They demand compensation for years of inequality and the guarantee of fair contract terms for the future.
Timeline 
November 2016:
Changchun FAW-VW agency workers organise and file a report on unfair labour conditions to China's only official union, the All-China Federation of Trade Unions (ACFTU)
December 2016-January 2017:
With the intervention of Changchun ACFTU, worker representatives engage in two collective bargaining sessions with FAW-VW and Hongxin Youye (one of the employment agencies). The two CB sessions don't seem to have yielded any outcomes
January-February 2017:
Over one thousand FAW-VW agency workers present their case to the district's labour arbitration committee, they get no official reply
February 2017:
agency workers present their cases to court, which rejects their claims. 500 plus agency workers hold a protest in front of the local Ministry of Human Resources and Social Security office.
April 2017:
Agency workers organise a May Day protest, but they cancel their plans under police pressure
May 21, 2017:
Agency workers gather at the gates of the company and chant slogans during the Changchun International Marathon (FAW-VW is the leading sponsor of the sporting event)
May 26, 2017:
Worker representatives Fu Tianbo, Wang Shuai and Ai Zhenyu are detained for "gathering crowds to disrupt public order". Not long after, Wang and Ai are released, Fu remains in detention. 
June 7, 2017:
Worker representative Fu Tianbo is officially put under arrest 
July 2017:
Police harassment of Fu Tianbo's family increases, Fu's mother publishes video demanding to see his son, otherwise she will go to Beijing to present her grievances to higher government officials.
Legal violations
 
Worker representative Fu Tianbo published on his social media account an 11 point list of demands that served as a template for his co-workers, quoting all relevant legislation in China to support their collective demands.
 
Fu quotes article 63 of China's Labour Contract Law: "dispatched workers shall have the right to receive the same pay with that received by the employers' employees for the same work", claiming that as an agency worker, he gets paid 60K yuan annually, while a full employee in the same station as himself gets paid 170K yuan.
 
As a factory floor worker at the soldering station, Fu asserts that he is in fact a long-term employee who's work is integral to the factory's main business which means FAW-VW is in violation of article 66 of the Labour Contract Law, which stipulates that "labour dispatch is a supplementary form and shall exclusively apply to provisional, auxiliary or substitutive positions."
 
In his template of demands, Fu also points out employer violations of the Ministry of Human Resources and Social Security's Interim Provisions on Labour Dispatch, particularly regarding the lack of employee benefits for agency workers. In total, Fu demands 1.3 million yuan in compensation.
 
The legality of the four known human resources agencies supplying labour to FAW-VW Changchun has been thrown into question. According to public records, at least one agency, Bozhong Auotparts, is directly owned and controlled by the FAW-VW company union, and its director Fan Xijun is the FAW-VW's party secretary and union chair. Another agency, Hongxin Youye Human Resources Co., is located within Changchun's FAW factory district, and only a kilometre from the Volkswagen plant's main gate. Article 67 of the Labour Contract Law stipulates that "no accepting entity may establish any worker dispatch service to dispatch the workers to itself and to its subsidiaries."
It's time for a response
The German car manufacturer is also in violation of it's own 2012 Global Framework Agreement. In the agreement, VW agrees to resolve conflicts through negotiations with worker representatives, to limit the percentage of temporary external personnel, and to guarantee equal pay and treatment of all staff. 
According to its own global commitment, Volkswagen is obliged to negotiate with workers to address their demands, and after the June arrests, it has yet to answer for the targeting and repression of worker representatives.
In his signed letter, worker representative Ai Zhenyu demands "full recognition of Chinese workers' human rights," and echoing his colleague in detention Fu Tianbo, he demands the employer "give us back what we are owed now!"
Their next collective bargaining session, according to social media posts, is scheduled for July 14, 2017.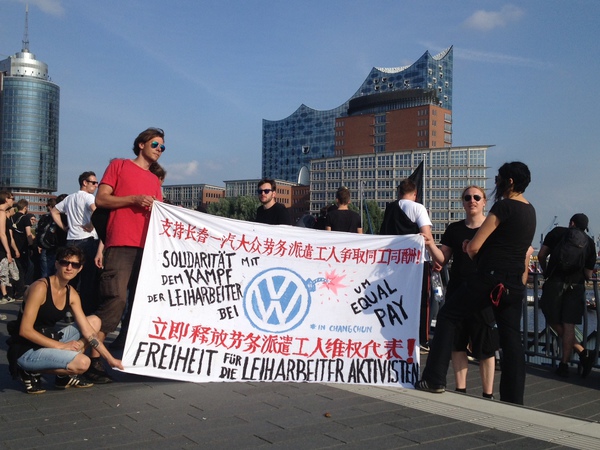 Protestors at G-20 in Hamburg hold banner in solidarity with Changchun FAW-VW workers (photo: chefduzen.de; Chinese story via Globalization Monitor)
Relevant links
 
Fu Tianbo's demands (in Chinese) 
weibo.com/6052295373/Eq4oIkJff
Open Letter of Worker Representative Ai Zhenyu: "An ordinary Chinese worker's demand" (in Chinese)
http://www.weibo.com/p/1001604127619745506068?retcode=6102
Labour Contract Law of the People's Republic of China (2012 Amendment)
http://www.ilo.org/dyn/natlex/docs/ELECTRONIC/76384/112877/F1810845897/CHN76384%20Eng.pdf
Interim Provisions on Labour Dispatch (agency labour), 2014
http://www.ilo.org/wcmsp5/groups/public/---ed_dialogue/---sector/documents/publication/wcms_246921.pdf
Charter on Temporary Work for the Volkswagen Group
http://www.industriall-union.org/sites/default/files/uploads/documents/GFAs/Volkswagen/precarious_agreement_Nov_2012/charta_der_zeitarbeit_englisch_final.pdf