On the surface at least, there is not a lot for China's workers to celebrate this New Year: The economy is, by Chinese standards, barely crawling along, factories, coal mines and construction projects are closing down, and those workers who can stay employed are likely to see their income decline as overtime payments and bonuses dry up.
The last time things were this bad was in early 2009, in the immediate aftermath of the global economic crisis. At that time many workers were willing to just shrug their shoulders and accept their fate. But that is no longer the case today. Over the last six years, China's workers have grown in strength, organizational ability and determination. They have faced pushback from employers as well as local government officials and the police but this has only strengthened their resolve.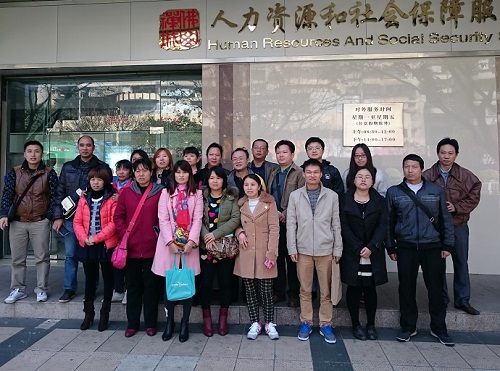 The recent arbitration case in Foshan, in which 35 factory workers filed a complaint claiming illegal dismissal (see photo above), is just the latest in a catalogue of incidents in which workers have refused to bow to employers' intimidation tactics and have asserted their rights under the law. Other workers have been detained for leading worker protests, only to emerge from jail as fully-fledged labour activists.
Workers feel they have more to lose now. In the economic powerhouse of Guangdong, for example, many factory workers have been employed for two decades or more. They are starting to think out their plans for retirement and so when they are faced with the prospect of losing their job, they want to ensure that they have the severance pay, pension and medical insurance they are legally entitled to already in place.
The growing determination and resolve of China's workers is the one real cause for optimism as we head into another Year of the "New Normal." It will probably create more tension and conflict in the short term but eventually the collective efforts of China's workers will bear fruit. If workers can gain a living wage as well as the welfare benefits they are entitled to, the impact will be felt well outside the factory. Workers will be encouraged to spend more on goods and services in their neighbourhood, businesses will start to grow again, and the faltering economy will gradually begin to recover.
This might in fact be the only way China can avert its current slide. Premier Li Keqiang claims to have the situation under control and that there is nothing to worry about but the central government's options are limited. Beijing is certainly not going to spend its way out of trouble again: The four trillion yuan stimulus package approved during the global economic crisis probably caused more problems in the long-run than it solved.
Beijing's monetary policy is likely to be more pragmatic and more nuanced this time around but unless China's 780 million workers are included in the equation it is still unlikely to have the desired effect.