One month after a deadly building site collapse that killed 28 people in Sihanoukville, little has changed for Cambodia's construction workers. Chan Muyhong and Danielle Keeton-Olsen investigate.
When asked if he thinks about his safety amid the pouring concrete and scaffolding, construction worker Pheoun Huang says he can just sense when a project holds danger. The 28-year-old said that in the four months he has worked in construction in Cambodia's coastal boomtown Sihanoukville, he's learned to tell when a building's foundation or frame looks uneven. Huang does not know the name of the company that employs him, but the Chinese-funded site on central Ekkareach Street appears sound to him. 
Next to him, two co-workers prepare the foundation with sea sand, one of the construction practices that local trade unionists believe contributed to the fatal collapse of a seven-storey building last month.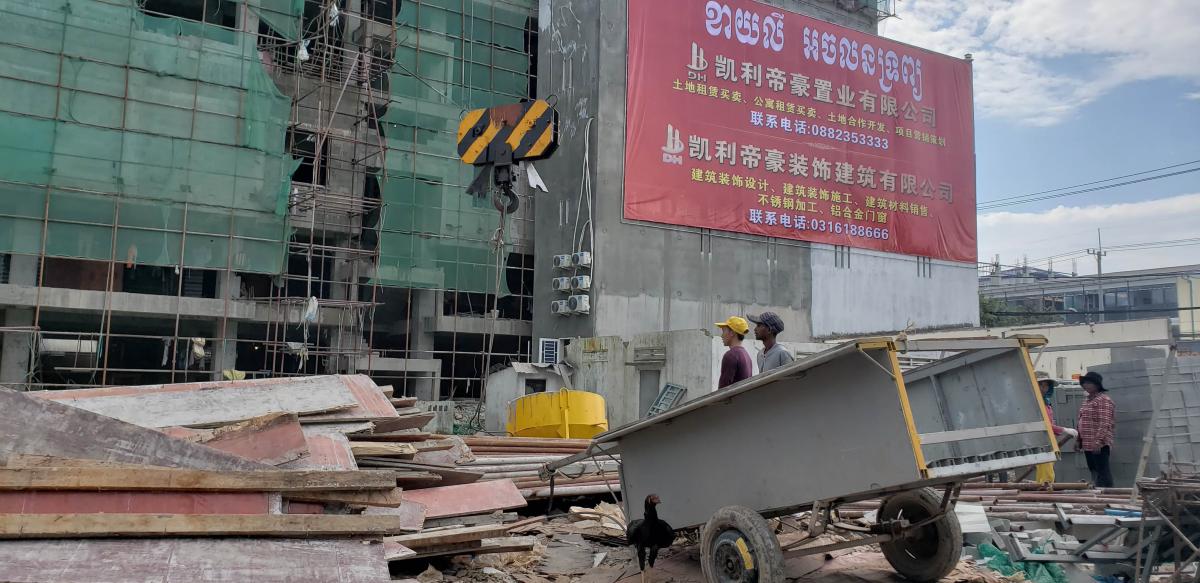 Cambodian construction workers at a Chinese-funded project in Sihanoukville. Photograph: Danielle Keeton-Olsen
Construction in Cambodia has bloomed into a billion-dollar industry, carried by a deluge of investments from Chinese developers. Skilled or unskilled, Cambodia's workers from across the country leapt at the chance to earn better money than agricultural or garment factory jobs provide, but they're paying the price in terms of safety and a lack of trade union representation. 
This year has outpaced all preceding years in terms of foreign investment in construction, rising 90 percent in the second quarter to US$3.1 billion, led by Chinese investment. 
The real number of construction companies likely outpaces the official count: opportunistic developers have launched unregistered projects, and these hasty constructions are straining Sihanoukville. 
Last month, a seven-storey construction within Sihanoukville's rising skyline collapsed, killing 28 workers who were sleeping inside the building. Despite the government's pledge to fix problems in the sector, workers interviewed in July noted that unregistered constructions and unsafe conditions are still commonplace one month after the incident. 
Workers like Huang still live on site, stringing a hammock and mosquito net between structural beams. He said that is the only option as rental prices in Sihanoukville skyrocketed since the stream of Chinese investors, tourists and workers began three years ago. 
Construction workers can earn significantly more than the textile worker minimum wage of US$182 per month: despite the construction sector's lack of a minimum wage, workers earn between US$8 and US$15 daily based on skill level in the capital Phnom Penh, and US$13 to US$18 in Sihanoukville. 
However, the cities' cost of living cuts hard for workers from the provinces, particularly in Sihanoukville, where sharp inflation leaves workers having to pay US$5 to US$7.50 a day for groceries or cheap, unhealthy street food. 
Huang's regular workday generally lasts from 7.am. to 4.pm, with a two-hour break for lunch. Workers are given the option whether to work overtime or not, but they feel pressured to comply when the developer wants the project completed on time.
Time is heavily monitored, workers said, especially on Chinese project sites. Son Sreymom, a 30-year-old who hauls materials around Sino Great Wall's project, the Peak Tower in Phnom Penh, regularly checks the time on her phone during her two-hour break. She must be prompt: the company uses face scanners (a common feature on Chinese sites) to make sure workers return on time. 
Sreymom started working one month ago, brought in by her husband who also worked on the site. Workers are often recruited by friends or family, while some unskilled workers simply walk up to the site seeking employment. 
Skilled labourers usually work in teams. Penh Soeurn, for example, leads a group of workers specialized in brick and tile masonry.
"I would go to different construction sites, talk to on-site engineers or the site manager, give them my contact. When they need me, they call me and then we talk about the scale of the project," he said. 
Most jobs come with no written contract, allowing developers - both local and Chinese - to slash costs. 
"Contractors always find a way to cut costs," Soeurn said, referencing his latest project with a Chinese contractor. "They always say we did this wrong or that wrong. I end up having to look for another project to pay the workers in the team."
Resolving labour conflicts is not an option because Soeurn does not know of any institution that would handle the dispute, or even the name of the company that contracts his team. 
Soeurn is responsible for supplying his team with basic safety gear, but when injuries happen on site, the developers will take care of treatment. 
In Sihanoukville, Huang said, when a worker is injured, they will be sent for treatment at the hospital when his boss is on site but when they're unsupervised, they're on their own. 
"If the boss is not on the site when the accident happens, workers might have to sort out [treatment] by themselves, because the boss does not know. And I would not know how to tell that to the boss as I do not speak any Chinese," Huang said.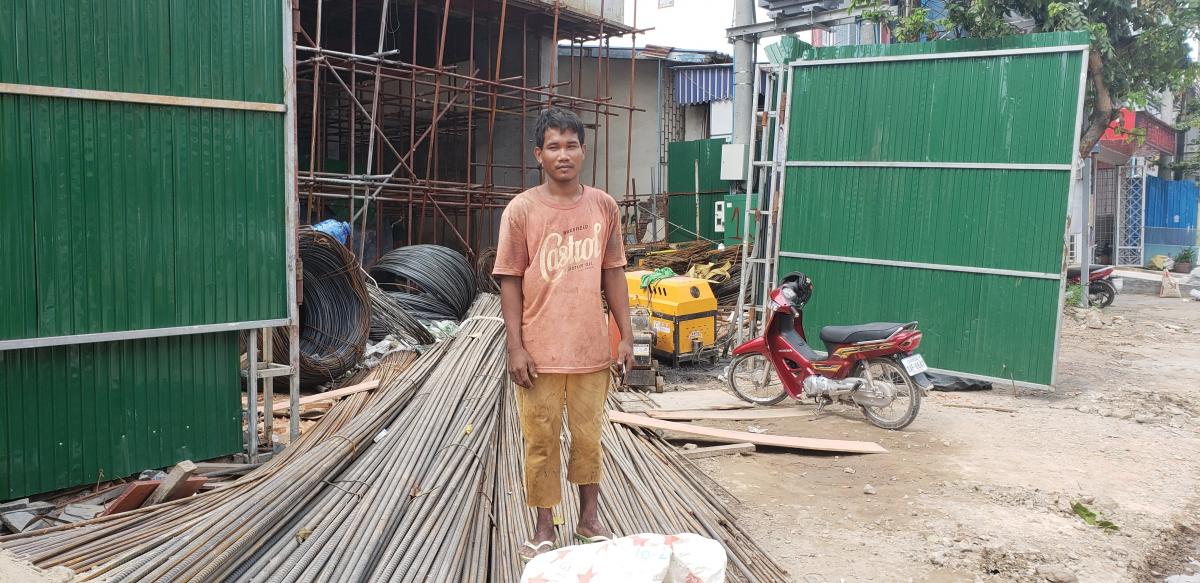 Pheoun Huang sleeps on the site of the project he manages for a Chinese developer. He sleeps in a hammock for now, but says he'll get a comfier mat once they remove support beams from the site. Photograph: Danielle Keeton-Olsen
Trade union organizing is both difficult and dangerous in Cambodia. Khun Tharo, program coordinator for the Center for Alliance of Labor and Human Rights (CENTRAL) in Phnom Penh, says Chinese construction companies generally do not allow any unionization on their sites. Organizations like the Building and Wood Workers Trade Union of Cambodia attempt to represent construction workers who cannot unionize, but its president Sok Kin said they have little power to confront foreign construction companies that they cannot identify. 
Developers are able to escape accountability for their projects because they often hire workers through a web of subcontractors, who are generally unregistered. When Kin tries to seek compensation for a worker denied overtime, for example, the Chinese companies that oversee the project pass the blame onto the subcontractors.
Khun Taro noted that the lack of registration and accountability also presented problems for labour and safety inspections, which are mandated in law but not properly enforced even among registered companies. 
Some workers in Phnom Penh and Sihanoukville said supervisors would stop workers from entering the site without a proper helmet and footwear, but that was the extent of their efforts. 
To Tharo, last month's collapse in Sihanoukville was the result of a lack of government oversight. He felt that the Cambodian government had not done enough to plan and organize project developments, or inspect building works, leaving the door open for foreign developers to cut costs. 
Moreover, for many Cambodian workers, the fast-paced construction industry not only puts them at risk of accidents, it also limits their ability to earn a decent living. 
Soeurn, the 44-year-old brick mason, is the sole provider for his family of four. He will have to keep working for as long as his strength holds out because even with 30 years' experience he still struggles to get a stable income. This is because he lacks the official qualifications needed to secure a proper employment contract and a decent wage. Instead, he has to compete against skilled Chinese workers who earn higher wages, hoping that the subcontractors who hire him pay what they promise. 
Tharo argues that vocational education and certification programs would boost workers' salaries, help them gain employment in registered companies and, as a result, improve safety on construction sites. However, he said the Ministry of Labour and Vocational Training has not done enough to establish such programs. 
"We've been calling for this for many years, it just needs the political will to do so," he said.