On 4 November, 27 football players from Guizhou Hengfeng in China's lower level Professional League One posted a collective statement on social media: "Two years of wage arrears. The club makes promises again and again, but each time they are broken." As CLB has documented, wage arrears have long affected professional football in China. 
In the letter, players explained that their wage arrears have lasted for three seasons stretching back to 2019. Domestic media has since reported that the estimated back pay owed to players, coaches and staff totals nearly 100 million yuan.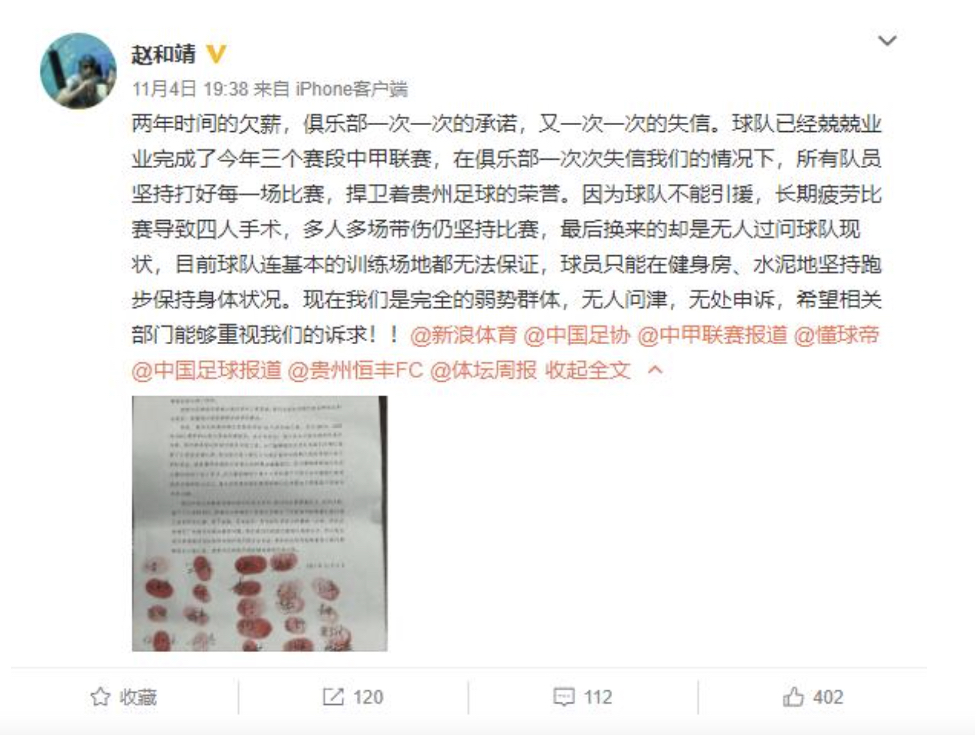 A public Weibo post from Guizhou Hengfeng's Zhao Hejing, signed by 27 players, was captured by CLB's Calls-for-Help Map. The players ask for their wage arrears to be resolved.
Wage arrears are not limited to Guizhou and the lower levels of China's professional football leagues. China's Super League, home to some of the country's best-paid athletes, has seen eight-time champion Guangzhou FC and 2020 champion Jiangsu Suning inflict wage arrears on players. By the estimates of domestic sports media, between five and eight Super League teams are currently facing wage arrears. 
For professional football in China, wage arrears are so prevalent that fans now question if the problem can ever be addressed. However, for the players impacted by wage arrears, the solutions are obvious: a trade union for players and the proper enforcement of China's  labour laws. 
In July, star footballer Rong Hao of the Tianjin Jinmen Tigers noted that FIFA quickly intervened to resolve wage arrears for Tianjin's head coach, foreign national Uli Stielike. But Tianjin's players, who filed for arbitration with China's Football Association, have yet to see their wage arrears resolved.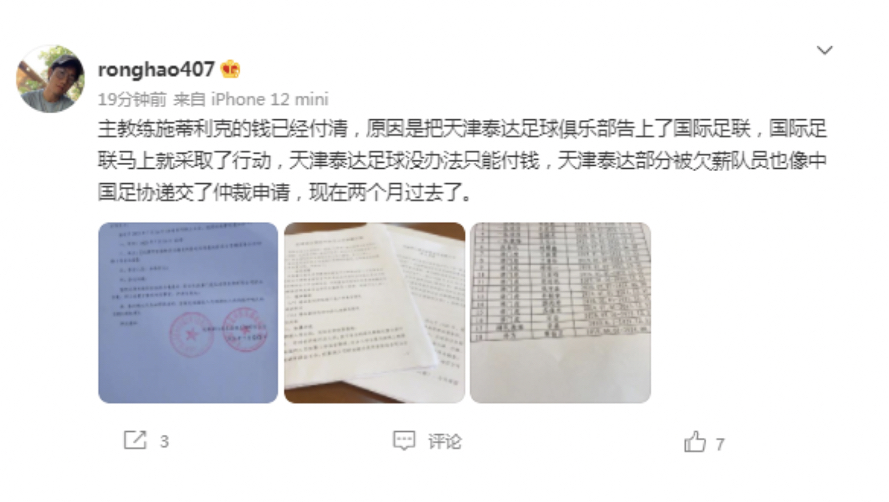 Rong Hao's now-deleted Weibo post on the labour situation of the Tianjin Jinmen Tigers
Sun Jihai is another superstar facing wage arrears, but he experienced how trade unions and the robust enforcement of  labour laws can protect athletes. While playing abroad in the United Kingdom, Sun experienced wage arrears, but with the protections offered by UK  labour laws and the powerful Professional Footballers' Association trade union, Sun was eventually repaid. Speaking with China's domestic media, Sun explained that while in China the problem of wage arrears has "never been solved," in the UK, teams obey a "legal approach" to resolving salary disputes.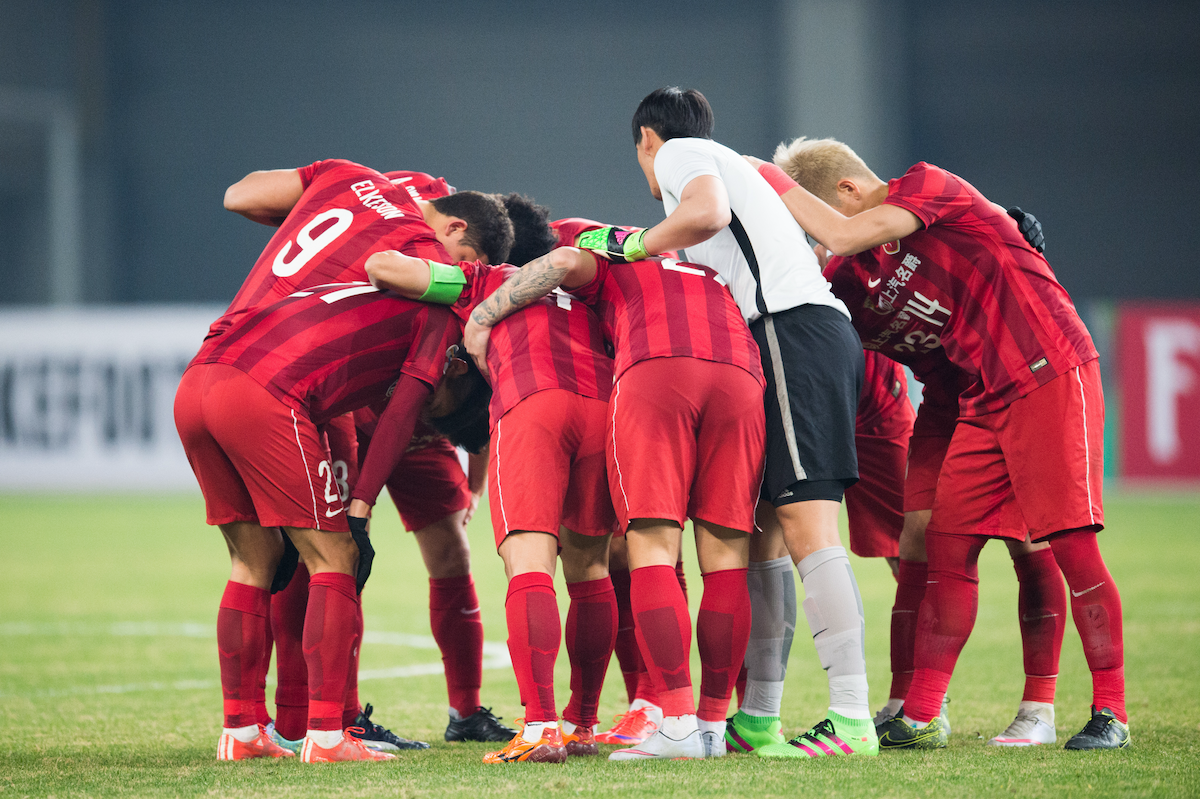 Photograph: mooinblack / Shutterstock.com
Labour rights protections have also been a hot topic in China's basketball leagues. In August, domestic superstar Zhou Qi decided to sit out the entire 2021 China Basketball Association (CBA) season after he could not resolve contract issues with the Xinjiang Flying Tigers. He wrote on Weibo, "I am quitting the whole season. I will continue to safeguard the legitimate rights of players because that's my responsibility. I hope what happened to me will spur the CBA league to set more reasonable standards and improve their protections of the players' rights." This incident led to public discussions by fans and domestic media on why trade unions and the proper enforcement of  labour laws are needed to protect China's athletes. 
Increasingly more of China's athletes, fans and the media are advocating for unions and  labour law enforcement. Even government news agency Xinhua now supports unions for professional sports in China, stating, "A union should be established to advocate for the rights and interests of players." With the upcoming 2022 World Cup in Qatar, it's time to establish trade unions for China's professional leagues and enforce labour laws to protect China's athletes.