The increasing number of strikes and protests by China's taxi drivers has forced local governments to take action against ride-hailing apps such as Uber, Kuaidi and Didi, which are seen as giving unlicensed cabs an unfair advantage.
On 11 May, government officials in the central Chinese city Luoyang shut down the offices of Kuaidi and Didi after a sustained campaign of protests by local drivers. This followed similar raids on Uber's offices in Guangzhou and Chengdu just days before.
China Labour Bulletin's Strike Map has recorded more than 70 taxi driver protests since the beginning of the year: At least one third of the protests have been directly related to the issue of illegal taxis.
The Luoyang protest began a month ago when drivers responded to local government calls to delete their applications. The move was criticised by many in the local community, including professor and media commentator Zhang Zhengfa, who called the move an "abuse of power" by a "lazy government."  Local drivers protested and demanded that Zhang retract his comments. See photo from Weibo below.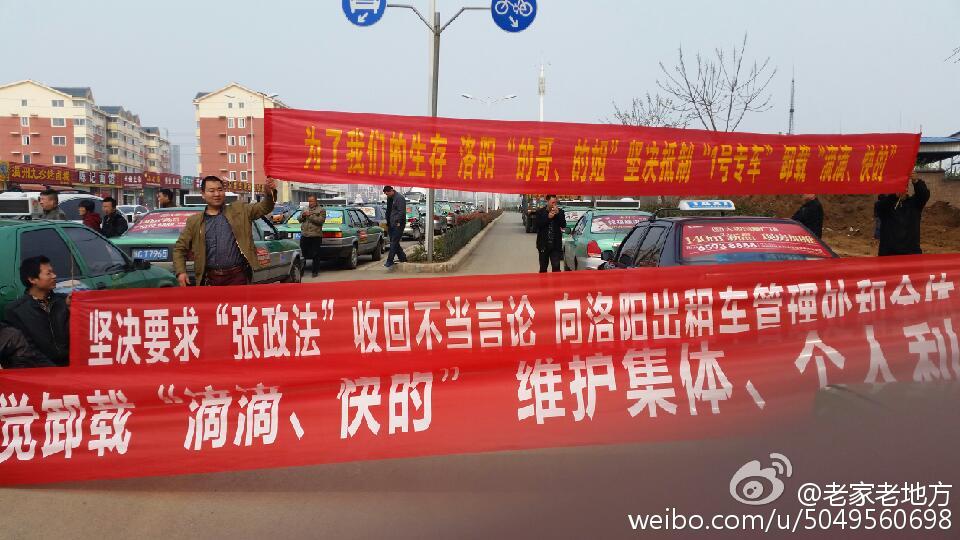 Their actions escalated on 11 May when taxi drivers tracked down and surrounded one unlicensed driver suspected of using the app, leading to the subsequent raid on the Luoyang offices. 
Just one day before the raid on the Guangzhou office of Uber, a small number of taxi drivers had staged a protest complaining about the effects of the app on their business.  The swift action of the local government however may also have been prompted by the impending launch of the local government's own taxi-hailing service.
The Chengdu raid simply created more confusion. Hundreds of drivers gathered at Uber headquarters, reportedly leading to clashes with police.   The Uber drivers lingered at the company headquarters waiting for an explanation, while dozens of licensed taxi drivers staged their own protest against Uber drivers.
In addition, drivers for ride-hailing app companies have protested about their pay and working conditions. Since the merger of Kuaidi and Didi in February, drivers have complained about new contract terms and working conditions imposed by the companies.
Nearly one hundred drivers for Kuaidi's chauffer service held a demonstration in front of the company's Shanghai office on 28 April. Drivers painted slogans on their cars protesting the new pay system and demanding compensation for the termination of their old contracts.
It seems likely that strikes and protests by taxi drivers will continue as local governments grapple with the growing influence of ride-hailing apps on an industry in urgent need of reform.