Working in the construction industry has long been China's most dangerous occupation, and according to official government statistics, it is getting even more hazardous.
There were 1,732 accidents and 1,752 deaths in the construction industry during the first half of the year, an increase of 7.8 percent and 1.4 percent respectively, China's newly established Ministry of Emergency Management (MEM) announced in July.
The construction industry has had the highest number of accidents and deaths of any industrial, mining, commercial or trade sector for the last nine years, and while accident and death rates in most sectors are declining, in the construction industry both numbers have steadily increased since 2016.
By way of comparison, the total number of coal mine deaths in China dropped by 12.9 percent in the first half of the year to stand at 155, or just nine percent of the number of construction worker deaths in the same period, according to official figures.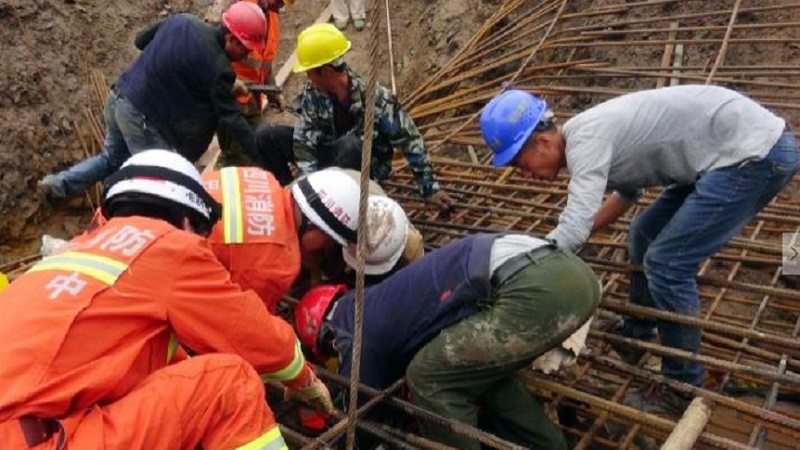 Construction workers and rescue workers race to find colleagues trapped in a building collapse
The MEM blamed the worsening safety record of the construction industry on its chaotic system of subcontracting and the continued failure of contractors to abide by basic safety laws and regulations.
With the number of construction projects reaching a peak in the summer, which is also peak flooding season in China, the MEM sounded the alarm:
All regions, relevant departments and state-owned enterprises must clearly understand the grim safety situation facing the construction industry. We must enhance awareness of safety redlines and comprehensively improve safety in the construction industry by ensuring that contractors live up to their responsibilities, and by strengthening risk management and law enforcement especially in areas of complex geology and flood risk.
The MEM called on local governments to conduct regular construction site inspections in their jurisdictions and to blacklist contractors who continually violate safety laws and regulations.
A MEM investigation showed that the vast majority of construction site accidents involved structural collapses and workers falling from a height or being struck by falling objects, incidents that could have most likely been avoided if simple safety measures had been enforced.
The findings are echoed by CLB's Work Accident Map, which recorded 53 construction site accidents in the first half of the year, about 22 percent of all accidents recorded on the map during that period. The vast majority involved structural collapses, and workers falling or being hit by falling material. For example, four workers died when a building site structure collapsed in Hainan on 17 May, at least 12 construction workers died in a similar incident in Dongguan on 12 April, while eight workers died when a road under repair collapsed in Foshan on 7 February.
Most construction site accidents however are fairly small-scale and usually involve just a handful of workers. This is partly the reason why construction site accidents normally do not get the same level of attention in the Chinese media as coal mine explosions and factory fires. It was significant therefore that the official Chinese media, including the People's Daily, reported on the "double increase" in accidents and deaths in the first half of the year in such a prominent manner last month.
The Chinese government is clearly concerned about the increase in accidents and deaths in the construction industry at a time when safety in many other industries has been improving, however, it is unlikely that simply stepping up local government oversight of contractors will be enough to really improve work safety.
What is needed is a fundamental overhaul of the industry so that construction workers are properly trained, properly compensated for their work and provided with all the safety equipment they need to do the job. As many commentators have already pointed out, the main project contractor needs to take responsibility for the pay and working conditions of all employees onsite rather than contracting out different aspects of the work to dozens of different sub-contractors, none of who are willing to take responsibility of overall workplace safety.
However, there also needs to be an effective trade union presence in the construction industry that can strengthen and add to government regulation and oversight by bargaining with construction companies to make sure all workers on site are paid a decent wage on time and in full each month, and that proper on-the-job training is provided along with adequate safety equipment.
A major problem facing the construction industry in China is that pay and working conditions are so bad that fewer young workers are being recruited to the industry, leaving an ageing workforce to manage a growing workload, something which only exacerbates the safety risks.
The problem for the union currently is that the industry's chaotic sub-contracting system means that it has no one to negotiate with on site. The union therefore has to add its voice to demands to consolidate the industry so that collective contracts can be signed with the main contractor or even regional industrial federations. It also needs to reorganize itself into a proper trade union so that it can effectively represent the different trades involved the industry: plasterers, electricians, plumbers etc.
Some construction companies are now promoting a technical fix to work site safety by installing biometric data scanning equipment to register all employees and adopting "clean" construction methods. Real name worker registration and central data storage is also supposed to ensure workers are paid in full and on time.
While this might help workers prove an employment relationship in case of a dispute over pay or compensation etc., it is still a very one-sided system, with all data stored by the employer. Such a system only further emphasizes the need for a strong trade union presence to protect workers interests.