While environmentalists are hailing the drop in China's coal production last year, it is the country's miners who are feeling the immediate impact, with mines closing down and wages withheld for months on end.
The China National Coal Association reported on 23 January that domestic coal production was expected to fall by 2.5 percent in 2014, the first annual decline since 2000. Coal stocks at major power plants meanwhile increased by 17.1 percent to stand at 94.6 million tonnes at the end of the year. More than 70 percent of China's coal companies are now operating in the red, the association said.
In response, more and more miners have staged protests demanding payment of wages, social security and redundancy pay. And it is not just coal miners, iron ore miners, who are also affected by the economic slowdown, have staged protests as well. In the final quarter of 2014, CLB's Strike Map recorded a total of 17 protests by miners across the country, compared with just a handful of protests in the whole of the previous year.
And there is no indication that the situation is improving. There have been another ten strikes and protests so far in January alone. On 4 January, hundreds of workers at a state-run coal mine in Shandong went on strike over unpaid wages and benefits. One of the workers at the Jinda mine Tengzhou told Radio Free Asia: "They owe us five months' back pay, so this affects everyone at the mine." At the height of the protest, around 1,000 workers gathered outside the municipal government offices leading to clashes with police.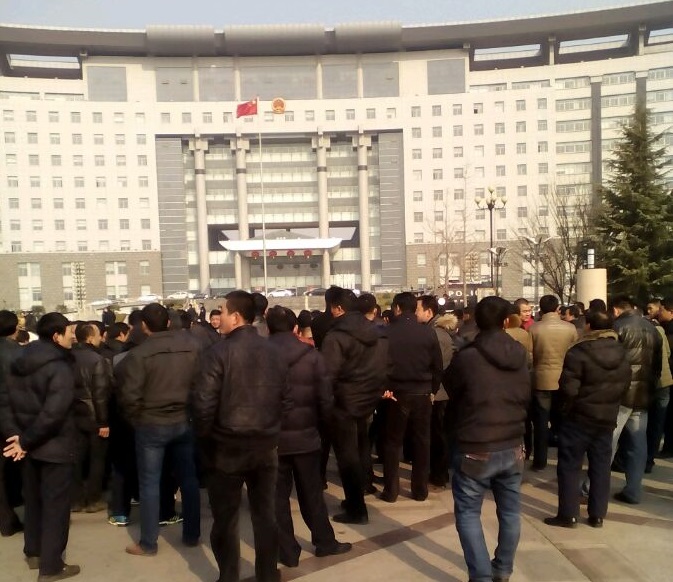 Workers gather outside the Tengzhou municipal government on 4 January 2015
Most of the recent protests however appear to be at relatively small scale mines; those worst hit by the economic slowdown and the decline in demand for coal. On 22 January, for example, several dozen miners from Yulin in Shaanxi staged a protest outside the county government building after reportedly going without pay for more than a year.
During the boom era for Chinese coal in the 2000s, miners risked their lives on a daily basis to fuel the country's economic miracle. Now as the industry declines, they are simply being discarded without any thanks or any compensation.