A nearly two-year-long slump in China's coal industry is forcing miners to get organized and start taking action.
Coal mines have closed and businesses have gone bankrupt, leaving miners and support staff unpaid for months on end. Indeed, the chairman of the China Coal Industry Association, Wang Xianzheng, admitted last week that more than half of China's coal-mining enterprises are now struggling to pay their employees' wages.
Unlike many other countries, coal miners in China have not always been at the forefront of the labour movement. The informal nature of labour relations in the coal industry, many miners are employed on a casual basis by labour contractors rather than by the mine itself, and the lack of an effective trade union presence have left workers vulnerable to exploitation.
However there is evidence that miners are now more willing and able to take strike action in the defence of their interests, as can be seen on CLB's strike map. Information about strikes and protests by coal miners is still sketchy however, largely because these incidents often occur in remoter areas of China and the participants are not as familiar with social media as, for example, young factory workers in Guangdong.
Recent protests by coal industry workers have primarily been over payment of long-overdue wages:
Coal miners from Jincheng in Shanxi who were owed five months' pay staged a protest on 29 July outside the local labour bureau and municipal government building. See photo below. Several miners were reportedly beaten by police.
On 11 June, about 100 miners in Henan blocked the streets in protest when the Caoyue Coal Mine closed down owing the workers at least two month's pay.
Miners at the Fuqing Coal Mine in Shaanxi staged a protest on 23 June over non-payment of wages.
On 5 May, administrative staff at the state-owned Youjiang Mine in Baise, Guangxi went on strike after not being paid for five months.
More than 1,000 workers Yangzhuang Coal Mine near Tai'an, Shandong went out on strike on 23 February in protest at six month's wage arrears.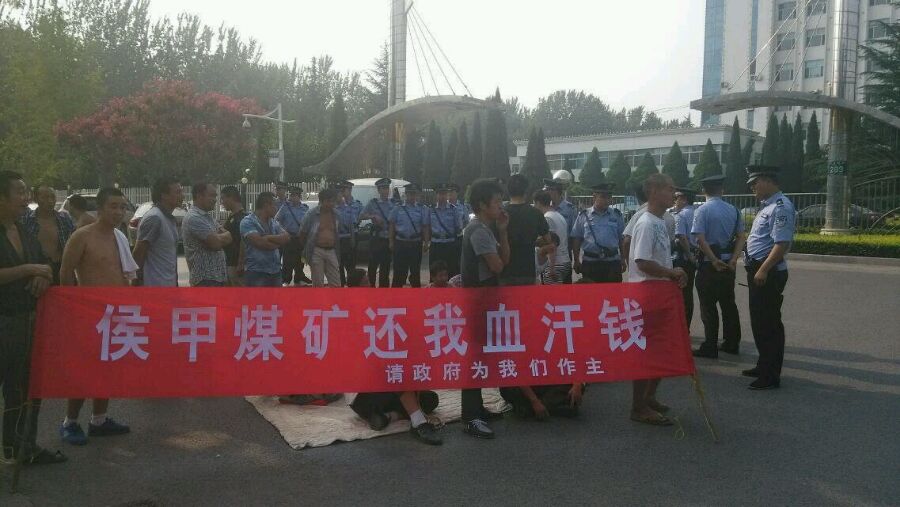 Jincheng miners demanding payment of wage arrears
But it is not just wage arrears that mine workers are striking over:
More than 1,000 miners at the Zijin Mining Co in Hebei staged a two day strike on 26 and 27 March, protesting the company's non-payment of benefits, overtime and bonuses mandated by the central government.
On 18 and 19 January, workers at the Jingang Coal Mine in Dazhou, Sichuan went out on strike over low wages, payment of bonuses and punitive management regulations.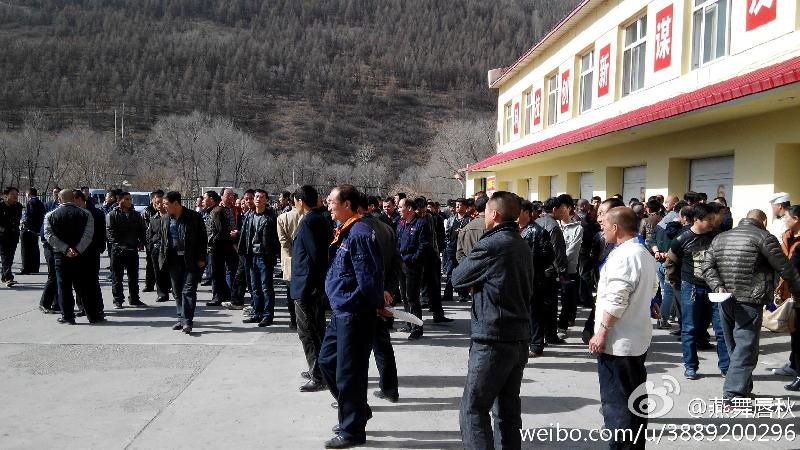 Workers at the Zijin Mining Co in Hebei on strike 26 March
CLB will continue to monitor the situation and report any major developments in the coal mining industry as and when they happen.