Teachers at an elite private school in Sichuan's provincial capital Chengdu have gone on
strike
demanding higher wages in line with their colleagues in the state system.
The strike on 5 and 6 November, which affected around 1,000 students, was notable for the support the teachers at the Chengdu Foreign Languages School received, not only from the public, but from the students and parents as well.
On 6 November, the teachers issued a public letter asking parents for understanding and explaining that the strike was a measure of last resort. At the same time, students handed out bottles of water to their teachers staging a sit-in in the school courtyard. See Photo from the
Sichuan News Network
below.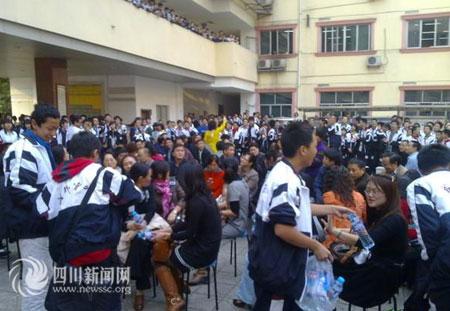 Students hand out bottles of water to striking teachers at Chengdu's Foreign Languages School
The strike coincided with a national education conference in Hebei at which the new education minister, Yuan Guiren, pledged to increase teachers' pay and distribute education funds more equitably. Yuan took over as minister last month from Zhou Ji, who was sacked after extensive public criticism of his policies which encouraged the commercialization of the education sector.
Teachers at the Chengdu Foreign Languages School had complained for several years that their pay had been frozen ever since the school had been privatized, while other teachers in state schools were now getting higher, performance-based, pay.
The teachers collectively issued a wage demand to the school authorities in early November but received a strong rebuff from management, which accused them of being members of a criminal gang (黑社会). Teachers said the decision to strike was only made after this insult, and that one of their demands was for the school authorities to apologize.