The year 2015 began with the deaths of 22 crew members on a Yangtze River tugboat on 17 January and ended with at least 69 people confirmed dead in a massive waste dump collapse at a Shenzhen industrial park on 20 December.
Both these events were overshadowed however by the explosion at a Tianjin hazardous chemicals warehouse on 12 August which killed 173 people, predominately young, poorly trained fire fighters who had been called to the scene of an earlier fire at the warehouse.
The Tianjin disaster prompted calls from the highest levels of government to improve work safety in China but there has been no indication since then that safety has improved. The monthly accident rate recorded on China Labour Bulletin's Work Accident Map has remained fairly steady since August and even increased slightly towards the end of the year. See table below.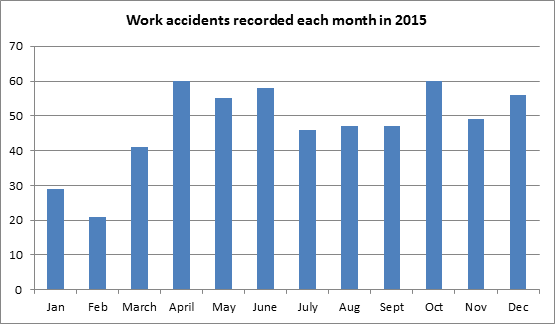 The Accident Map recorded 569 accidents for the whole of 2015, a small fraction of the actual number but sufficient to give readers a snapshot of the safety hazards routinely faced by China's workers.
The Map shows that by far the most dangerous profession in China, in terms of frequency of accidents, is construction: See chart below. About 35 percent of all incidents involved construction workers, although the number of deaths and injuries per incident were generally quite low, with the notable exception of a building collapse in Wuyang, Henan, which killed 17 construction workers and injured 23 others on 30 October.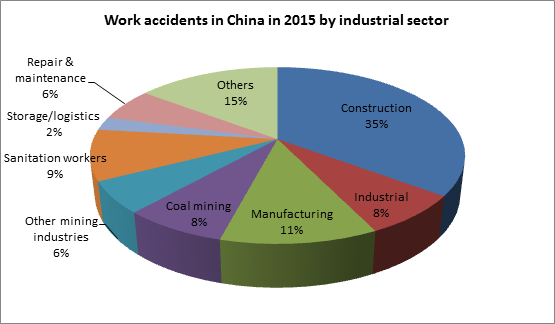 Of the 17 recorded incidents in which ten or more workers died, seven were in the mining industry, with the highest single death toll in a mining accident being the 12 August landslide in Shaanxi that killed 65 miners and their families.
One of the most obvious safety problems in China, accounting for 28 percent of all recorded accidents, is structural or mechanical failure, such as building or infrastructure collapse or accidents resulting from mechanical repairs and maintenance etc. Many of these accidents are also directly related to the lack of safety measures and safety training for workers in construction, maintenance etc.
Another routine hazard for employees working on public highways, street sweepers in particular, is being hit by a moving vehicle. In total, the Accident Map recorded 69 incidents in which workers were hit by motor vehicles, making up about 12 percent of all accidents. To make matters worse, a high proportion of sanitation workers, like construction workers, are elderly, making them more vulnerable to serious injury.
Explosions at the workplace also accounted for about 12 percent of the incidents recorded last year. In many of these cases, the explosion was caused by poor maintenance or the failure to act when danger was imminent, such as a build-up of gas in a coal mine.
Many factory buildings and workers' housing blocks in China are very poorly constructed, putting the occupants at much greater risk during explosions, fires and so-called natural disasters. The tornados that swept through the Pearl River Delta 4 October, for example, killed at least six people and injured more than 200 others but the death toll would have been much higher had many of the factories not been closed for the National Day holiday.