In this edition: "Frictional unemployment" describes young people's job prospects; live streamers experience labour disputes and excessive working hours; hospitals in financial crisis cannot pay wages and benefits; real estate recession leads to layoffs in steel industry; truck drivers on China's "green passage" face challenges; workers suffer under extreme temperatures
"Frictional unemployment" in Chinese youth population continues
China's unemployment rate for those aged 16 to 24 years reached 19.9 percent in July, a record high for the fourth consecutive month. The National Bureau of Statistics (NBS) attributed July's high youth unemployment rate to the annual university graduation season. A month ago, the NBS spokesperson, Fu Linghui, proposed the explanation of frictional unemployment, which describes how young job seekers find current job vacancies unsuitable, creating friction between the supply and demand of jobs.
The public has interpreted the official use of "frictional unemployment" in different ways. One view is that young people have high expectations for their careers, and another view summarises the problem as young people being "unfit for a higher post but unwilling to take a lower one." However, the evidence does not support the idea that young people have too high of expectations. According to the 2022 College Student Employability Survey, the average monthly salary of this year's graduates was only 6,507 yuan, a 12 percent drop from the previous year.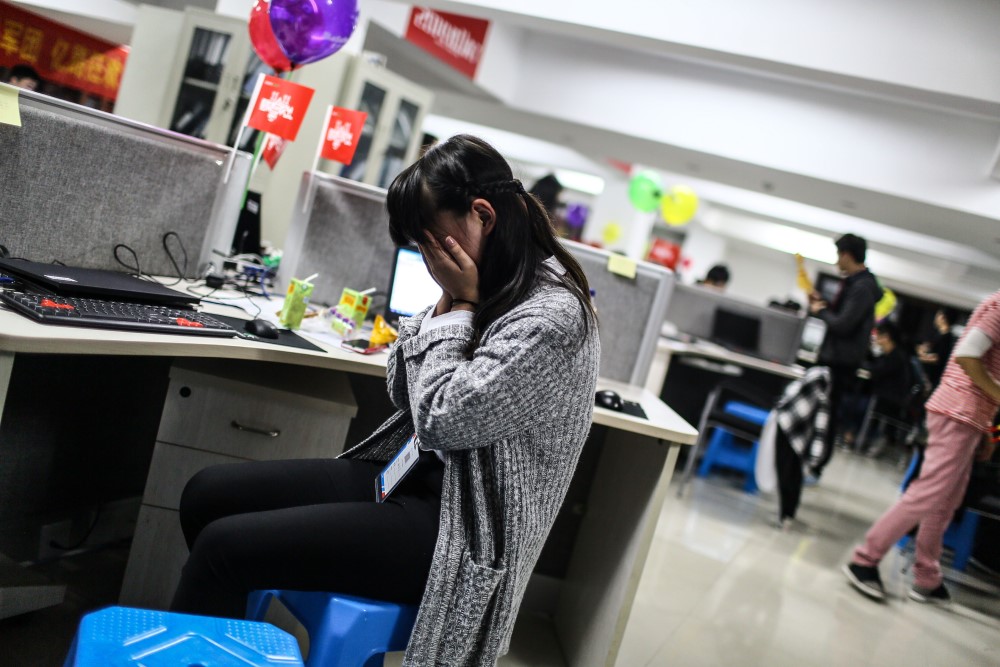 Meanwhile, family members' earnings patterns are becoming inverted, as young people's incomes are often lower than their elders' pensions. An interview with a 26-year-old university graduate in Hebei province revealed that the highest income in his family is earned by his parents whose pensions are over 6,000 yuan; his grandparents' pensions bring in over 4,000 yuan; while his own 3,000 yuan income is the lowest in the family.
Live streamers' labour disputes highlight excessive working hours, sudden deaths and unpaid wages
A 22-year-old female live streamer in Hangzhou, Zhejiang province, died suddenly after working continuously overtime, once again arousing public concern about the rights and interests of workers in the new industry. In addition to the well-known problems in the food delivery and online ride-hailing industries, live broadcasters also suffer from long working hours according to their sponsors' demands. 
According to The Paper, the daily working hours of live broadcasters range from four to ten hours. When it comes to the annual 11 November Singles Day and 18 June shopping festivals, live streamers have to broadcast continuously, with only short rest times. For example, they may go offline at midnight only to receive notification that they must restart the broadcast at 6:00 am.
Labour disputes common in the new platform economy are also present in the live streaming industry. These include the lack of labour contracts between workers, platforms and companies, the unclear labour relationship between workers and companies, and the content ownership of the live streamers' accounts. A live streamer in Hohhot, Inner Mongolia, told the media about her experience of being owed wages. She said that even though no salary was paid, she still had to accompany her supervisor to meet new customers. Since no labour contract was signed, she did not even know the name of the company before the first month's salary was paid.
Major drop in hospital revenue after repeated pandemic waves, leaving some in financial crisis
A serious cost-revenue problem is happening in China's hospitals. On one hand, the number of visits to hospitals in China has decreased as a result of the pandemic, so ordinary business is reduced. The shift in financial allocation to pandemic prevention work has also reduced government subsidies. On the other hand, the pandemic has increased workloads, and hospitals have to purchase a high amount of protective equipment and consumables, which increases their expenses. 
Some second- and third-level public hospitals are now in financial crises, and the situation is even more severe for private hospitals. Yu Xiaobao, Vice President of the Private Hospital Management Branch of the China Hospital Association, said in May 2022 that more than 2,000 private hospitals have gone bankrupt since the pandemic.
An article by the WeChat public account Caregivers mentioned that following the 21 July Covid-19 exposure of a hospital in Dandong, Liaoning province, which had not paid salaries for months, many online messages indicated that other hospitals were also in crisis. On 15 August, it was reported that the No. 4 People's Hospital in Leshan, Sichuan province, announced its closure. The No. 3 People's Hospital in Suzhou, Jiangsu province, was also reported for issues of non-payment of staff housing funds. The hospital claimed that it was unable to pay because of a significant drop in revenue as a result of five rounds of vacating the hospital to treat Covid-19 patients.
Real estate recession leads to layoffs in steel and other related industries 
The recession in the real estate industry this year has led to a big drop in demand for steel and coal, with companies cutting production, reducing pay, and laying off staff. The WeChat public account Steel Workers' Home pointed out that 168 steel enterprises lost more than 6.5 billion yuan in the first half of 2022. Large steel production companies are now reducing staff, with some steel mills in overhaul for half of the month. 
Workers at Liuzhou Iron & Steel said that only 30 percent of their wages have been paid, and that they can only get about 3,000 yuan per month lately, compared to their typical income of about 10,000 yuan. Henan Anyang Iron & Steel Group issued an internal notice saying that since August, the company has reduced the salaries of employees by 30 percent, and the bonus is now based on the efficiency generated by each unit. The company has suspended the payment of housing funds for all employees since July, and the portion contributed by individuals has not been entered into their personal accounts, either. The directors, the company's supervisors, chief accountant and deputy manager issued a resignation statement.
It is estimated that 30 percent of steel enterprises would need to close down for the industry to operate normally. The reduction in production by steel mills has also led to a sharp drop of 40 percent in the price of coke fuel, forcing coke enterprises to cut production. Steel mills are now boosting prices by reducing production, for example by producing 2 million tonnes of steel with a 5 million tonne capacity. Such measures have so far failed to prevent layoffs and salary cuts.
Truck drivers complain about problems on "green passage" for agricultural products
To enjoy highway toll reductions and a relatively stable price of freight, many truck drivers prefer to carry fresh and agricultural products under China's "green passage" system. However, articles on the WeChat account Truck Drivers' Home pointed out new problems facing drivers on the green passage.
According to one article, Master Li, who travels mainly in the northwest of China, said that freight prices are cyclical. Due to the unique climatic environment of the northwest and the surplus of vehicles, the freight rate during winter and spring is relatively low, dropping from 3 yuan in autumn to 2 yuan or even as low as 1.5 yuan. In addition, as drivers running on the green passage are engaged in short and medium distance transport, delays due to staff inspection and shippers' unloading can result in a lot of losses.
On 10 August, it was reported that officers at the green passage checkpoint in Jiyuan, Henan province, stopped a truck driver and requested him to unload the watermelons on board one by one for inspection. The driver agreed only after the officers threatened him with a speeding charge. 
Master Li also recalled that he had been delayed for three days in Yinchuan, Ningxia, to unload his goods, without any compensation from the owner. The owner threatened him when he tried to negotiate for additional charges, and eventually he had to seek police assistance.
Workers suffer as hot weather continues 
Extreme hot weather has continued in China since June. Water levels in the Huangpu River in Shanghai and the Yangtze River in Wuhan reached record lows. The highest temperature in Beibei district of Chongqing reached 45°C. Drought conditions emerged in Anhui province, and Zhejiang province experienced water shortages. Many workers face the threat of heat stroke and even death (see last month's labour news roundup for more).
A report in Sanlian Lifeweek Magazine presents working conditions that lack air conditioning, such as a small bathtub assembly plant in Jiaxing, Zhejiang province, where eight workers share three fans. "All the air blowing out is hot, and it doesn't even reach the workers," the report said. The outdoor temperature reached 40°C, with the temperature in the workshop even higher. Workers had to bring their own traditional Chinese medicine to work to help with the heat, since the workshop provided no equipment or protection. Some companies did not even provide water for outdoor workers such as loaders and air conditioning installers.
 
CLB's July 2022 labour news roundup is available here.