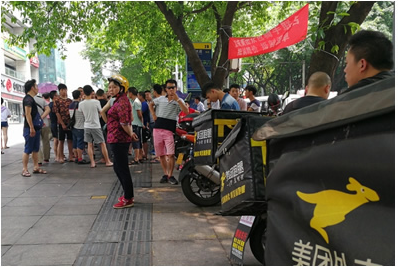 Staff at one of China's best known energy companies, Hanergy (汉能), staged protests in Beijing last month over months of unpaid wages and social insurance contributions.
White collar staff at two Hanergy subsidiaries, the Mobile Energy Group and the Thin Film Power Group, said they had not been paid since July. The company has also been laying off personnel, they said: "There were more than one hundred staff in my department when I joined in June, but one third of them have now left."
Hanergy founder, Li Hejun, was ranked as the richest person in China in 2015 before shares in the Hong Kong-listed Thin Film Power Group collapsed. In June this year, Thin Film was officially delisted from the Hong Kong exchange after being suspended for four years. The company is now in severe financial difficulty and, in September, it was sued for 71 million yuan for unpaid rent on a luxury private jet.
In early September, workers in Hanergy staged a sit-in at the company's headquarters over several days. A worker, who fainted during the protest due to her anger, said that neither the local media nor the government were responding to their demands. "Even as a masters graduate with a high-quality education from the state, I am helpless in protecting my rights."
Some workers resorted to extreme actions when their demands were not met. On 21 September, for example, a senior employee threatened to jump off the building if staff were not paid on that day.
Another worker complained that the company had reneged on a deal to pay his work injury compensation: "Hanergy did not provide work injury insurance [as required by law], so I did not receive any compensation from the work injury fund after the accident. After mediation, they agreed to pay me 120,000 yuan but then the company ignored the agreement and did not pay as agreed."
Several workers formed WeChat groups to publicise their demands but complained that the local government, the official trade union, and the media largely ignored them. Indeed, Hanergy actually won plaudits for its solar panels during the 1 October celebrations to mark the 70th anniversary of the founding of the People's Republic of China. 
In reality however, Hanergy is just another example of how companies shift the burden on to their employees as soon as they encounter economic difficulties or financial hardship. It does not matter if they are white-collar staff or low-paid workers in a garment or mobile phone factory, workers are always the first to be sacrificed.