A total of 13 coal miners died and seven others were injured after a coal dust and gas explosion ripped through a coal mine in the south-western province of Guizhou on Monday 6 August.
The explosion occurred at the Zimujia coal mine near the city of Panzhou and close to the provincial border with Yunnan – an area notorious for coal mine accidents.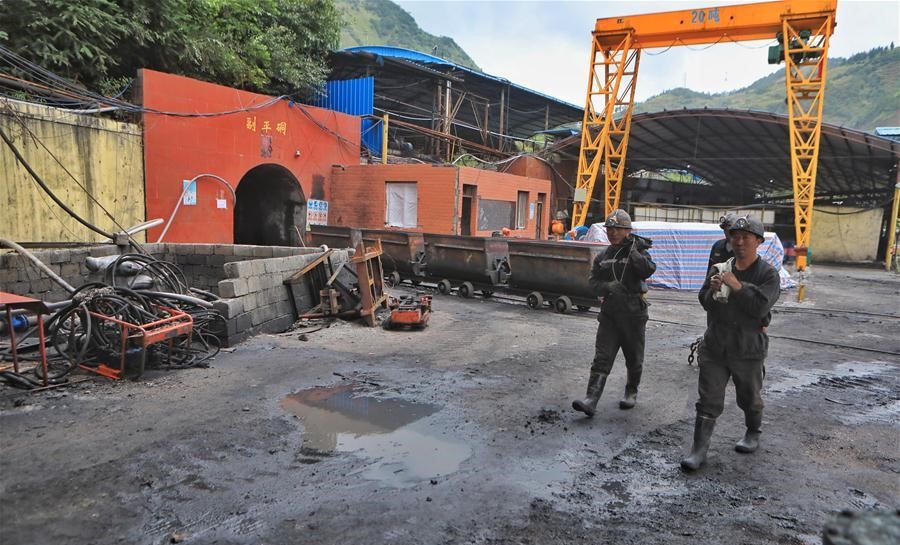 Photo of rescuers at the Zimujia mine from Xinhua.
Although coal mine safety in China has improved remarkably over the last decade, the southwest has remained an accident blackspot. Of the 163 coal mine accidents recorded on CLB's Work Accident Map over the last four years, 20 have occurred in Guizhou and Yunnan, provinces that produce a relatively small amount of coal.
The high accident rate is partly explained by the remote, mountainous terrain but also by what appears to be lax enforcement of safety regulations by local officials at a time when safety inspectors nationally are taking a much tougher stand.
The State Administration of Coal Mine Safety announced on 2 August that it had inspected 59,000 mines in the first half of the year, suspended production at 746 of them and issued fines totalling 677 million yuan for various safety violations.
The number of coal mine deaths in China dropped by 12.9 percent in the first half of the year to stand at 155, according to official figures. The total number of deaths for 2017 was 375, a vast improvement on the mid-2000s when up to 6,000 coal mine workers died every year but still far higher than the corresponding average death rate in developed countries.
While heightened government supervision and regulation are part of the reason for the improvement in safety in China's coal mines, the main factors have actually been lower coal prices, declining production, and industry consolidation.
Meanwhile, work safety in a vast array of other industries continues to be a major problem, as evidenced by the explosion at a Sichuan chemical plant last month that killed 19 people, and by the daily accidents involving food delivery workers and other transport workers in China's fast-paced cities. See CLB's introduction to workplace safety for more details.