China never sent troops to fight in Europe during the First World War. However, an estimated 135,000 young rural labourers were sent halfway around the world to work in French munitions factories, dig trenches, lay railway lines and remove dead bodies and unexploded ordnance from the battlefields. Thousands died and thousands more returned to China traumatized and deeply scared by what they had seen.
A new book by Mark O'Neill, published by Penguin to mark the one hundredth anniversary of World War One, outlines the remarkable and vital contribution made by these workers to the British and French war effort and describes how they were forgotten about as soon as they were no longer needed.
The Chinese Labour Corps: The Forgotten Chinese Labourers of the First World War describes how the workers were basically pawns of the new republican government in Beijing who hoped that the offer of labour would help reduce or even cancel out the reparations imposed on China in the wake of the Boxer Rebellion and, in the event of an allied victory, allow China to reclaim territory in Shandong that had been annexed by Germany. This political gamble of course failed miserably and China was completely ignored in the post-war Versailles settlement.
Britain and France initially refused China's offer in order to protect domestic labour but, as the death toll began to mount in 1916, both countries realised they needed all the help they could get. Even then, they put severe restrictions on the Chinese labourers' conditions of employment and those working for the British even had to wear a metal bracelet stamped with their name and serial number.
They were transported like cargo, sealed up in ships and trains for up to five months before arriving in France. And once in place they were assigned the dirtiest, most dangerous jobs. This inevitably led to conflict. Between 1916 and 18, there were 25 strikes by Chinese workers at factories in France, usually the result of "poor working conditions, non-payment of wages, being assigned work that was not in their contracts and maltreatment, physical or verbal, by their overseers."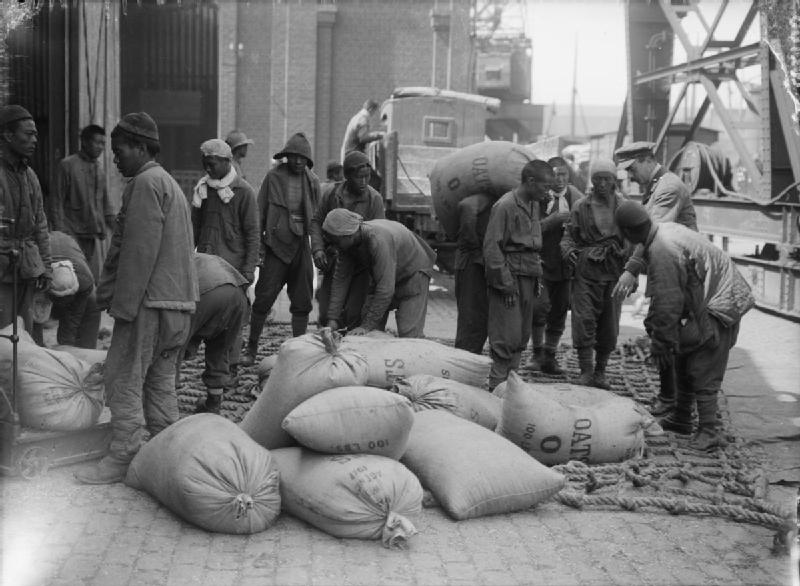 The Chinese Labour Corps transporting supplies
Following the war, many Chinese labourers were kept on in France to help in reconstruction and the vital task of clearing hundreds of tons of ordnance, a job that just about everyone else refused to do.
Although, they were on limited term contracts, a few Chinese workers managed to stay on in France by finding other jobs or by marrying local women. There was of course a huge shortage of young Frenchmen at the time and as one woman remarked of her fiancé:
Unlike many French men, he does not drink and has never beaten me up. If I found a French man he might be an alcoholic, spend all our money on wine and beat me up frequently. If I do not marry Mr Yang, I will have no chance to marry at all.
The majority of workers however returned to their old lives in rural China. Many had saved a substantial amount of money during their time in France but that money quickly disappeared when it was divided among their extended families. Those who were injured were not properly compensated and often died in poverty because they could no longer work.
Very few people in China today are aware of the contribution made by these young men a century ago but at least in France there is now some belated recognition of their service. In 2008, a monument to the "Chinese workers and fighters who died for France in the Great War" was unveiled in the 13th arrondissement of Paris, today's China Town. A campaign is now underway in Britain for a similar monument to be erected in London.
Mark O'Neill has written another book in the same Penguin series entitled From the Tsar's Railway to the Red Army: The Experience of Chinese Labourers in Russia during the First World War and the Bolshevik Revolution.