Trade unionists around the world, and particularly in the Global South, increasingly face the risk of political persecution for defending basic labour rights and political freedoms. 
In Myanmar, trade unions have been outlawed and union leaders are being targeted by the military regime. In Cambodia, prominent workers' rights advocate and president of the Confederation of Unions, Rong Chhun, was arrested last August and is on trial for "incitement to commit a felony or cause social unrest." 
And here in Hong Kong, two leading trade unionists are among the 47 political and civil society activists facing charges of conspiracy to subvert state power, after organizing an unofficial primary election last year for the now-cancelled Legislative Council elections.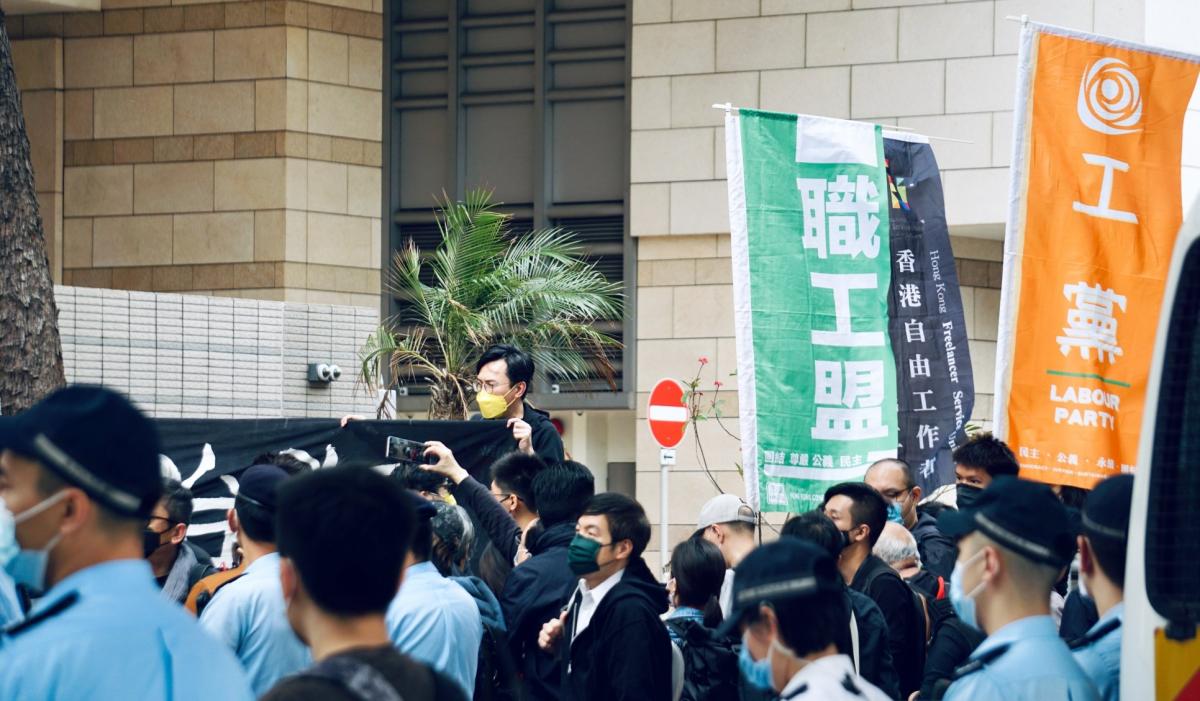 Trade union supporters outside the West Kowloon Magistrates Court on Monday 1 March.
Carol Ng, chair of Hong Kong Confederation of Trade Unions and Winnie Yu, chair of the Hospital Authority Employees Alliance, have both played key roles in defending workers' rights, promoting the interests of their members, and campaigning for wider democracy in Hong Kong.
By bringing charges against Hong Kong's trade union leaders, the authorities are undermining the rights and interests of workers across the territory who, now more than ever, need strong and effective labour organizations to represent them. Furthermore, the politically-motivated prosecution undermines the rule of law, which is the cornerstone of Hong Kong society.
As a labour organization and a member of civil society in Hong Kong, China Labour Bulletin stands in solidarity with Carol Ng and Winnie Yu and all trade unionists around the world who are facing political persecution. We urge the Hong Kong government to respect ILO Convention No. 87 on the freedom of association and the right to organize, and uphold the basic principles of social justice and democratic values. 
We endorse Carol Ng's statement made before entering the police station on 28 February: "It takes a second to give in, but a lifetime to persist."