China Labour Bulletin appears in the following article. Copyright remains with the original publisher
and broadcaster
.
Authorities say 104 people have been killed in country's worst mining disaster for two years
Tania Branigan
in Beijing and agencies
guardian.co.uk
, Monday 23 November 2009 07.52 GMT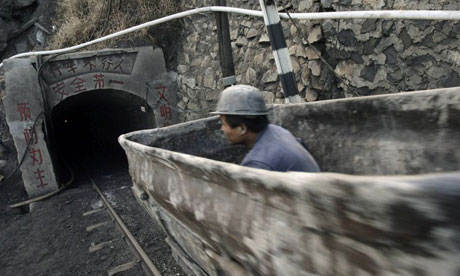 Grieving relatives scuffled with police today as the death toll from China's worst mining disaster for almost two years rose to 104.
Authorities said they feared another four workers who were trapped underground after a huge gas explosion at the mine on Saturday were already dead.
Hundreds of rescue workers have been at the pit in Heilongjiang province, close to the Russian border, but no survivors have been found since the blast.
Chinese state media reported today that safety staff knew gas had reached dangerous levels and were evacuating miners when the explosion – so powerful that it was felt 10km away – happened 500 metres underground.
More than 500 miners were below ground at the time, but most escaped. Twenty-nine people who were injured remain in hospital, the Xinhua news agency reported.
Around a dozen women who had gathered at the entrance of the mine in Hegang to complain about the lack of information argued with police and security guards. Some were taken inside the compound, while others were driven away in a van.
Men who declined to identify themselves tried to stop reporters from speaking to the women, putting their hands in front of cameras.
The Xinxing mine produces more than 1m tonnes of coal each year and is run by the state-owned Heilongjiang Longmei mining holding group.
A major safety drive has cut the number of mining deaths in China since 2004, primarily through the closure or forced acquisition of small, private and often illegal mines.
In the first half of this year, 1,175 people died in pits across China, a fall of 18.4% compared with the same period last year, the state administration of coal mine safety said.
But China Labour Bulletin, a Hong Kong-based organisation supporting workers' rights, said the Xinxing deaths showed that nationalising mines was not enough.
The organisation said more effective safety measures were needed, including giving a voice to workers, whose safety concerns are often overruled by their bosses.
It said investigations into previous disasters had shown that managers refused to clear pits, even when gas monitors indicated problems or evacuation alarms sounded, because of the losses caused by shutting down production.
"As an enterprise responsible for profits and losses, state-owned coal mines are just as concerned with profit maximisation as privately-owned coal mines," Han Dongfang, the director of the group, wrote recently.
"And their managers' disregard for miners' lives in the push for profit or the drive to exceed production quotas is just as appalling as in privately-owned mines.
"According to official figures, thousands of miners have died in major accidents at state-owned mines over the last decade."
The deadly nature of China's mining industry was underlined by a separate blast in Hunan province yesterday, in which another 11 miners were killed and three are missing, Xinhua reported.
Mining offers relatively high wages compared with other low-skilled manual jobs and, in some areas, there is little other work available.
China's work safety chief is heading a team investigating the cause of the Xinxing explosion, and central government prosecutors are looking for any abuses of power or official misconduct that may have contributed to the disaster, state media said.
According to a spokesperson for the mining holding group, the mine's monitoring room had received alerts of a sudden, dramatic rise in underground gas levels 53 minutes before the blast.
A mine official said managers immediately cut off underground power and notified all personnel to evacuate, but it remains unclear why it took so long to clear the pit.
A blast at a state-run mine in Shanxi province in February killed 77 people. In that disaster, no alarms sounded and no action was taken even when gas indicators registered dangerous levels, state media reported.
In a commentary, the English-language state newspaper China Daily wrote: "China's over-reliance on fossil fuel and the low efficiency of its industry means there will be no substantial cut in the number of miners – seven million.
"But do they have to die to keep us warm and the factories up and running? Is there a way to keep casualties to the minimum?"
State media reported that the families of each victim were expected to receive at least 250,000 yuan (£22,000), 25% more than the standard compensation for fatalities in incidents caused by negligence.