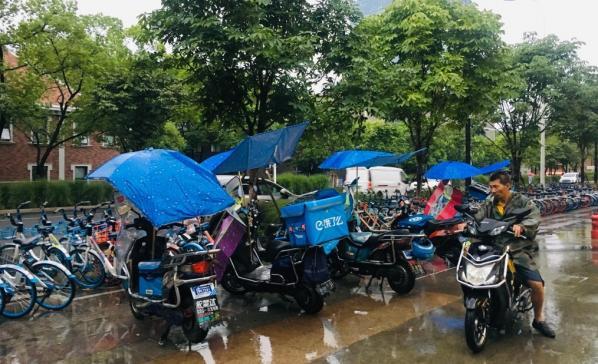 The dreadful working conditions of Chinese food delivery drivers returned to the spotlight in August, as many workers reported that they were forced to take orders during a tropical storm, when demand for food delivery surged.
One Ele.me motorist said all drivers had been threatened by management with a penalty if they refused a dispatch when being called back to work in extreme weather. 'Many workers don't want the money. The additional allowance for each order is just 0.8 yuan. Drivers keep falling down in the storm. There's no point working like that,' said the driver.
Another driver in Shanghai died electrocuted in a storm on 10 August while trying to go across a large puddle of water with his motorcycle. The work of food delivery drivers continues to be extremely dangerous. CLB's work accident map documented 11 cases of accidents in August, in which 3 workers died and 8 were injured.
Mandatory shifts imposed by companies in extreme weather highlights the hypocrisy of the new platform economy. Drivers are considered merely as 'independent contractors' when demands about pension and work injury insurance arise and yet cannot refuse to work in bad weather. Being 'independent contractors' do not bring them the right to choose whether to work or not, and they are moreover forced to keep on accepting deliveries because of fines and intense exploitation.
Alongside work accidents, four protests related to food delivery drivers were also recorded on CLB's Strike Map, denouncing mainly low pay and wage arrears. On 31 August, a group of Meituan drivers staged a strike in Hengshui, Henan, decrying low pay and insufficient orders on the platform. Workers said that since Meituan had decided to allocate more orders to reward loyal drivers, orders for part-time workers had decreased rapidly.
Regulations on the new platform economy are obviously lacking. In this new and yet fast-growing sector, labour relations between companies and workers are unclear as most drivers only complete simple procedures on the app. Problems related to income calculation, pay scale and work injury insurance are major areas where disputes arise.
Governments in other countries have already started to address some of these issues. In France, a specific article was introduced by the government in the general law project on mobility to be voted in September, in order to provide specially-designed regulations covering workers and drivers who use online platforms to earn a living.
Specific rights related to the gig economy are formally listed. They include that workers may refuse a transport service offer without being subject to any penalty, can choose their hours of activity and periods of inactivity, and have the right to access all the data concerning their own services within the platform. With these provisions, workers would be freed from the far too usual penalties and tricks imposed by companies.
The article of law, however, still has its drawbacks. Critics have pointed out that it is only adding into the Transport Code instead of the Labour Code for service providers. A minimum guaranteed pay is also absent. These shortcomings will somehow make the law rather toothless to fully protect delivery workers' rights.
Yet, the article proposed by the French government does symbolize a new step and should set a reference for the Chinese government. Most food delivery drivers are without any labour contract in China and existing laws are inadequate to handle issues like fake distance calculation and concealed penalties. As protests and strikes of drivers continue to erupt in all major cities in China, it is high time for the official trade union to step in and help workers hold bargaining meetings with the platforms.