Several major cities and provinces in China have banned trucks with dangerously high exhaust emissions in a bid to tackle air pollution during the winter months. A notice issued by the Jiangsu provincial government, for example, identified diesel trucks as the major cause of air pollution in the region and said that tough restrictions on China 3 and China 4 standard diesel trucks were necessary in order to defend the blue sky.
While many drivers agree that measures have to be taken to combat air pollution, they point out that the new measures place all the burden on them, with no assistance offered by the government. After the bans were introduced in November, drivers experienced a sharp drop in income and were quick to respond by staging strikes and protests in several different cities.  It was the second time this year that truck drivers had organized widespread protests, the first being the nationwide drivers' strike in June this year over rising costs and declining incomes.
It is important to note that it is the rapid growth of e-commerce in China that has led to the higher number of polluting trucks on the road and yet the government has not forced major corporations such as JD.com and Alibaba to take measures to protect the environment. Placing all the responsibility for environmental protection on individual truckers is short-sighted and unrealistic. It also highlights the need for China's trade union to ensure that drivers' interests are protected during the environmental policy-making process. And just as importantly, the union needs to engage in collective bargaining with major logistics companies to make sure drivers can earn a decent living without having to work 12 hours a day, seven days a week.
Xi'an truck drivers challenge new rules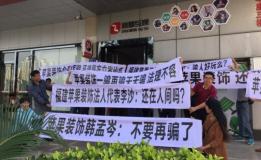 Zhengzhou drivers face-off against riot police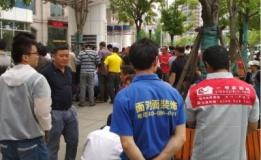 Truck drivers in Zhengzhou staged a mass protest on 26 November after government regulations, announced a few days earlier, imposed a strict ban on all China 3 trucks. The owners of China 4 trucks were given some space to operate but had to upgrade their vehicle's pollution control systems.
Many of the owners of China 3 trucks said they had already paid in full for their trucks, which were now worthless because they were essentially out of a job. Other drivers complained that they could no longer deliver goods on time to companies in Zhengzhou because the government restricted them to entering the city on every other day.
Significantly, the drivers chose to stage their protest at the central plaza commemorating the bloody suppression of the train drivers' strike on 7 February, 1923. Riot police seized banners and reportedly beat some the drivers when they attempted to break through police lines. This time, the drivers did not force the government to reverse its policy but rather, in an echo of 1923, they were beaten back by police.