In early July 2009, Zhang Haichao voluntarily underwent an operation to open up his chest in order to prove he was suffering from the fatal lung disease pneumoconiosis. And at the end of July, more than one hundred workers from Daozi in Hunan, all suffering from pneumoconiosis, staged a mass sit-in outside the Shenzhen municipal government demanding occupational illness compensation after years of pile-blasting and drilling on the city's construction sites.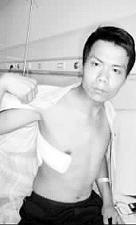 Zhang Haichao after his operation. Yanzhou Metropolis Daily

Zhang, a 28 year-old villager from Henan, worked for several years at an abrasive materials factory in Xinmi, near the provincial capital Zhengzhou, breathing in clouds of dust on a daily basis. In the latter half of 2007, he began to suffer from a cough and tightness in his chest. He checked into several local and national hospitals, all of which confirmed pneumoconiosis. Zhang had earlier been sent by his employer to the Xinmi Centre for Disease Control and Prevention for a check up. But even though Zhang's chest x-ray indicated a problem and the centre told Zhang's employer he needed a second check-up, the company keep quiet about the news. Zhang only discovered the factory's suppression of his medical information two years later when he revisited the centre in January 2009.

Zhang was at that time seeking a formal diagnosis of occupational injury from the centre, but, without the cooperation of his employer in providing relevant documentation on his work history and health and safety conditions at the factory, he could not get himself seen. It took the intervention of the city government for the centre to eventually make a diagnosis on 25 May – but the diagnosis unbelievably came back as tuberculosis not pneumoconiosis. Although it is impossible to prove corruption or collusion between the centre and the factory, it seems remarkable that any medical professional could have mistaken pneumoconiosis, a disease caused by dust inhalation, for tuberculosis, one caused by a bacterial infection.

Zhang told the Yanzhou Metropolis Daily (燕赵都市报): "I just could not accept this. Doctors at major hospitals in Zhengzhou and Beijing both said that I had pneumoconiosis." In response, Zhang elected to take the drastic step of undergoing a thoracotomy at a hospital in Zhengzhou. The operation revealed that his lungs were indeed clogged full of dust, and the diagnosis was unmistakably pneumoconiosis.

By this time, Zhang, who has a three-year-old daughter and elderly parents to support, had spent nearly 90,000 yuan on medical tests and treatment, and was deep in debt. But as he explained to reporters, he had been left with little alternative: "I was gambling with my own life. But if I had not done it, I could have frittered away the rest of my days as a victim of occupational disease."

Many of the Hunan migrant workers who laid the foundations for Shenzhen's skyscrapers over the last two decades have already suffered that fate. In a letter to the Shenzhen Party committee and government (reprinted and translated here in full by CLB), the surviving workers stated that 15 of their co-workers had already died from pneumoconiosis, a further ten were so ill they were unable to work in any capacity, while the others could not do heavy physical work and had mounting debts to pay.

We suffer constant pain, impairing our ability to do housework chores, and we have grown increasingly indebted. Our lives have become very hard. However, in all this time, neither our employers nor any public authority has provided us with any medical or work-related illness compensation. We have expended our bodily strength and in some cases sacrificed our lives at the construction sites of the [Shenzhen] Special Economic Zone… We earnestly hope the government will help us to obtain the compensation that is due to us.

So far, the Shenzhen authorities have only offered the workers 30,000 yuan each in compensation, without admitting any liability in the matter. The workers have thus far refused the government's offer and are planning to file an administrative lawsuit against the government for failing to enforce safety standards.

The workers pointed out that during their work laying the foundations for some of Shenzhen's best known landmarks, very little attention was given to workplace safety:

Our employers were only interested in profits and took no notice of laws and regulations. They failed to arrange insurance or organise safety training, and made us work in appalling conditions. Even the most basic dust masks had to be completely worn out before being replaced.

During underground pile-blasting, blastholes are drilled into the bedrock at the bottom of small shafts dug at the construction site; the blastholes are then filled with explosives, which when detonated create deep holes for the foundation piles. And as the workers noted in their letter; "Poor ventilation at these underground drilling sites combined with high dust density leads to high levels of dust inhalation, and the long working hours make contraction of pneumoconiosis a near-certainty in this work."

According to official figures, pneumoconiosis is the most serious and most common occupational disease in China today, with an estimated 7,500 to 10,000 new cases diagnosed each year, representing more than 75 percent of the occupational disease cases reported over the last few years. The coal mining industry is the probably the single biggest cause of pneumoconiosis among China's workforce, followed by quarrying, rock blasting and grinding, and also the jewellery industry in which workers are often exposed to high levels of silica dust while polishing gem stones – see CLB's 2005 research report Deadly Dust: The Silicosis Epidemic among Guangdong Jewellery Workers and the Defects of China's Occupational Illness Prevention and Compensation System.

However, difficulties faced by migrant workers in particular in proving an employment relationship, numerous loopholes in the current laws and regulations on occupational disease, combined with collusion between factory owners, local governments and local centres for disease control and prevention, have meant that workers often find it impossible to claim the compensation due to them under the law.

The State Council is currently revising its Work-related Injury Insurance Regulations (工伤保险条例) and on 24 July issued a draft of the revised regulations for public consultation. China Labour Bulletin, as part of its ongoing commitment to improving China's labour law, will make a detailed submission to the State Council this month. An English translation of this submission will be available on the CLB website.