A massive strike by as many as 10,000 truck drivers at Ningbo's Beilun Container Port erupted into violence yesterday as protestors clashed with riot police and smashed the windshields of trucks crossing the picket line.
Truck drivers, unhappy at haulage rates which had remained unchanged for the past eight years, brought the port to a standstill when they staged a protest outside the port authority building on 18 August.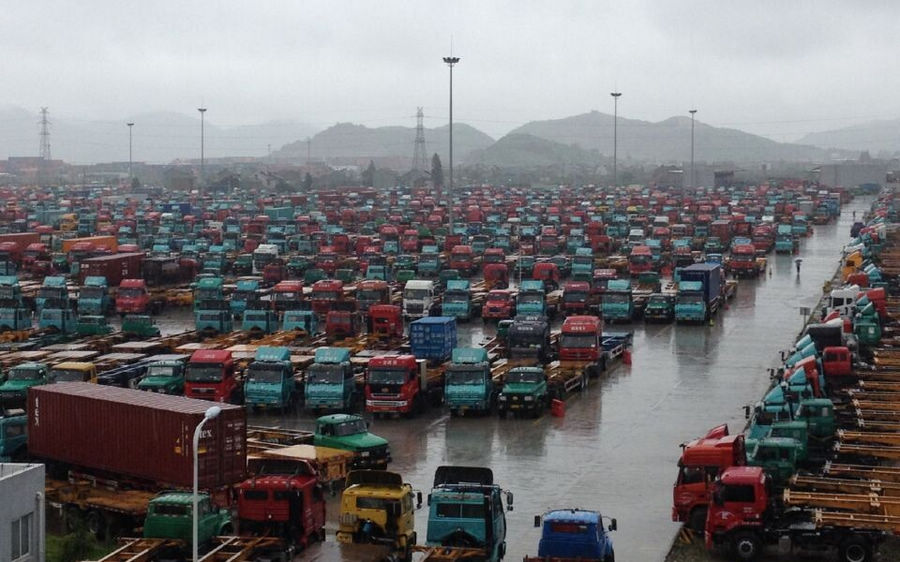 Trucks at a standstill at Ningbo's Beilun Container Port
The city's transportation association had issued a notice on 15 July stating that haulage rates should increase on average by 12 percent but drivers complained that many freight companies had refused to increase rates in line with the industry association's notice. Moreover, drivers said, they had to contend with numerous port and container charges, unreasonable port management, irregular working hours, and skyrocketing diesel prices.
Two striking drivers were reportedly detained by police during the day on the 20th and many more were arrested in the evening when a group of drivers stormed the local police station to demand the release of their colleagues. Pickets reportedly smashed the windshields of trucks trying to enter the port and even laid tire-puncturing spikes at major entrances to prevent any traffic from going in and coming out.
The drivers' grievances are basically the same as those of the drivers who blockaded Shanghai's ports three years ago. In April 2011, hundreds of truck drivers, mostly independent operators from outside the city, demanded an increase in their flat-fee haulage payment to offset rising fuel costs. Drivers said costs had increased to the point where they could only take home about 100 yuan from the daily haulage rate of 1,200 yuan, which had not changed in a decade.
That protest was eventually broken up by police and the drivers went back to work. The Shanghai government announced some concessions, such as requiring logistics companies to reduce the fees they charged drivers but drivers remained dissatisfied with the outcome, saying the measures would have only a limited impact on their income levels. Most drivers agreed at that time that, sooner or later, another strike would break out.