China's delivery van drivers face huge pressures at the best of times but they are now being squeezed even further by the online platforms that dominate the transport and logistics sector. Many drivers cannot earn a living wage, and a lot have already quit the industry but still more are taking collective action.
Strikes and protests by transport workers accounted for 12 percent of incidents recorded on China Labour Bulletin's Strike Map last month, about the same proportion as factory workers.
There were at least nine protests by delivery drivers and couriers in July, mainly related to commission rate decreases, wage arrears and branch closures. In some cases, workers with no savings were forced to quit their job when management consistently refused to pay their wages. Moreover, some drivers were blacklisted when they came back to demand payment of wages in arrears. Company managers simply disappeared or ignored workers' demands because they thought workers with economic difficulties could not afford a long struggle.
However, in many cases workers did not give up and took determined action to claim back what they were owed. Delivery drivers went to the labour bureau, phoned company headquarters and even disturbed the traffic, in order to safeguard their livelihood. See the two case studies below.
One notable absentee from the transport workers' struggle, once again, was China's official trade union. Given that the working conditions of transport workers is expected to deteriorate even further in the long run, it is crucial that the trade union starts organizing workers to fight back as soon as possible and not just sit on the side-lines.
Drivers in Shenzhen and Ningbo protest after Lalamove cuts rates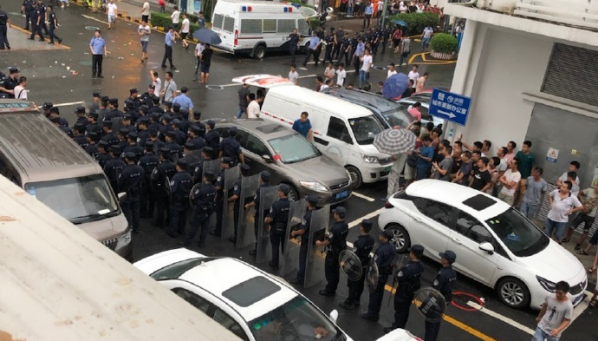 Hong Kong-based logistics company, Lalamove, sparked protests in Ningbo and Shenzhen on 18 July after it lowered its commission rates in multiple cities without drivers' consent.
Nearly 300 drivers blocked the road near Lalamove's regional headquarters in Ningbo, and two drivers were reportedly detained after a conflict broke out with police. In Shenzhen, hundreds of drivers gathered at company headquarters with eight demands, including reverting to 2018 commission rates, better treatment for senior drivers and addressing drivers' concerns over the allegedly fraudulent distance calculation system used by the company.
Drivers stated that orders on the platform had been decreasing ever since competition between rival companies intensified. They believed that the latest commission cut also stemmed from the same issue, as Lalamove has been engaging in a price war with other logistics companies. Many Lalamove drivers are already in debt after buying their vans and the pay cuts will deal a further blow to their livelihood.
Delivery workers in Xi'an protest unpaid wages as boss vanishes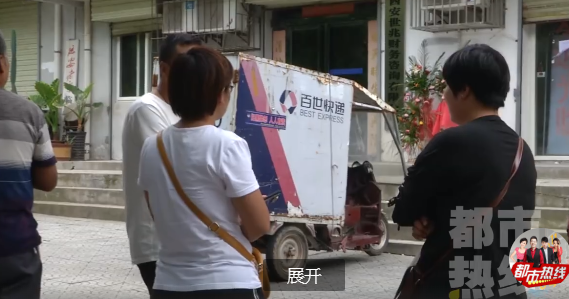 More than 30 delivery drivers in Xi'an, the provincial capital of Shaanxi, protested wage arrears owed by a Best Express subsidiary company on 25 July. Workers said that the company owner sold the business in March with an estimated one million yuan in wages unpaid.
Workers sought help from the local labour bureau, which ordered the company to resolve the issue within seven days, but the boss vanished when the payment due date came. The regional office of Best Express, meanwhile, refused to accept the drivers' payment records, telling them to take the matter up with their vanished boss. Since most workers did not sign a formal employment contract, they faced huge difficulties in proving the amount of wage arrears owed. Meanwhile, some drivers said they have been forced to borrow money just to make ends meet.
CLB's Strike Map has so far recorded seven incidents related to wage arrears at Best Express and its subsidiaries.