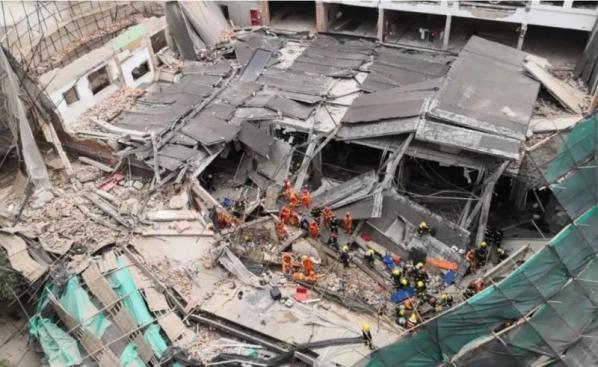 China heads into June's National Work Safety Month with a grim record of structural and mechanical failures, which led to the deaths of at least 33 workers and injured 145 others in May alone, according to data from China Labour Bulletin's Work Accident Map.
Structural collapses accounted for 7.3 percent of all accidents in the construction industry in 2018, according to a report issued by the Ministry of Housing and Urban-Rural Development. However, that percentage increases to 45.5 percent when only major accidents are considered. The individual death toll from these accidents rarely matches those of the major fires and explosions that grab the headlines. However, they are so common that the cumulative death and injury tolls quickly add up.
In many cases the victims of these accidents are rural migrant workers contracted to work on poorly managed construction projects in the cities or employed in mines that have just been reopened by their owners in order to take advantage of rising commodity prices without first taking measures to ensure structural integrity.
Many other cases can be directly linked to lax government regulation and a lack of effective trade union representation in the workplace. Three examples of structural collapses that occurred just last month are detailed below.
At least ten dead in Shanghai building renovation project
At least ten migrant workers were killed and 15 injured in a construction site collapse in Shanghai on 16 May. Photographs of the scene (see above) showed the roof crumbled into pieces, with only the main walls intact. Workers described how the air inside the building was so clogged with dust and smoke that they could not see in front of their faces.
The collapsed building was a former car service depot that was being converted into a commercial art centre. Residents nearby said the work was undertaken in hurry with workers on site 24 hours a day. Many speculated that the building was not properly reinforced before work began. Moreover, it was revealed in the subsequent investigation that the construction company, Guangmin Decoration, had been on a government fraud watchlist and that several financial disputes and administrative charges related to the company had been recorded by the Shanghai Fengxian Market Regulation Bureau.
Nearly one hundred people trapped after a nightclub collapses in Guangxi
A nightclub in the small southwestern city of Baise in Guangxi suddenly collapsed during a storm on the night of 20 May leading to six deaths and 87 injuries. The music stopped and the lights went out around midnight but very few people left immediately because they thought it was the prelude to a special event. About half an hour later, the roof collapsed trapping nearly 100 people inside. Many customers and employees were injured while trying to flee. The nightclub building, which reportedly had an investment of 20 million yuan, crumbled into ruins in only a minute. Seven people were arrested the day after the incident on criminal charges related to the collapse.
Mine collapse in Heilongjiang leads to deadly flood
Forty-three mine workers in Xunke, Heilongjiang, near the Russian border, were trapped in a flood on 17 May after the ground collapsed and river water poured into the mine. Currently, six miners are still missing, presumed dead. An investigation by the Ministry of Emergency Management (MEM) stated that the cause of the accident was the company's decision to boost production by opening new iron ore mines without official approval. The MEM report said the company completely disregarded the risks to ground stability the opening of the mine would generate. It also criticized the local government for its lax inspection and law enforcement regarding the mine.