Table of Contents

---
Part One: Those Left Behind
I don't want to leave. I want to stay, to be with you every spring, summer, autumn and winter. Please believe me, not for long, I will be reunited with you for the rest of our life. – translated from a Chinese pop song dedicated to migrant workers.[1]

My parents left home when I was very young. Their faces are fading away – a first year middle school student in China.[2]
Given the intense and systematic discrimination faced by migrant workers and their children in the cities, most parents choose to leave their children in their hometowns. Until very recently, it was estimated by the Chinese government that there were around 20 million children left behind in the countryside.[3]  However there were no reliable or comprehensive statistics because different studies defined left-behind children in different ways. The upper age limit of left-behind children varied considerably in different studies; some set it at 14 years,[4]  others 16 years[5]  or 18 years of age.[6]
It was not until 2007, after an All-China Women's Federation research team conducted an in-depth study based on the 2005 By-Census of one percent of the national population that a better picture of China's left-behind children emerged. The research team estimated that there were about 58 million children below 18 years of age left behind by parents in the countryside, accounting for 21 percent of all children in China, and 28 percent of all rural children.[7]
The survey found that more than 40 million left-behind children were under 15 years of age,[8]  and that more than 30 million were aged between six and 15. In some provinces, such as Henan, Hunan, Guangdong, and Shandong, a higher concentration of younger children was found. The majority of children left behind were boys (53.7 percent), corresponding to the overall gender ratio in rural China of 118:100 in favour of boys. However, a higher proportion of girls was found in Beijing, Shanghai, Inner Mongolia, Ningxia, and Xinjiang.[9]
Left-behind children were not only found in the traditional migrant worker exporting provinces of western and central China, but also in the prosperous east coast provinces. Six provinces – Sichuan, Anhui, Henan, Guangdong, Hunan, and Jiangxi accounted for 52 percent of all China's left-behind children. (See map of the distribution of left-behind children). In some counties, in which large numbers workers had migrated to other counties or provinces, the proportion of left-behind children reached as high as 53 percent or even 83 percent of all children.[10][11][12]
Based on data from the 2005 By-Census, 47 percent of left-behind children were living with one parent, usually with their mothers,[13]  and 26 percent were living with grandparents. In some extreme cases, grandparents had to take care of up to seven children. More than 27 percent of left-behind children were living with other relatives, friends, or without the care of adults. In most families, the husband would work in the city for a few years before his wife joined him. More than half of all children left behind (53 percent) had no direct parental care. (See classification of living arrangements). In the western and central regions, the proportion of children living with grandparents reached as high as 73 percent.[14]  The younger the child, the higher the likelihood was that both parents would be working away from home. About 75 percent of left-behind children below the age of six were not living with either parent compared with only 47 percent of those aged between 15 and 17[15],  reflecting the higher proportion of younger workers in the migrant population. (See the age structure of left-behind children)
Separated for years on end
Children living with relatives, friends or by themselves have only limited contact with their parents. Based on a survey by the Changsha municipal government, 44 percent of children saw their parents once a year; the same proportion of children were able to see their parents twice a year; and three percent once every two years. In some extreme cases, children had not seen their parents in six years[16].  More than 62 percent of parents of left-behind children in Hunan province had been working away from home for two years or more, and 26 percent for three years or more. Some parents had been away for more than 13 years. Nearly half the children (45 percent) did not know where their parents worked, and 75 percent had not visited their parents in their host cities[17].  A larger study by the Agricultural University of ten villages in north and western China in 2004 found that ten percent of the children interviewed had no communication with their parents at all during the year before the study[18].  In some remote areas such as Weishan in Sichuan, 51 percent of parents returned home only once a year; 18 percent once every two years, while 13 percent had not returned home for three years.[19]

All too often, for left-behind children, the fear of separation from their parents is overwhelming, especially for younger children the first few times their parents leave. The following is a personal account of a teenage boy who, together with his brother, was cared for by his grandmother:
I was studying in primary school. I remember I constantly cried as I missed my mom so much. One day, when I came home from school, I saw my mother preparing a meal in the kitchen. I was so excited that my heart started beating frantically. I was afraid that it was only my imagination, and I looked again and again. Oh, it was real! I was so happy! "Are you hungry?" my mother asked. "Yes! I am hungry. My stomach is grumbling," I replied loudly.

When I woke up the next morning, I did not see my mother around! I got up and hurriedly looked for her in every corner of the house but couldn't find her. I started to panic and rushed out on my bare feet to my grandma's home hoping she was there. When I reached grandma's home, I saw mom. "Mama, I was afraid that you had gone!"

A few days later, when I was playing on the roadside, I saw mother walking by to the bus stop. This time she was really leaving. In order not to attract my attention, she quickened her step. Even so, I managed to see her. I ran to her and grasped her hand tightly. Seeing me not letting my mother go, grandma came and pulled me away. When I saw mama start to board, my heart sank. I used all of my strength to struggle away from grandma's arms, ran to the bus and pulled at my mom's clothes. In the meantime, uncle rushed in and separated me from my mother. I became desperate and started kicking aimlessly. By the time my uncle let go of me, the bus had already departed. Thinking about nothing but getting my mother back, I chased after the bus…. Unfortunately, the bus became smaller and finally disappeared. I slumped onto the road, cried, and cried…On my way home, the sky was grey. It was like the sky was feeling sorry for me too. I was so angry that when I saw a frog happily hopping down the road I gave it a big kick. I hated anything in sight.[20]
Communication between parents and children left behind is basically through the telephone. A survey in Beijing found that about 80 percent of children talked with their parents on the phone once every two weeks.[21] The Agricultural University's study found that 30 percent of left-behind children contacted their parents only once a month. Half of them talked for less than three minutes each call.[22]
A middle school student in Shandong wrote about how much he wanted to talk to his parents.[23]
Papa, mama,

You are not with me now. Every time you go, you stay away for at least half a year. I miss you so much. Whenever I dream about you, I cry. When grandpa hears me crying, he says your hearts are cold. But I know you are working hard in other places for me.

One day, I passed the kiosk in my primary school, I saw a sign that read "public phone," I wished I could call you, but I did not have your telephone number. All I could do was look at the phone while crying.

Papa, mama, I am writing to ask for your telephone number. I will be as happy if you just give me a public telephone number where I can reach you. I could call you at an arranged time. The number of the public phone in my school's kiosk is 7254897. I hope you can call me when you receive this letter. If I know your number, I can call you too. I long to hear your voices every day!

But this letter will not be sent because I don't know where you are….
Children left behind with no adult care or supervision have to cope by themselves. The Wall Street Journal interviewed one such child, 16 year-old Zhao Yan, who had lived on her own in rural Anhui for two years. Her mother died when she was a little girl, and, when she was old enough to cook for herself, her father moved to Shanghai to look for work. "I miss my dad a lot," she said.
On most days, Zhao Yan wakes early, then takes a 30-minute bicycle ride to school. She returns to an empty home to cook for herself. Her dogs run out to the road at the sound of her voice when she gets close to her small brick house. They sit by her as she begins her daily ritual of lighting a fire in the large brick oven she uses to cook.

An elderly woman who lives next door occasionally visits, and sometimes Zhao Yan has friends over. But the dogs and a borrowed black-and-white television are often her only companions. The middle-school student does her homework by the glow of the screen and listens to music videos in the unheated house.

"There isn't much to do when my father isn't here," she says...

Zhao Yan's father leaves about US$100 for her each time he goes to the city, usually for two to three months at a time. She uses the money to buy groceries -- mostly vegetables, because she waits for her father to return to eat meat, which is more expensive. Without her father around, Zhao Yan says she sometimes skips meals. She prefers to cook for him during the Lunar New Year and harvest seasons when he returns home for a few weeks.[24]
Necessity makes left-behind children more self-reliant. In a survey of 3,086 left-behind children in primary and middle schools in Yunfu city, Guangdong, about half the respondents said that when they encountered problems, they tended to solve them on their own, less than one third would go to their parents, only five percent would talk to teachers.[25]
Insecurity, anxiety and fear
Separation from parents causes some form of mental distress for the majority of left-behind children. She Mao, a professor at Central South University, conducted a field survey in Hunan, Anhui and other provinces and concluded: "Very few left-behind children are healthy and lively…less than 20 percent." On the contrary, he said: "Deprived of love, more than 60 percent of children manifested mild to moderate psychological disorders." Professor She recalled a 10-year old girl he had met in a hilly village in Hunan province. According to her grandparents; "On the day her parent left, she cried for the whole day. Since then, however, no one has seen her shed a single tear, and no has heard her utter a word." When strangers came to her home, she would hide underneath her bed, like a frightened kitten. She had slashed her wrist many times. On one occasion, her teacher found a letter she had written: "I think, if I hurt my hands, my mother will come home. My mother came home the last time my hand was injured. She also brought me a lot of food. So, I must get hurt often…But, when I saw mother, I couldn't say a word, I just couldn't. I really miss mom."[26]
In a survey in Sichuan, the province with the highest number of left-behind children, 60 percent of children said their relatives did not treat them as well as their parents. 75 percent of left-behind children wanted their parents to come home as soon as possible, and 60 percent did not want their parents to work in the cities.[27]
Relatives entrusted with the care of left-behind children often find it difficult to provide the emotional and psychological support growing children need. Most guardians regard the personal safety of the child as their most important task, followed by academic achievement and provision of material needs.[28][29] The Sichuan survey found that 80 percent of grandparents found it difficult to satisfy the psychological needs of their grandchildren; 15 percent said they did not care about such needs at all.[30]  Another survey by Zhejiang University found that 68 percent of guardians seldom found time to talk with their charges. Only 11.3 percent of left-behind children talked to a guardian when they had emotional difficulties.[31]
When the need for parental care is not satisfied over an extended period, children begin to suppress their needs. A survey by the Central South Social Development Research Center found that 43 percent of parents said their children gradually became less attached.[32] Some children try to fill the void with anything close to them. Missing his mother, an eight-year old boy in Guizhou pondered if he might marry his lamb when he grew up. "I used to miss my parents, but not anymore… there is no point missing them," he said. For this little boy, his lamb had replaced the love his mother had once given him.[33]  According to a report by the Hunan Provincial Youth League, 9.3 percent of children did not miss their parents at all.[34] "Ever since birth, they have been cared for by their grandparents. Some don't even remember what their parents look like. For some left-behind children, the concept of parents is merely symbolic, not a genuinely emotional concept," said the head of the Hunan Youth League.[35]

After their parents left, many children became quieter and more withdrawn, keeping unhappiness to themselves and loosing the motivation to study.[36][37] In a seminar on left-behind children, 90 percent of those interviewed said they experienced some psychological changes after their parents left. Most girls claimed that they became more depressed and fearful, and boys found themselves more irritated and anxious. The remaining 10 percent did not respond.[38] Most psychological studies found that left-behind children were more likely than other rural children to feel depressed, emotional, anxious, fearful, become easily irritated and intransigent, and have a lower self-esteem.[39][40][41][42]
Knowing that their parents were working hard in a faraway place without family support, 90 percent of children worried about the health of their parents, and more than half were worried about their own safety.[43] This phenomenon is now so widespread, the Chinese media refers to it as "left-behind syndrome."[44]
Although there is no academic research directly on the prevalence of suicidal behavior among left-behind children, anecdotal evidence suggests it is a worrying problem. For example, a pair of cousins, aged nine and 13, drowned themselves in a river after being accused of stealing from a neighborhood store. They tried to contact their parents for support, but failed to reach them. In their suicide letter, they complained about living apart from their parents. Consequently, the whole family was overwhelmed with sadness and their grandmother succumbed to illness.[45]
In another incident, Zhang, a 12 year-old boy from Anhui, hanged himself in a shed near the clan hall after the Spring Festival in 2008. Zhang's father left home to work in a tobacco factory when Zhang was a toddler. And after Zhang's mother joined his father four years ago, leaving Zhang in the care of his grandfather and aunt, he became increasingly sullen and quiet. Nobody knew why Zhang committed suicide, but on the eighth day of the Chinese New Year, he told his mother that if she did not come home in two months, she would never see him again. He couldn't wait for the deadline.[46]

Research has shown that school students in China who were ridiculed or bullied were more likely to contemplate suicide. A survey of 1,576 secondary students (predominately aged between 13 and 17) in the coastal province of Zhejiang, found about nine percent of students claimed to have attempted suicide (seven percent of the boys and 11 percent of the girls), compared with only 2.1 percent for boys and 5.1 percent for girls in the United States. Females living in rural areas with a poor academic record, low household income, low parental education, and living with only one or no parents (characteristics typical of left-behind children) were more likely to feel depressed.[47] Another study found that 17 percent of junior and senior secondary students had thought about suicide just in the month prior to the survey. A significantly higher prevalence was found among children who had negative self-esteem, higher passivity scores, and poor familial relationships.[48]
Accidents and injuries
Home is often the safest place for children, but it can also be the most dangerous place if they are not properly supervised. Several studies have shown that left-behind children are significantly more vulnerable to accidents than other rural children. The most common injuries are animal bites, falls, vehicular accidents, burning or scalding and cutting and piercing.[49]  In one migrant worker family in Guangdong, three sisters were each severely injured over a period of seven years. The elder sisters' legs were burnt during a fire, the second sister was badly scalded while helping her grandmother handle boiling water, and the youngest sister suffered terrible burns on her face when she was boiling water at home. After her injury, the youngest daughter did not leave the house and was referred to by villagers as the "ghost child." In another tragedy in Chongqing, a child suffocated to death in a trunk whilst playing hide-and-seek with his cousin.[50]
During natural disasters, left-behind children are particularly vulnerable, at the same time their inner-strength and determination can make them into heroes. On the night of 31 May 2005, 12 children were swept away in a flashflood in Hunan; all but one was a left-behind child.[51]  On 12 May 2008, a huge earthquake devastated Sichuan, the largest exporter of migrant labour in China, leaving nearly 70,000 people dead and more than 370,000 injured. In the immediate aftermath, cut-off from the outside world, thousands of children were left alone to face their fate. Of the many tragic and heart-warming tales that emerged from that time, one touched the nation. Accompanied by his elderly grandparents, eleven year-old Zhang Jiwan carried his three-year old sister on his back through rubble and fallen rocks for 12 hours until they and their fellow villagers reached safety.[52]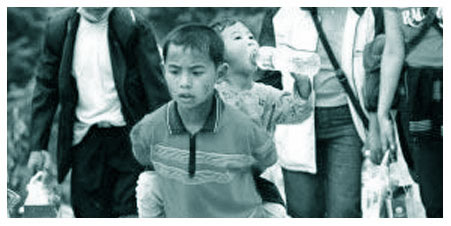 Zhang Jiwan carries his little sister out of the mountains.
Photograph by Southern Metropolis Daily journalist Yan Liang
Victims of crime
In a quite, peaceful town in eastern Sichuan, 14 year-old Fangfang has just had an abortion. A month earlier, her mother noticed a marked decline in her school grades. Fangfang looked pale and continually complained of fatigue. When her mother took her to hospital, they discovered that Fangfang was three months pregnant. Fangfang confessed that she had developed a sexual relationship with a 53 year-old teahouse owner, named Wang, known by the village children as Grandpa. Lying on her hospital bed, pale and weak, Fangfang told her story: In January this year [2006], a primary school girl named Honghong told me that Grandpa had some clothes in his shop for me to pick up. When I got to the teahouse, he dragged me to a hut behind his shop and raped me. He gave me 20 yuan and threatened me not to tell a soul.

According to the police investigation, Honghong had taken many of her friends, aged between nine and 15 years, to the culprit. On each occasion he gave the victims between 20 to 100 yuan. All the victims were left-behind children. In fact, Honghong was a victim herself. One day when she was idling in Wang's teahouse, Wang showed her pornography and seduced her. Like many left behind children, Honghong was taken care of by an elderly grandmother.[53]
In 2005, Southern Metropolis Daily reported that a 43 year-old serial sex offender, named Tang, had allegedly "bought" the virginity of 17 girls in a southwestern Henan city over a two year period from 2004. Tang had worked in the district tax office before starting his own business. In 2004, Tang "bought" the virginity of a 15-year old girl, named Xiao Tong, at a beauty parlor for 1,500 yuan. Xiao Tong then started to procure other young girls for him. Most of Tang's victims were early teenagers who did not have proper parental care or were left-behind children. The victims were usually lured by Xiao Tong or other girls to Tang's vehicle parked outside the victims' school or to a hotel outside town. He would either persuade or coerce the girls into having sex with him, but he seldom used force. Every time, he would provide a contraceptive pill and money to the victims.[54]
A survey on sexual violence in Zhechuan county, Henan province, showed that 34 percent of the 62 rapes in the county involved left-behind children. Most victims were aged between five and 12. Offenders were usually acquaintances or neighbours of the victims. 61 percent of offenders were older than 60, and 24 percent aged between 50 and 60. They usually enticed the girls with treats and told them not to tell anyone. Lu, a nine-year old girl, was raped by a neighbour when she was grazing her family's herd of cows. The offender gave her just 1.50 yuan and told her to keep quite. As extended family members usually do not pay enough attention to these girls, many victims were assaulted repeatedly over an extended period. For example, a ten-year old girl named Li was repeatedly raped by four different men from January 2005 to September 2006. She was given money each time, and only when her grandfather asked where she got the money, were the crimes were exposed.[55]
Girls left-behind are often vulnerable to sexual violence because they lack the awareness and ability to protect themselves from sexual predators. In addition, some girls agreed to have sex for the money and the feigned "love" the offenders offered. Many of these tragedies might have been prevented if they were living with their parents.
The Ministry of Public Security and the All China Women's Federation have both stated that migrant children and left-behind children have the highest risk of abduction, and both organizations have pledged to strengthen their protection of left-behind children from accidents and crime, especially from abduction, and sexual offences against young girls.[56][57]    The All China Women's Federation study showed that in addition to the abduction of babies and infants for couples desperate for a child, older children, women and even adult males have been abducted into criminal groups, the sex industry or as forced labourers.[58] Girls from Yunan and Guangxi have been sold to Thailand, Malaysia and other Southeast Asian countries as sex workers.[59]  There are no accurate statistics on the number of children being kidnapped but reports on child labour suggest the number may be substantial. An investigative report by Southern Metropolis Daily over the 2008 Spring Festival showed that 76 children from the mountainous Liangshan region of Sichuan, the youngest of whom was only seven years old, were cheated or abducted into forced labour in Dongguan.[60]  In another report, a kidnapper in Hunan claimed to "sell" more than 1,000 people a year, although the victims were not necessary left-behind children.[61]  See: From Shanxi to Dongguan, slave labour is still in business.
Asocial and criminal behaviour
The kid's parents are working in the city. I can do nothing even if the kid misbehaves – a grandmother.[62]
In a survey of left-behind children in 2006, only four percent said that their parents regularly talked to them about moral issues in telephone conversations.[63]  Without proper guardians and care, some children developed behavioral problems. As one school teacher explained:
There is a student in my class named Zhang Xiaofei (pseudonym). His parents run an apparel business in Zhengzhou and he lives with his grandparents. His parents come home from time to time but usually only stay for a very short period. Gradually, Zhang got addicted to internet games and showed no interest in school. And he is getting worse. During the last long weekend, he stayed in an illegal internet bar for two whole days and this drove his grandparents crazy.

Zhang's parents feel powerless... They cannot close down their business but neither can they let their son sink any deeper. They believe to the only way they can compensate for their absence is by providing him with more money. As Zhang's teacher, I am also very anxious. I have tried many things but achieved little.[64]
Lacking supervision and positive goals, some children turn to crime. Psychological studies have found that left-behind children had higher hostility scores than the norm.[65]  Some left-behind children blamed their parents for leaving them, or displaced their anger and shame on to others.[66][67]  According to two surveys by Public Security Bureaus in 2004, 80 percent of all cases of juvenile delinquency occurred in rural areas, and most of them involved left-behind children.[68]  Data from several police stations in Fujian showed that about 60 percent of children arrested for public disturbances, pick-pocketing, and theft were left-behind children.[69]  In 2006, 40 percent of the 1,708 detainees at the Hunan Provincial Juvenile Reform Centre were left-behind children.[70]  And according to the head of the research department of the Supreme Court, there has been on average a 13 percent annual increase in youth delinquency since 2000. Moreover, 70 percent of the juvenile delinquents were left-behind children.[71]
In March 2008, a 13-year old left-behind boy was arrested for raping two seven-year old girls in Fujian province. Not interested in studying, he had dropped out of school and was living with his uncle.[72]  In another case, a 15 year-old boy hacked an old lady to death in order to get money for internet games. In Zhejiang, the police arrested a criminal gang nicknamed "The Seven Wolves" which allegedly engaged in multiple kidnappings, rapes, and cases of theft and extortion. Six of the seven gang members were left-behind children. The oldest was only 16 years old.[73]
School studies suffer
 One major hope of migrant parents is to earn enough money to finance their children's education. Indeed, compared with other rural children, left-behind children are more likely to stay in school. According to a national survey, 80 percent of left-behind children aged between 15 and 17 remained in school compared with only 70 percent of all rural children.[74]  Left-behind children usually understand their parents' expectations.[75]  However, with little help, care and supervision, their academic performance is more likely to deteriorate after their parents leave home. According to a survey by the All-China Women's Federation in Qingdao, 45 percent of grandparents had never attended school, and 50 percent only had a primary education. They could hardly be expected to help their grandchildren with their academic school work.[76]  Zhou, the teenage girl interviewed by The Wall Street Journal, said that she used to enjoy her literature class but now found it difficult to keep up.[77]  Surveys in Henan[78]  and Sichuan found that over 80 percent of left-behind children were ranked average or below average in school tests. About half were rated poorly. Some teachers said that as well as doing badly at school, left-behind children were more likely to be disruptive in class and play truant. Some left-behind children countered that teachers did not care about them at all and that they were usually placed at the back of the class.[79]  In Fujian, a major exporter of labour, 29 percent of left-behind children were rated poorly in both in academic performance and discipline.[80]
Although some left-behind children believe studying hard is important, many others do not see the need to study. One survey found that half of the children interviewed wanted to earn big money when they grew up.[81]  More than half wanted to be a migrant worker or go into business after graduating middle school. But only one third of left-behind children saw studying as a path to achieve their goal.[82]  For most rural children, studying beyond middle school level is not a viable or attractive option. A researcher conducting a fieldtrip in Guizhou found slogans like "After graduating middle school, it is time to leave home for work;" "If you don't study hard, make up for it with hard work" and "You can't leave for the city until you have finished middle school" painted on walls everywhere he traveled in the countryside.
Left-behind children need to face more of life's adversities than ordinary children.  Without the care of their parents, some children have developed the ability to take care of themselves, work hard and study hard. However, many others have developed serious behavioral problems. And no matter how effectively these children learn to cope by themselves, extended periods of time away from their parents almost inevitably lead to pain and sorrow.
A song for children left behind
Read the original Chinese lyrics and listen to the song here


It has been so long since someone held my hand
So long since someone tousled my hair
My little hands are cold, my forehead is feverish
I miss you most when I am feeling ill

Papa, mama, I will be good
Papa, mama, don't tire yourselves

On the wall are the paintings of you
Under the pillow are the baby teeth I lost
When I feel wronged, the only one I can talk to is my cat
How many peach blossoms will bloom on the tree behind our house this year?

Oh, mama, I dreamt about your return home
Oh, papa, I dreamt about the touch of your beard
Papa, mama, I will keep my promise. I will work hard in school
Papa, mama, I won't let you down
Endnotes.

---