By Jennifer Cheung
The number of collective worker protests recorded by China Labour Bulletin in July increased by more than 40 percent over the previous month. Against the backdrop of a slowly rebounding but still uncertain Chinese economy, workers in different sectors demanded pay increases, the payment of wage arrears, as well as compensation for factory relocations and closures.
Of the 37 strikes and protests added to CLB's strike map in July, just about half (18 in total) occurred in the manufacturing sector and seven (all wage arrears cases) were in the construction sector. See chart.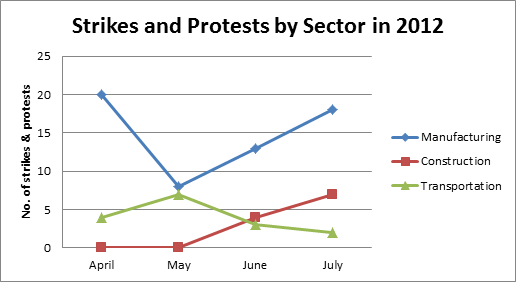 Although 15 provinces and municipalities have increased their minimum wage this year, and consumer price inflation is gradually falling, workers' demands for higher wages continue to be voiced through collective action. Workers in seven factories in Guangdong, Hubei, Hebei and Liaoning demanded pay increases, including around 1,000 workers at a Hong Kong-owned electronics factory in Foshan who successfully won a 200 yuan monthly bonus after staging a half-day strike. Workers pointed out that the monthly minimum wage in Foshan was only 1,100 yuan, compared with 1,500 yuan in nearby Shenzhen. Also, Hundreds of workers at Japanese-owned Hirose Electric blocked the factory gate while others staged a street demonstration in mid-July demanding a promised increase in their basic salary from 1,160 yuan to 1,300 yuan per month.
Wage arrears cases continued to be prominent in July despite some improvements in the property market and construction industry. Construction companies reportedly postponed or withdrew from projects due to a lack of financing or disputes with developers on project progress and material costs. Out of the seven wage arrears cases in the construction industry noted last month, five were related to state-owned construction companies. In particular, China Railways 15th Bureau Group was cited in two protests by workers at a train station construction project in Henan and a property development in Shaanxi.
The Chinese government made the malicious non-payment of wages a criminal offence last year but wage arrears remain rampant with only a small number of high-profile run-away bosses actually being charged so far. Indeed, there were three cases last month of small factory bosses in Guangdong and Shandong leaving town without paying workers' salaries for several months.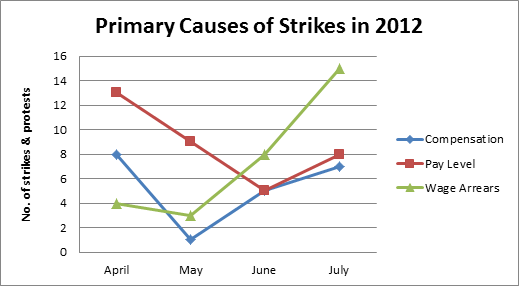 As manufacturers continue to relocate part or all of their operations to inland provinces, conflicts with workers who prefer to remain in the coastal regions have gradually escalated. For example, about 100 young women workers at a Shenzhen subsidiary of American conglomerate Amphenol producing flash memory card sockets and adapters, demanded compensation after the company began to relocate production.
In other sectors too there were sporadic protests in transportation, logistics and catering, mainly related to wage arrears and retirement payments. Nearly 38 percent of the worker protests last month led to negotiations with management, mostly after mediation or intervention by local government officials.