There have been at least 30 strikes and protests by teachers in China over the last three months, predominately over low pay, social security and wages in arrears. Most of the protests recorded on CLB's strike map occurred in smaller provincial cities and poorer inland areas of China. See map below.
Number of teachers' strikes (by province) from September to November 2014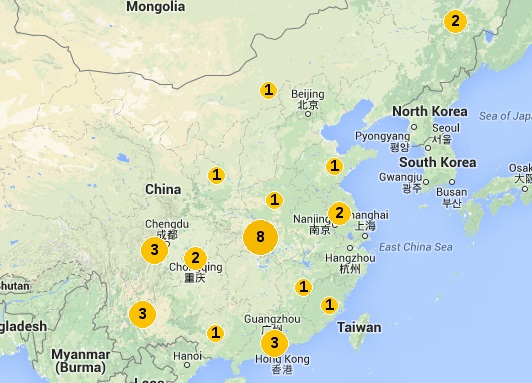 In one of the more high-profile protests in the north-eastern province of Heilongjiang, an estimated 20,000 teachers went out on strike last month in cities and districts around the capital Harbin complaining of low pay and pension irregularities.
One teacher in the town of Shuangcheng said that after teaching for 25 years, his monthly salary was just 2,498 yuan. By comparison, relatively junior teachers in major cities such as Guangzhou and Shanghai can earn around 6,000 yuan a month. The Shuangcheng teachers are demanding a pay increase, a living allowance, food and transport costs and an additional subsidy for class teachers.
One of most common complaints of teachers in smaller, less economically developed towns and cities concerns pension contributions. Teachers are supposed to be classified as civil servants and, as such, the local government is obliged to make all their pension and housing funding contributions for them. However, in many cases, it is either the school or the teachers themselves who actually end up paying for their own pension. The Global Times reported that all employees in Heilongjiang's public institutions had been required to pay their own pension contributions since a pilot project was introduced in 2004.
In another protest, in the small Hubei city of Xiaogan, around 70 secondary school teachers went out on strike in September after the local government announced plans to recruit new teachers. Many of the older teachers had been employed at Xiaogan's schools for more than ten years but had never been formally placed on the local government payroll and feared they would be replaced by younger staff.
Similar complaints were voiced by primary school teachers in Yulin, Shaanxi and secondary school teachers in Baotou, Inner Mongolia. The Baotou teachers had been working for four years without being placed on the government payroll and had a salary of just 2,000 yuan a month.
Another common cause of conflict in state-run schools has been attempts by local governments to introduce a performance-based pay system, as was the case when several dozen teachers staged a two day strike in the central city of Enshi on 7 October. Under most performance-based pay systems, a proportion of the teachers' basic salary (usually 30 percent) is deducted and only paid in full if performance targets are met. It is seen by many teachers as a means to get them to do more work for the same salary.
There were also strikes in several cities over low pay, wage arrears and abusive management in privately-run schools and kindergartens. For example, teachers at a privately-run primary school in Guangzhou went out on strike on 20 October after being forced to do excessive overtime.
In the past, teachers have often been reluctant to take strike action because of the impact it would have on their students. The increase in the number of teachers' strikes this semester clearly reflects the desperation felt by many teachers over stagnant wages and uncertainty about their pensions. Moreover, in many cases, teachers seem to have been emboldened by the actions of others in the same position and a realization that collective action can be effective.