Workers, company managers and customers at housekeeping chain store Sanding have staged numerous protests across China in the wake of the company's sudden closure this week.
CLB's Strike Map recorded six such protests in Zhengzhou, Wuhan, Beijing, Guangzhou, Shanghai and Tianjin, while Chinese media reports mentioned additional protests in Xi'an, Suzhou, Nanjing, Ningbo, Chengdu, Chongqing and Hangzhou.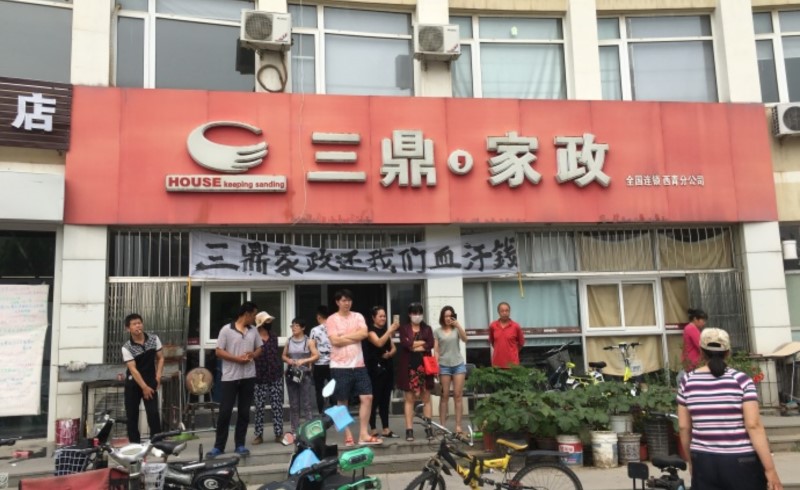 Protest outside a Sanding store in Tianjin
In the Guangzhou protest, police responded with beatings and arrests, which only generated more indignation among the protestors, many of who had already been cheated out of large sums of money.
In Zhengzhou, local media reported that dozens of cleaning workers and company managers had gathered at Sanding's local headquarters chanting "give us back our hard-earned money." The same message was seen on banners at protests in other locations.
The vast majority of Sanding's cleaning staff had no formal labour relationship with the company. They did not receive a monthly salary or any social insurance contributions and had to make a living off commissions. Workers said they only received 30 percent of the bill charged to customers.
"It's a guaranteed profit margin!" store manager Li Junyang told the local media.There was minimal actual investment, he said, and yet somehow the company still went bankrupt.
Customers started suspecting something was wrong as they booked services and cleaning staff never showed up at their doors. However, some cleaning staff, like Ms Song in Zhengzhou, still agreed to take old customer requests for cleaning services despite knowing very well that she would not be paid. "We can't be so unscrupulous," she said.
Other workers, like Mr Wang at Sanding's Wuhan branch, decided to take jobs directly from former Sanding customers, as they realised the company would never pay them for their work. Mr Wang told local media that he only received 1,000 yuan in April and that he was still owed 15,000 yuan in back pay, dating back to December 2017.
Managers at Sanding may have taken a bigger financial hit, in some cases up to 450,000 yuan, with the sudden closure. Apart from not being paid for months on end, many managers were tricked by the company into buying customer membership cards and topping them up with tens of thousands of yuan in order to make the company's financial position look better in preparation for a stock market listing. Sanding promised them stock options at preferential rates in exchange for topping up the dummy membership cards.
The joint collective action taken by Sanding customers and staff is similar to a recent wave of nationwide protests that occurred in May when two interior decoration companies suddenly went out of business, leaving homeowners, construction workers, suppliers and office staff in limbo.
And the collective action seems to be paying off. On 10 July, Sanding issued an official letter on its website explaining that the company had ceased operations and was going through a financial settlement, instructing customers, employees and suppliers to get in contact with their ID information and bank accounts via email.
"I haven't embezzled company money, I haven't gone on hiding," company owner Ren Fuqiang said on social media. Ren said he felt extremely sorry towards company staff for having let them down, adding that it is a debtor's duty to pay the debt.
It is unclear how much employees will be able to recover, but at least concerted collective action has again proved effective in forcing a response from the company. It is now up to the local government, trade unions and other institutions of redress to ensure that both workers and customers get what they are owed.