The CLB Strike Map recorded 608 incidents in quarter four of 2016 showing signs of worker organising spreading strongly into new economy related areas like logistics.
Transportation industry actions accounted for 11% of the worker actions in Q4. While equal in number to last year, Didi Chuxing car hailing service and express delivery drivers play a more prominent role. Ride app driver actions, like Didi and Yidao, more than doubled compared to Q4 2015, while logistics sector incidents, including truck drivers, couriers and package sorting hubs, tripled.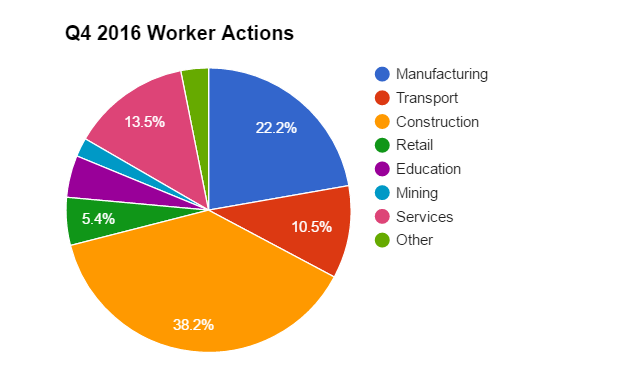 Retail worker actions, while still a small share of overall incidents, have risen steadily in recent years. Incidents in the retail sector this quarter doubled over figures from the previous year, totaling 33, according to the CLB Strike Map's findings.
Worker unrest remained strong in the service sector, the third highest sector this past quarter with 14% of the total. Workers at bars and restaurants, nurses and doctors, and other vital industries showed that even as China transitions away from manufacturing and toward a service-oriented economy, labour strikes and protests continue to occur.
Manufacturing accounted for 22% of labour actions in Q4, focused primarily in the Pearl and Yangtze river delta production hubs. While still the second largest category, manufacturing worker actions have experienced a slow decline as a share of total incidents recorded over time. Around 30% of manufacturing strikes and protests last quarter involved relocations and closures.
Major strikes at multinationals Danone, Sony and Coca Cola in November demonstrated strong solidarity among factory workers, as well as their willingness to bargain, and capacity for cross-factory coordination in the case of Coca Cola.
Construction remained the most prominent industry for worker unrest, with nearly 40% of the total. Worker actions picked up through the end of the year as the annual pre Lunar New Year surge in migrant worker protests began; 98% involved wage arrears. As opposed to manufacturing, construction worker actions were more broadly spread across China. Provinces with the most unrest in this sector were Shandong, Henan, Hebei, Guangxi, followed by Guangdong.
Teachers' unrest hit its highest point in two years with 15 actions in November; education stood at 5% of the total, spanning actions at primary schools to higher education, and included private tutoring companies and technical schools.
Mining actions accounted for only 2% of the total, and have been relatively small in number, but were generally focused in state-owned enterprises and involved layoffs and compensation, related to government capacity reduction efforts in these industries.