The Longmay Mining Group, the largest coal mining company in northeast China, will lay off 100,000 employees, about 40 percent of its current workforce, over the next three months, company chairman Wang Zhikui announced last week.
The Longmay Group has been badly hit by the slowdown in the coal industry over the last two years. Production costs in Longmay's mines are relatively high but coal prices have plummeted leading to a reported loss of six billion yuan last year despite a three billion yuan bailout from the Heilongjiang provincial government.
On 6 April this year, thousands of workers at Longmay's Qitaihe Mine went out on strike demanding payment of three month's wages in arrears. Two weeks later on 20 April, several hundred workers at a power company under Longmay went on strike after the company suddenly halted production. Soon afterwards Longmay announced plans to close another eight mines that were nearing the end of their production cycle.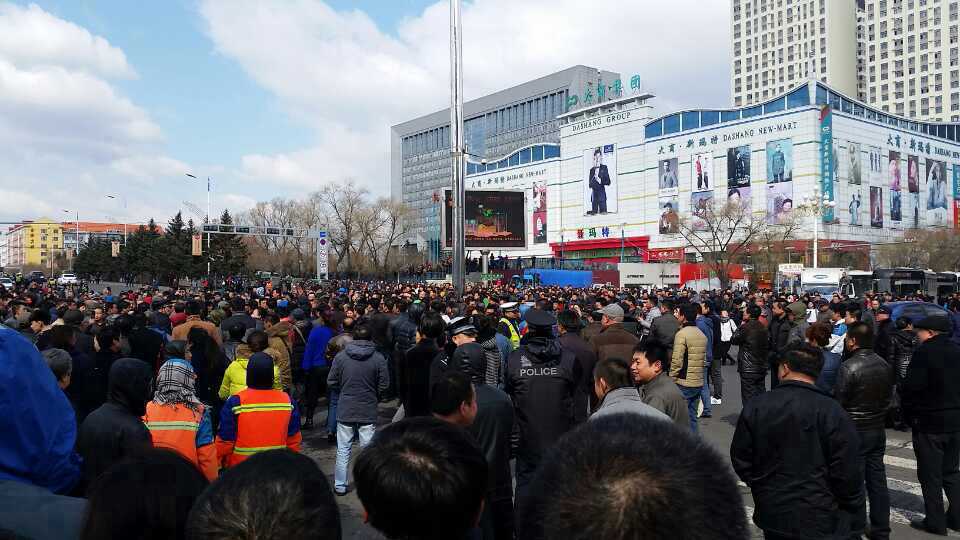 Several thousand workers at the Longmay Qitaihe Mine protest the non-payment of three month's wages
Longmay's problems are far from unique. The China National Coal Association reported on 23 January 2015 that more than 70 percent of China's coal companies were making a loss, and there is little indication that the situation has improved this year.
CLB's Strike Map has recorded 57 strikes and protests in the mining industry so far this year, nearly all of which have been related to low pay, the non-payment of wages and benefits, or mine closures. Just in the last week, there were three separate wage arrears protests by miners in Shanxi, Henan and Shaanxi.
Most of these protests involved a few hundred miners, suggesting that it is predominately smaller coal mining companies that are affected, but there were at least half a dozen protests involving thousands of workers, including a strike by 3,000 miners in Chongqing on 13 May protesting the mine's sudden closure.
The proposed layoffs in the Longmay group will certainly lead to more tension with the workers. The company claims it will manage the process through early retirements and re-employment programs but Longmay's track record suggests the workers themselves will be forced to accept whatever they are offered.
Following the massive explosion that killed 171 miners in Longmay's Dongfeng Mine in November 2005, local government and company officials forced the bereaved families to accept the compensation deal on the table as quickly as possible by threatening financial penalties for every day they did not.
See CLB's research report Bone and Blood: The Price of Coal in China for more details.