After completing a long shift at the electronics factory in Dongguan that he had been working at for three months, Liufu Zong went back to his dormitory to sleep. He never woke up. The official cause was "sudden death." Liufu Zong was just 14 years and 248 days-old.
On 31 May, the Southern Daily (南方日报) newspaper in Guangzhou published Liufu Zong's story and talked to his distraught father about the fateful decision a few years earlier for the teenager to drop out of school and support the family. It is a decision made by poor rural families every day in China but it is one Liufu Zong's father says he will forever regret.
The Southern Daily reported that the Dongguan authorities had taken measures to tackle the problem of child labour since a major scandal was uncovered by the same newspaper group in 2008. However, it said the basic conditions that give rise to child labour – rural poverty, poor schooling and demand for labour from unscrupulous employers – are still very much in place. Moreover policing the problem has been made more difficult in recent years by the increasing use of unregulated labour agencies that supply a constant stream of new workers to the city's factories.
To mark the International Labour Organization's World Day against Child Labour on 12 June this year, CLB has translated the Southern Daily article below. Please see the original article东莞猝死童工12岁开始打工 曾给家中寄回500元 here.  Editor's note: "Liufu" is a rare compound surname used in remote parts of south-western Guangdong.
Child worker in Dongguan started working age 12 dies after sending home 500 yuan
Liufu Zong started working at age 12. When he first arrived in Dongguan aged 14, he went to a labour agency which then sent him to a factory under a false identity. Soon afterwards, he sent 500 yuan home to his parents living in the countryside. This was by far the largest sum of money he had ever made for his family.
His father now says bitterly that this 500 yuan was the price for his son's life.
Liufu Zong had travelled to Dongguan three months earlier with a group of friends. Their first stop was the Wantong Labour Agency in Chang'an township. In order to get a job at the Dongguan Jinchuan Electronics factory, Liufu Zong used the identity card of Su Longda, who was born on 18 February 1995 and had just turned 18. A member of the factory's personnel department said the photograph on the ID card looked very much like Liufu Zong.
On 1 March this year, Liufu Zong started work on the assembly line as a product tester, making sure the circuits on the computer motherboard functioned properly.
"It is a very easy yet very boring job." Zhou Zeming (pseudonym) who worked on the same testing line said, "You just keep repeating the same motion for ten hours."
Every other day, Liufu Zong's father would call him at around 8 to 9.pm when Liufu Zong had just finished his overtime. During their brief conversation, his father would often ask, "Is the work exhausting?" and his son would usually answer, "Yes, very exhausting."
On 11 May, father and son talked on the phone for half an hour. Liufu Kuanyuan recalled that his son had complained of itchy rashes on his arms. The father asked with some concern, "There's no poisonous gas in your workplace is there?" He advised Liufu Zong to go to the hospital for a checkup but two days later, the rashes were gone.
Before his sudden death on 20 May, Liufu Zong did not display any real physical symptoms. Sichuan worker Qiu Li (pseudonym) said Liufu Zong had worked quietly on the production line as usual and nothing seemed wrong. When his shift was over, Qiu Li saw Liufu Zong leave the workshop just like any other day "in one piece."
Liufu Zong got back to Dormitory Room 618 around 10.pm and went straight to sleep in the upper bunk. Early the next morning, his roommates got up one by one and prepared for work. His roommate in the lower bunk noticed 'Su Longda' was still sleeping in the upper bunk and did not respond when called. He reached up to find his whole body was cold.
The medical workers who arrived afterwards confirmed that Liufu Zong had died suddenly at approximately 1.am.
Around noon on 21 May, while farming in the countryside of Huazhou, Liufu Kuanyuan got a phone call from a policeman from Chang'an township telling him that something had happened to someone called Su Longda and that he needed to go to Dongguan right away.
Liufu Kuanyuan was an honest and dutiful farmer who often associated one bad thing with another. Several days before this phone call, his wife's mobile phone was stolen, which was deemed a misfortune in this poor rural area. This call from the place where his son worked now enhanced his sense of misfortune.
Liufu Kuanyuan arrived in the unfamiliar city of Dongguan that afternoon to discover that Su Longda was in fact his own son Liufu Zong.
Dropping Out of School to Support His Family
Liufu Kuanyuan now deeply regrets having approved his son's decision to leave home for work. Back then, he only thought that because his son was very sensible at home it would not be a problem for him to work elsewhere.
The news that Liufu Zong died suddenly in a Dongguan factory quickly spread to the countryside of Huazhou hundreds of miles away. Fellow villagers and two younger brothers of Liufu Zong saw the scenes on television of Liufu Kuanyuan and his wife crying in despair at the gate of Jinchuan Co. The two brothers were struck dumb.
Nobody in the village dared to break the news to Liufu Zong's 90-year-old grandfather. As the eldest grandson of the Liufu family, Liufu Zong was always his grandfather's pride and joy.
Liufu Zong's family lives in the impoverished village of Fujianpo. There are no more than 300 inhabitants and the Liufu family is among the poorest. There are six people in the family with three mu of infertile land and three tiled houses. The grandfather and three grandchildren squeezed into a nine square-metre house where several bricks were laid on the ground with a big plank on the top, which made up the bed for Liufu Zong and his two step-brothers. Liufu Zong's biological mother was from another province. She left the village for good and abandoned the family after giving birth to Liufu Zong.
Liufu Kuanyuan raised the boy until he was two-years-old, and then married a woman named Liang Yan from the same village, who treated the boy as her own with even more affection than she showed for her own sons. Liufu Kuanyuan said that when Liang Yan bought new clothes for the three sons, she wouldn't mind paying more for the oldest boy but she wasn't as generous with the two younger boys.
Growing up in such a family atmosphere, Liufu Zong seemed to be sensible and filial. By sixth grade, he offered to drop out of school and help his father make money to support the family and let his younger brothers go to school. So at the age of 12, Liufu Zong started to work with his father. In the farming season, they transplanted rice seedlings and in the off-season, they usually did odd jobs on construction sites where they carried bricks together, making 50 to 60 yuan per day.
One time, they earned more than 100 yuan. Liufu Kuanyuan was so happy that he bought a grey trench coat in town for his son. That was one of the only two 'decent' coats that Liufu Zong had. He later left home wearing that coat.
Liufu Kuanyuan remembers the last job Liufu Zong had done in his hometown. It was the Spring Festival this year when a family was building a house. Liufu Zong helped carry bricks at the rate of ten cents per brick. By the end of the day, he carried over 200 bricks and earned over 20 yuan. He kept two yuan as pocket money for himself and gave the rest to his father.
Before going to Dongguan, the farthest place from home that Liufu Zong had been to was the local town. But Liufu Zong had heard from a group of young migrant workers when they were back for the Spring Festival that you could earn a few thousand yuan a month in Dongguan – the equivalent of carrying tens of thousands of bricks. That is when he and a group of teenage friends decided Dongguan was the place to be in.
Liufu Zong left home on the 18th day of the first lunar month. That morning, after breakfast, Liufu Kuanyuan went out with his son. They walked down the alley in front of the house and soon reached the main road. Neither of them was very expressive and they barely talked all the way. Liufu Zong wore that grey trench coat and two sets of clothes in his backpack. He had 200 yuan in his pocket. He got on a bus to the town's bus station. While boarding the bus, Liufu Zong turned around and smiled. That was the last time Liufu Kuanyuan saw his son alive.
On the Assembly Line
Jinchuan Co. is a two-year-old Taiwan-funded enterprise located not far from the highway in Chang'an township with grey factory buildings and cheap fast food restaurants everywhere around.
Liufu Zong did not seem to have many friends in Jinchuan Co. Even his fellow workers next door only knew that there was a little guy living in Room 618, and that he barely visited or talked with people from other dormitory rooms. They said Liufu Zong would seldom hang out with fellow workers but he knew a girl from his production line well.
There were more than 800 employees at the factory. All the male workers lived in the dormitory outside the factory. And every morning they would walk for ten minutes to get to the factory gate and punch in before 8.am.
Liufu Zong worked in a big workshop with nearly 300 workers. The strict management there required that workers should keep their mobile phone in a special bag and only take it out after work. The experienced employees would stealthily answer their phone through the bag, but the 'new guy' Liufu Zong probably never even tried that. Liufu Kuanyuan's call history showed some of his calls to his son only lasted for one second because Liufu Zong rejected the calls while he was at work.
In the workshop, hundreds of workers sat by rows of assembly lines performing the same tasks continuously just like mechanical tools. They had only ten minutes' break during half a day's work. Lunch consisted of rice and vegetables and cost 3.5 yuan. Those who had money could spend a few more yuan on some meat.
After an hour's lunch break, the workers would go back to the assembly line at 1.pm and work until 5:10.pm when the regular shift ended. If they stopped work then they would earn 68 yuan a day or just over 1,000 yuan every month. As such, overtime was not only required by the factory, it was absolutely necessary if they were to earn a decent wage. Overtime work in this factory was normally two hours in the evening and ten hours at the weekend.
The overtime rate at the factory during weekdays was 11.29 yuan per hour, and it was raised to 14.94 yuan per hour at weekends. Liufu Zong who did not even graduate from primary school could not figure out his overtime pay correctly. In one of his phone conversations with his father, he tried hard to explain but could not really tell how much he would make for one month's work.
His basic salary was 1,300 yuan but he could earn nearly 3,000 yuan a month with overtime. Not long after his arrival in Dongguan, Liufu Zong used up all 200 yuan that he had brought with him, and had to borrow money until his first pay packet came at end of April. With this first paycheck, Liufu Zong sent 500 yuan back home to his family.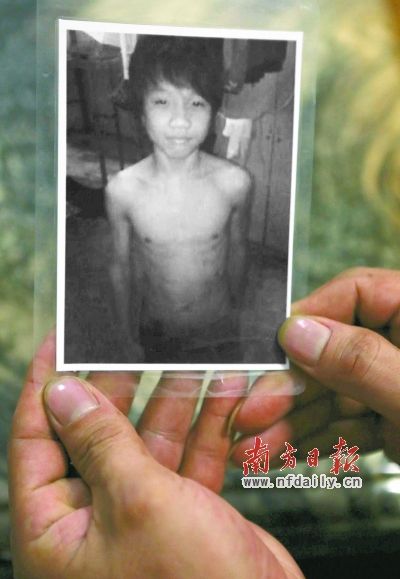 There is no record showing whether or not Liufu Zong applied for additional overtime work but even if he did not go to work, he would not have had many places to go to for entertainment anyway. There were a few recreational places and a number of convenience stores and fast food restaurants in the neighbourhood. After getting off work in the evening, some workers would play snooker at the cost of three yuan per hour, while others would gather in front of some convenience store and watch mindless TV dramas. At this hour, Liufu Zong would call his father and talk for a minute or two. His father always asked "Is the work exhausting?" and Liufu Zong would reply "Yes, very exhausting."
There is no direct evidence to show that Liufu Zong's sudden death was caused by exhaustion. However, Liufu Zong had always been healthy and his family believes his sudden death must be connected to the factory in some way.
Last month, Liufu Zong took a photo (above right) in his dormitory room and sent it to his father via his phone. That was one of the very few photos of him during his lifetime. Liufu Kuanyuan now has the photo printed and laminated. Liufu Zong was topless, with his mop of hair covering his forehead. He looked innocent with his usual smile. Liufu Kuanyuan said that was his son's favorite look.