By Jennifer Cheung
Nearly half the strikes and worker protests recorded by China Labour Bulletin in June ended up in some form of collective bargaining between management and workers, a sign that both labour and management are increasingly willing to use collective bargaining as a means of resolving labour disputes.
Of the 24 strikes recorded in June, ten led to collective bargaining, compared with only three such cases last month. For example, a strike on 14 June, involving around 1,000 production line workers at a Japanese-owned factory in Guangzhou demanding higher pay and better treatment by management etc. continued for three days until both sides entered into formal negotiations.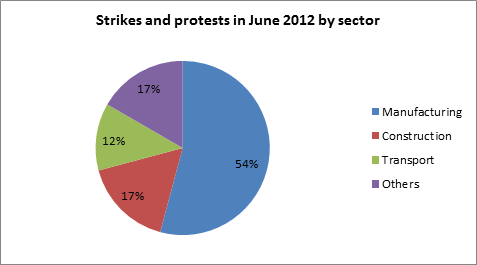 Manufacturing continued to be the most strike-prone sector in China, with 13 cases reported last month, see chart above. There were four protests in the construction sector, three of which were peacefully resolved through multi-lateral negotiations. And in the transport sector, there were two taxi strikes in Fujian and Jiangsu and one bus strike in Chongqing. Unfair competition from unlicensed taxis and oppressive regulations were the primary causes of these strikes.
Wage arrears overtook pay demands as the single biggest cause of strikes and protests in June, see chart below. There were eight wage arrears cases in total, four in construction and four in manufacturing. Many migrant workers still have to return to their hometowns in the summer to help with the harvest and often have to resort to protests or demonstrations in order to get their back pay before they can leave.
Other causes of strikes included demands for proper compensation after factory relocations (three cases) and the severance of contracts (two cases). Workers in Qingdao, Xi'an and Guangdong protested management corruption or embezzlement during privatizations or mergers and demanded proper compensation for being laid-off.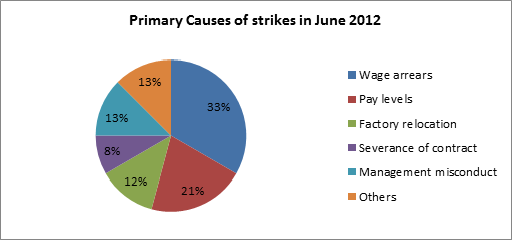 Although going on strike remains the most commonly used means of protest by workers, CLB also documented 12 examples of workers blocking roads or factory gates, and staging mass petitions, marches or sit-ins in front of government buildings. In most cases these tactics were used by construction workers, retired workers or retired soldiers.
In terms of the authorities' response to these protests; police were dispatched in ten cases and the labour bureau intervened or mediated in nine cases. Several workers were detained in Guangdong, Xiamen, Qingdao and Chengdu for disrupting social order during their strikes, protests or road blockages.
The strikes and protests in June were concentrated, as usual, in the Pearl River Delta, with nearly half of all the strikes occurring in Guangdong, while Fujian, Zhejiang and Henan each recorded two or three strikes and protests during the month.