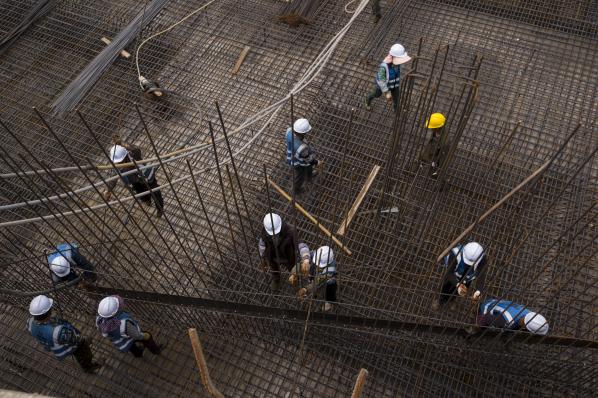 On 24 April, the courts in Fengcheng, Jiangxi, sentenced 28 enterprise managers and officials to prison terms of up to 18 years for their role in one of China's biggest construction site accidents in recent years.
At least 73 workers were killed and two injured when a platform at a cooling tower construction site collapsed on 24 November 2016. The direct economic cost of the accident was estimated at 102 million yuan.
The court found that the accident had been caused by the decision of the main contractor and its partners to speed up construction work without going through the necessary safety procedures. The official in charge of construction work, Deng Yongchao, was found guilty of corruption, bribery, and the abuse of power by a state-owned enterprise. He was sentenced to 18 years imprisonment and fined 2.2 million yuan.
The trial made headline news in China and was portrayed by some observers as an indication of China's determination to improve work safety and prevent future large-scale accidents. 
On the same day as the Fengcheng sentences were announced however, seven construction workers were injured when an elevator at a construction site in Chaozhou, Guangdong, plunged to the ground.
In the following days, there were numerous other accidents, not just at construction sites but in a wide range of industries across the whole of China. Many of these incidents were recorded on CLB's Work Accident Map.
On 25 April, a balance arm broke off and fell from a tower crane at a construction site in Xuzhou, Jiangsu. Thankfully there were no casualties. The following day, an excavator driver was buried in a landslide at a rural construction site in Sichuan. And on 29 April, there was another tower crane accident near Jining, Shandong, which led to one death and two injuries.
The safety record of tower cranes at construction sites in China is particularly worrying. Although each accident is different, one common trait seems to be the sub-contracting and leasing of tower cranes from private companies which often leads to cost-cutting and a lack of maintenance or obsolete cranes being used in poorer, less economically developed regions.
Working conditions for tower crane operators are so bad that they staged a series of protests over low pay and long working hours two years ago. However, there has been little improvement in conditions since then.
Apart from the construction industry, there were also major accidents last month in the transport and fisheries sectors. At least nine people were killed and eight injured on 13 April when an overloaded truck carrying cement pipes crashed on a long downhill section of a road outside of Fuzhou. Like tower crane operators, truck drivers are under immense work and financial pressure. Drivers are often forced to overload their vehicles in order to make a profit and pay back the loans on their trucks.
There were two shipping accidents last month, on 8 April off the coast of Guangdong and on 12 April in the Zhoushan fishing grounds off Zhejiang, which led to two deaths, seven workers injured and several others declared missing at sea. 
Clearly, there is still a long way to go in improving work safety in China, and the official trade union should be playing a more active role in this regard. In the coming months, CLB will conduct a detailed investigation into the role of the union in work safety so far and issue a report outlining the ways its performance could be improved.
In the meantime. Please see our research report from last year on Understanding and resolving the fundamental problems in China's construction industry. And don't forget to subscribe to our new Chinese-language newsletter, if you have not already done so.