China Labour Bulletin appears in the following article. Copyright remains with the original publisher
.
Safety drive closed thousands of mines and cut toll by 18% last year, state media reports

Tania Branigan in Beijing
Wednesday 20 January 2010 12.20 GMT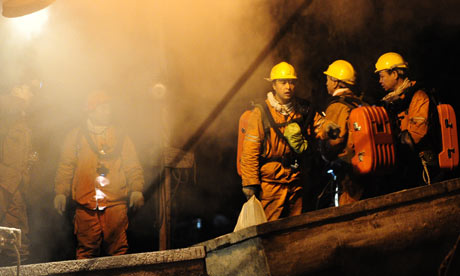 China cut mining deaths by almost a fifth last year, according to state media, despite a spate of disasters towards the end of the year.
The coal industry is one of the world's deadliest, but a government safety drive has closed thousands of mines and slashed the toll from 6,027 in 2004 to 2,631 in 2009 – still equivalent to more than seven a day.
The number was down 18% year on year, while incidents dropped 17%, to 1,616, according to official figures from the State Administration of Work Safety.
But there are concerns that production pressure is increasing at the mines that remain as the demand for energy grows.
China's coal output reached 2.95bn tonnes last year and Zhao Tiechui, deputy director of the watchdog and director of the State Administration of Coal Mine Safety, estimated it would rise to 3.1bn tonnes this year. He said more than 4,400 coal mines were expanding or about to increase capacity.
Geoff Crothall, of the Hong Kong-based China Labour Bulletin, said he had expected the number of deaths to be higher, or at least the same, as the previous year.
"The media reported a lot of accidents," he said. "[But] a hell of a lot go unreported. The way the system works, it is simply not in a mine owner's interests to report one – it is much cheaper to pay off families and anyone else in the vicinity rather than risk being closed down."
Crothall added that the best way of improving safety would be "not forcing workers to continue to work underground when there is a known hazard".
China recently prosecuted 10 journalists and dozens of officials over the three-month cover up of a mining disaster that killed 35 people in northern Hebei province. But small incidents may never come to light.
The state safety watchdog has sought to cut deaths primarily by closing small, private – and in many cases illegal – mines or merging them with state-run ones.
Zhao said small pits produced only 35% of the country's coal but were responsible for almost 70% of deaths. The administration closed more than 1,000 last year.
State mines have also had major disasters. In November, 108 people died when gas exploded at a state-run mine in north-eastern Heilongjiang province