It is supposed to be getting easier for the children of migrant workers to take the national college entrance examination. Try telling that to 19-year-old Zhou Shasha.
Zhou, a third year student at the Huaqiang Vocational Technical School in Shenzhen, is about as "local" as people get in this booming southern city. She has lived here all her life, except for the first two years when her family still lived in their home town of Chongqing.
She does not speak Chongqing dialect but, as far as the local education authorities in Shenzhen are concerned, that is where she is from and that is where she will have to return to if she wants to take the national college entrance exam.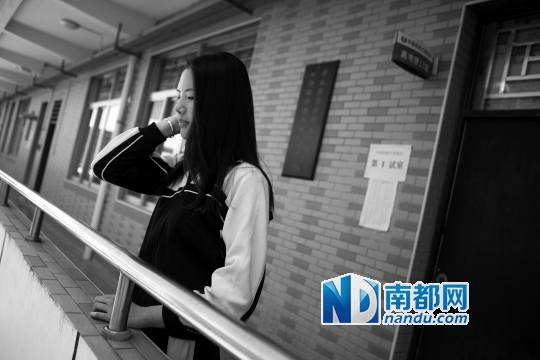 Photograph of Zhou Shasha. Copyright Southern Metropolis Daily
The Southern Metropolis Daily reported on 5 June how Zhou had applied under a new scheme for students who, like herself, had been through the Shenzhen school system all the way from kindergarten to high school but did not have a Shenzhen household registration (户籍), to take the exam in Shenzhen rather than their "home town." But Zhou's application was rejected simply because her father's social security payments in Shenzhen were three months short of the required 36 continuous months.
"Actually my father has always paid his social security in Shenzhen, the only problem is that there are gaps because of his job changes," she explained.
When the new scheme was introduced in December 2013, Zhou was initially very optimistic. She started to assemble all the documentation needed for an application: employment contracts for both parents, apartment rent contract, proof of social security payment, residential permits, etc. But, Zhou explained, it was not an easy process: "There were seven or eight certificates to get but because the policy had just come out neither the teachers nor my parents had a clue what to do, we went back and forth countless times."
In the end, it all came to nothing because of the social security payments. Zhou was upset at first but refused to be cowed by government pen-pushers. Zhou's teachers advised her to give up and start looking for a job but she kept going to class every day, preparing for the exam she had no right to sit.
Her mother supported her saying that it was always good to have a chance to "read more books. The more she studies the better," she said.  And Zhou herself remains resilient: "Everything is alright; I am already seeing it with a peaceful mind."
According to another Southern Metropolis Daily report, the Guangdong Education Authority received 354 similar applications from migrant worker families in February 2014, but only 166 were confirmed, including 80 from Shenzhen. The children of migrant workers in the province will in theory have full access to the national college entrance examination by 2016, but they and their parents will still need to meet as many as six requirements.
For more details on the extensive and deep-seated problems faced by the children of migrant workers in China, see our 2009 research report: Paying the Price for Economic Development.