By Jennifer Cheung
Just nine months after democratically electing a new trade union chairman, ten workers at Ohms Electronics in Shenzhen yesterday climbed on to the factory roof (see photo below) in protest at the company's refusal to sign an open-ended employment contract with them.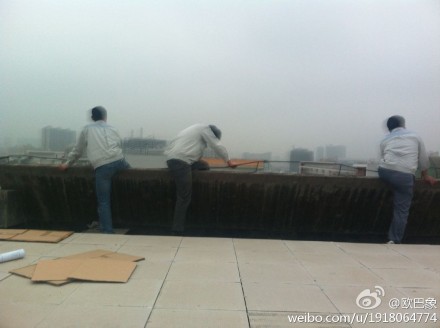 Photograph available on Sina Weibo
The dispute centred on Article 14 of the Labour Contract Law which states that an open-ended contract shall be concluded if, "prior to the renewal of the labour contract, a fixed-term labour contract has been concluded for two consecutive times." The Ohms workers were about to complete their second fixed-term contact with the company and fully expected to be offered an open-ended contract. However, the company refused saying the workers had earlier signed an agreement that effectively nullified their right to such a contract.
The frustrated workers then demanded to be paid double compensation for the termination of contracts, based on the assertion that the company had violated the provisions of Labour Contract Law.
"We want double compensation for our contract severance or to sign an open-ended contract," one of the roof-top protestors said.
When the newly-elected union chairman, Zhao Shaobo, went to the roof to talk to the workers, they ignored him, saying they did not believe he could help them. The workers eventually went to the local labour department for help but factory managers are reportedly still refusing to negotiate.
"If government can't make managers talk, what can unions do?" asked one worker.
The trade union elections at Ohms in May 2012, which were widely reported in the domestic Chinese media at the time, provided a great opportunity for a genuinely representative trade union to engage in bargaining with management. However, it seems the newly elected officials have thus far failed to grasp that opportunity, leaving at least some of the workers frustrated and angry.
The contract dispute highlights once again that while democratic elections are important, the most important task for the union is to sit down with management and attempt to resolve grievances and improve pay and working conditions for its members. If the union cannot adequately perform these basic duties, the workers will always seek alternative means for resolving their disputes and protecting their interests.