China's transport workers stage strikes in protest at fuel price hikes
Shanghai port truckers strike for higher pay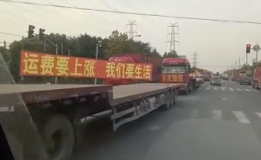 In mid-November, trucking companies in Shanghai notified drivers that fuel prices would rise significantly at the end of the month.  
The drivers responded by going out on strike on 28 November and demanding an increase in freight rates. Truckers drove their flatbeds through the streets draped with banners saying "we want to live! Increase freight rates!" Drivers were already feeling the pressure from steady increases in fuel prices during the year but the November price hike was the final straw.
The strike echoed much larger protests in the past such as the Shanghai port strike of 2011 and the Ningbo port protests of 2014, which involved around 10,000 drivers. 
Mobile crane operators organize across China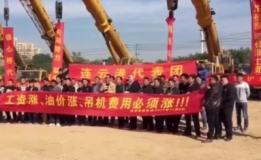 Mobile crane teams took to the streets on 16 November calling for an increase in their rates. Drivers hung banners from their cranes in demonstrations and gatherings in several cities, including Lianyungang, Nanjing, Hefei, Nanyang and Liaocheng.
Rising fuel costs was the major motivating factor for the crane operators who had been organizing for months in an effort to mitigate cutthroat competition in the industry. Crane teams regularly have to travel huge distances across China and as such diesel is a major cost burden.
The crane operators recognized that in order to secure their income amid the pressure of rising costs they would have to take collective action.