China Labour Bulletin is quoted in the following articles. Copyright remains with the original publisher.
The Observer: Workers in China grasp the power of the strike
Herald Scotland: A new generation of migrant workers are getting organised in a fight to improve low pay and poor conditions.
Workers in China grasp the power of the strike

Jonathan Watts
July 4, 2010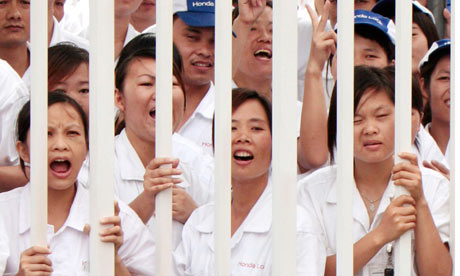 Zhang Liwen found out that she was about to go on strike over a breakfast of steamed buns and congee rice porridge at her factory dormitory. Fifteen minutes later, she was taking part in industrial action for the first time in her life.
"I was worried, but everyone was excited and determined," recalls the 21-year-old migrant worker at the Denso car parts plant in China's southern province of Guangdong. "We started our shift at the normal time, but instead of working we just walked around and around the workshop for eight hours. The managers asked us to return to our jobs, but nobody did."
The next day she and the rest of the 1,000-strong workforce repeated the demonstration at the Japanese-owned factory, which makes parts for Toyota and Honda. This time, the corporate union begged them to go back to work. Again they refused.
There was no chanting, no speeches, no violence. When the workers got tired, they sat down and chatted for a few minutes. Then they got up and carried on walking until the end of the shift, marked their time cards and went home.
Industrial action does not get much lower key than this, nor does it get much more significant. The Denso strike was reported across the world because it took place on the frontline between global labour and global capital: workers in the workshop of the world had downed tools – and won.
For almost three decades, the world's biggest corporations have outsourced an increasing share of their manufacturing operations to China, where they can benefit from cheap labour and lax regulation. In rich nations this has helped to keep consumer prices low and corporate profits high. In China it has meant workers having to endure a worsening environment, tough conditions and wage rises that have failed to keep pace with economic growth.
But Zhang (not her real name) was part of a recent wave of strikes to have hit foreign companies, prompting speculation of a readjustment. In the past two months workers have walked off production lines at three Honda plants, a Toyota supplier, a Hyundai factory in Beijing, a Taiwanese rubber products manufacturer in Shanghai and a Carlsberg brewery in Chongqing. The latest action, last week, was at a Japanese electronics firm, Tianjin Mitsumi, where workers crippled output with a sit-in, complaining they were being asked to work extra hours for no extra pay.
In almost every case the strikers have won at least a partial victory. Zhang and her colleagues at Denso went back to work last week after their Japanese bosses promised a rise in the monthly basic salary from 1,300 yuan (£125) to 1,700 yuan. In addition, they will get a bonus increase of 400 yuan per month.
Such successes have created a new cast of heroes for the global labour movement. Business analysts are warning that consumer prices might rise if the era of cheap Chinese goods is over.
The ruling Communist party – which has long since cast aside its revolutionary Marxist origins – faces a conundrum. Not wanting to stir up a Solidarity-like opposition, the prime minister, Wen Jiabao, has publicly called for improved working conditions. The People's Daily, the mouthpiece of the Chinese Communist party, has hailed a "tipping point" of relations between labour and capital. There are hopes that a newly aspirational class of migrant workers might drive the economy away from cheap labour and production, so that China could finally leave behind its reliance on low-cost, high-polluting manufacturing.
Yet, off-stage, the authorities are terrified of instability and a fall in foreign investment. The governor of Guangdong has been called in to brief the politburo. Domestic reporters have been ordered to play down their coverage of the strikes to minimise the risk of copycat actions.
Perhaps for this reason, the workers who have won pay rises in Guangdong are far from triumphant about their success. There is none of the assertive militancy that was seen at the Yorkshire collieries in the 1970s or the Gdansk shipyards in the 1980s. Nervous of repercussions and suspicious of potential management spies, many workers play down their actions. "We don't call it a strike. We just say we stopped work," said Zhang.
"Nobody tells us who is leading the strike, because if everyone knew then the management might find out and punish them," said another 22-year-old migrant worker. "Nobody told us there was going to be a strike until it happened."
Off the record, workers said there had been a secret meeting the day before the strike started on 21 June. Rather than leave a digital record that could be traced back to their computers or mobile phones, the organisers handed out leaflets stating their demands to the management: an 800-yuan pay rise, the right to choose their own union representatives and a guarantee that nobody would be punished for striking.
On the day of the strike, the organisers were so cautious about revealing themselves that the frustrated management encouraged the official union to organise a vote for representatives so that they had someone to negotiate with. It was not so much a Solidarity moment as a stealth movement.
The Pearl River delta contains one of the world's densest clusters of industrial estates. Many factories sit amid palm trees and vegetable fields ringed by broad roads and power lines. Workers' dormitories sit close by, easily identified by the workers' uniforms on the washing lines and the many pairs of trainers left to air by the windows.
The new communities are almost identical. The city of Foshan's "Car Assembly Town" is typical: a few broad low-rise factories, a thicket of six-storey dormitories, an internet cafe, a mobile phone shop, a bank and a small street of food kiosks selling noodles, fried rice, boiled eggs and spicy stew. Off-duty workers with dyed hair, jeans and trainers wander out from their new dormitory, carrying umbrellas in a rainy season squall that sets the palm trees blowing wildly.
The turnover of workers is spectacularly rapid. Few of the dozen or so employees at Denso in Foshan and Honda Lock in Zhongshan are older than 22. Many are in their teens. Most are women. Waiting in ragged lines for the factory buses to come to pick them up from their dormitories, they look like pupils on their way to school or teens queuing up for a rock concert.
It hardly seems a hotbed of class war. "I felt guilty leaving the production line. This has really hurt the company, and what hurts them will hurt us," was a typical response from one young worker. But they say rent, food and other living costs have risen faster than wages. After seeing Taiwan's Foxconn electronics group raise salaries by more than 60%, they pushed for similar benefits. The way they went about it suggests changes may be afoot, albeit slowly.
Almost all of the employees at the affected firms in Guangdong attended vocational schools, meaning they had a relatively high level of education compared with the average in Guangdong. During the Honda Lock dispute, they hired a legal consultant, Chang Kai, a lecturer at Renmin University, to help them with negotiations.
Thanks to school networks, mobile phones and internet bulletin boards, they are far better organised than the previous generation of migrant workers. Their expectations are also very different. While their parents were willing to "eat bitterness" so they could send money to their desperately poor rural families, many of today's young workers spend the bulk of their incomes on clothes and phones for themselves.
Demographics are on the side of labour. A bulge in the working-age population has started to thin, which is changing the balance between supply and demand. In recent years the flood of new migrants into Guangdong has slowed. According to labour rights campaigners, this is putting upward pressure on salaries.
"Labour shortages only existed because companies refused to offer decent wages. As soon as a halfway decent salary and reasonable benefits were offered, recruiters had no problem finding new hires," wrote Geoff Crothall in a blog for China Labour Bulletin.
Many workers are asking for independent collective representation. Unions in China are usually funded by companies, staffed by management and answerable to the Communist party. During an earlier strike at the Honda plant in Zhongshan, union representatives fought workers, injuring two of them. "The union is basically useless," said Zhou, one of the workers who had been on the strike. "It was wrong of them to beat us."
Given this background, labour activists predict more unrest. "I think there will be more and more strikes. Workers have started to be concerned about their rights as well as their incomes. They have begun to realise that their economic poverty is due to their political poverty," said Liu Kaiming at the Institute of Contemporary Observation.
Employers still have the upper hand in many firms. Many locals believe Japanese companies have been targeted because they treat their workers better than most factories in Guangdong. Local academics and journalists say the pay and conditions at Honda and Toyota are better than average in the province.
"I don't know why the Honda workers went on strike, because their salaries and conditions are better than ours," said Chen Jian, a 24-year-old employee of the Yongtai Plastic factory, which is only a few miles from the Japanese firm. "We are not satisfied but we will not go on strike. Some workers tried that last year and they were all fired. That is normal."
Additional reporting by Cui Zheng
A new generation of migrant workers are getting organised in a fight to improve low pay and poor conditions.

Bill Allen
Beijing
July 4 2010
He Zongjun earns 1 mao (1p) for each of the 1000 vuvuzelas he moulds on a 12-hour night shift at the Jiying Plastic Products factory near Shanghai. His boss Wu Yijun stopped production of vuvuzelas in April but resumed last month to meet an unexpected surge in global orders for the popular droning trumpets being heard throughout the World Cup football matches in South Africa.
"I don't watch the World Cup. I need to sleep after working a whole night," he told the Chinese government's Xinhua news agency.
The migrant worker from the southwestern province of Yunnan, one of China's poorest regions, earns up to 3000 yuan (£300) a month, based on the piecework rate given by the agency. The long hours and tough conditions mean he earns up to three times the wages of many Chinese labourers.
The company sold about one million of the estimated 50 million vuvuzelas exported this year from China, which accounts for 90% of the global total, Wu said. But he said it was still struggling to recruit more staff to add to the 40 working on the new orders, despite raising the piecework rate by 25%.
Analysts say a highly publicised series of recent strikes among Chinese factory workers have raised expectations in a labour market where some regions are already short of skilled workers.
Nearly 2000 workers walked out in late May at the Honda Auto Parts plant in the southern city of Foshan, Guangdong province, the region at the heart of China's manufacturing boom over the past 30 years. The two-week strike paralysed Honda car production in China and resulted in the workers getting a 25% pay rise to a standard rate of 2000 yuan (£200) per month.
In the past three months, strikes have also hit another Honda supplier in Foshan, a Hyundai plant in Beijing, a Toyota factory in Guangdong, a rubber plant in the northern city of Tianjin, and a large cotton mill in central China's Pindingshan city. This week hundreds of staff stopped work at the Mitsumi Electric plant in Tianjin, demanding a big increase on the 1500 yuan (£150) a month they can earn for a 70-hour, six-day week.
"Strikes may happen in virtually every corner of China, particularly in the more developed parts," said Chang-Hee Lee, an industrial relations expert with the International Labour Organisation in Beijing.
"Our research indicates that most strikes involve between a few hundred and a few thousand workers," said Geoffrey Crothall of the Hong Kong-based China Labour Bulletin. "Anything bigger than that, it tends to be more difficult to organise everybody. Anything smaller than that, the boss is in a more advantageous position to disrupt things," Crothall said.
The use of security guards or hired thugs to break up smaller strikes or workers' protests is "not uncommon", he said. "You're more likely to see that kind of violent incident – the boss hiring thugs to break up a strike – than, certainly, workers initiating violence."
He said the ruling Communist Party usually takes a hands-off approach to the strikes and local authorities "just keep a watch" because most strikes are seen as "purely economic" conflicts that do not challenge the government. Although the party controls all news outlets, state media ran the first reports on most of the recent strikes, a sign that the government does not see the strikes as a challenge to its authority.
China Labour Bulletin was set up to support Chinese workers by Han Dongfang, the exiled former leader of an independent trade union in China's 1989 democracy movement.
In an interview to mark the 20th anniversary of the 1989 protests, which ended after a brutal military crackdown, Han said he saw a small sign of progress in the greater tolerance of the government towards technically illegal industrial action. Some striking workers are sacked but few are arrested by local police anymore, he said.
Lee says a new phase of industrial relations in China began with public consultations on an employment contract law introduced in 2008.
"It was a hugely controversial process because it created a lot of debate … pro-worker, pro-capital debate," he said. "So through this process workers became aware that there was going to be a new law that would provide much better protection of their labour rights."
The benefits of the law for protecting employment rights were especially clear to younger members of China's pool of more than 200 million migrant workers, Lee said.
"The young migrant workers are, generally speaking, better educated than their parents' generation so they're more likely to know their rights," he said. "And the second factor is that they're different from their parents' generation, who had a dream of going back to their home villages with a lot of money made in the city. The young-generation workers dream of a better life in the city. But the reality they face is very different from what they dream of, and that gap between the dream and the reality pushed them to take action."
The recent strikes followed news of 13 separate suicide attempts this year at a vast Foxconn electronics plant in the southern manufacturing hub of Shenzhen, which borders Hong Kong. A total of 10 of the young Foxconn workers died, provoking a debate about how much the highly regimented conditions for the 300,000 workers at the Taiwan-owned plant, which has customers such as Apple and Dell, were to blame.
The Foxconn suicides and the strikes were "unrelated incidents but the causes were similar … low pay, long working hours, absence of channels to redress their grievances, and trade union branches that exist only in name", said Anita Chan, a researcher on labour in China at the University of ­Technology in Sydney.
The Honda workers were "well organised, strategic and assertive", Chan said in a commentary in the official China Daily newspaper. "The All China Federation of Trade Unions (ACFTU) has realised that the Honda strike is a different form of labour protest, not least because it goes to the heart of a problem: what is the union's legitimate role."
ACFTU was originally "perceived as part of the state", like trade unions in other socialist states, but has found it difficult to "adapt to the environment of market-based employment legislation", Lee said.
"Often union leadership at the enterprise level is under heavy influence of employers or even composed of senior managers of the enterprise."
The striking Honda Auto Parts workers elected their own representatives and condemned the plant's ACFTU-affiliated union officials for scuffling with some of the strikers and issuing a public apology for the strike.
"Our struggle for rights is not a struggle to protect the mere interests of 1800 workers. We are concerned with the rights and interests of the workers in the whole country," the Honda workers said in a statement.
A letter of support for the Honda and Foxconn workers has reopened the long-standing divisions among the 78 million members of the Communist Party between its pragmatic majority and the "old Left", loyal to its roots under Mao Zedong. Five retired officials and scholars issued an appeal drenched in Marxist rhetoric.
"For the past 30 years, China has relied on several hundred million cheap workers from rural areas to create this export-oriented 'world factory' and to bring about consistent, rapid growth in China's economy," they said.
"At the same time, workers' basic rights have long been neglected. From the Foxconn tragedy, we hear screams coming from the lives of new-generation migrant workers, warning the entire society to rethink this development model leveraged upon the sacrifice of people's basic dignity."
About one-quarter of Chinese ­workers have not had a pay rise in five years, despite double-digit economic growth and consumer-price inflation, according to an ACFTU survey, while China has one the world's largest income gaps between its tens of millions of super-rich and the rest of its 1.3 billion people.
The People's Daily, the party's official newspaper, carried an editorial last month saying: "The time has come to narrow the gulf between rich and poor, which is stifling consumer demand here." Premier Wen Jiabao weighed in with a call for the country to "treat young migrant workers as they would treat their own children".
"China has become one of the most unequal societies in terms of income distribution," Lee said. "The government is trying to redress income distribution issues by policy intervention. At the same time, it realises that workers' bargaining power is also crucial for rebalancing the distribution at the enterprise level."
But predictions of a workers' uprising or a flight of multinational manufacturers from China look premature in a nation whose leaders appear determined to do everything in their power to maintain Communist Party rule.
"The change should be welcomed," Ben Simpfendorfer, a Hong Kong-based China economist with the Royal Bank of Scotland, said of the rising wages. "Labour is too cheap in China and the rest of Asia, making it difficult to shift to a consumption-led growth model," Simpfendorfer said.
"I expect to see continuous improvement of working conditions and wages because China is developing so fast and also the workers are becoming increasingly capable of pushing for better wages and working conditions, either through collective action, like a strike, or through collective bargaining," Lee said. "But I don't think this new trend of strikes will unsettle the development of the labour market system in China. There may be a continuous number of strikes by workers in the auto sector, the electronics sector or whatever, but it is still not going to unsettle the entire labour relations system in China."
Crothall said that although labour activism is increasing, there are no signs of attempts to set up industry-wide independent trade unions.
Any such attempt would most likely lead to the arrest of the organisers, following the example of Liu Xiaobo, a dissident writer who co-organised the Charter '08 for democratic reform. In December Liu was sentenced to 11 years in prison for subversion.