China Labour Bulletin is quoted in the following articles and broadcasts. Copyright remains with the original publisher.
Global Post: China suicides: Is Apple headed for a consumer backlash?
The Guardian: Foxconn offers pay rises and suicide nets as fears grow over wave of deaths
ABC The World Today: Chinese factory working conditions in focus
Voice of America: Strikes, Suicides Sign of Growing Labor Tensions in China

DNA: Apple's No 1 but there's blood on your iPhone
China suicides: Is Apple headed for a consumer backlash?
By
Kathleen E. McLaughlin
- GlobalPost
Workers wait in line to seek help from the management outside a workers' care centre at a Foxconn factory in the township of Longhua in the southern Guangdong province, May 26, 2010. (Bobby Yip/Reuters)
BEIJING, China — As Apple released the iPad today across Europe and Japan, a key supplier in China continued fortifying factory buildings with anti-suicide nets and bracing against a growing tide of public criticism about working conditions after 10 apparent employee suicides this year — including one this week hours after the company chief visited.
While tentative calls have emerged in China for boycotts of Apple products and other items made by electronics giant Foxconn, what remains entirely unclear is the impact this will have on the electronics manufacturing industry at large. The massive Foxconn plant, possibly the largest factory in the world, has been under the microscope for years over poor working conditions. In the past six months, renewed concerns have hit other electronics suppliers as well.
More than 60 workers making Apple touch screens at a Taiwanese-owned factory in Suzhou suffered nerve damage from on-the-job exposure to an illegally used chemical, but the story was not widely reported outside of China. In an investigation last fall, GlobalPost found widespread abuse of worker rights and labor laws across the heavily fragmented consumer electronics supply chain.
Yet there is no indication that the recent spate of news about devastating working conditions for factory employees who make trendy gadgets has dampened consumer enthusiasm for those products. Labor groups have repeatedly called for reforms, but as yet, the situation hasn't changed.
Now, with an apparent suicide cluster well underway at a key Apple supplier, labor activists have begun to wonder if that tide might be about to turn in the same way it did for international apparel and shoe companies in the 1980s and 1990s.
"I think there is a tendency for consumers of iconic products like iPhones to stick their head in the sand when it comes abusive labor practices," said Geoffrey Crothall of the Hong Kong-based China Labour Bulletin. "Their iPhone reflects who they are, or rather the image of themselves they wish to present to the world, and they don't want that image tarnished."
"However, I think with the all the publicity that Foxconn is getting and Apple publicly stating it will investigate the problems there, the message might be starting to get through," he added.
On the Chinese web, censors have started deleting calls for Apple boycotts, but many keep emerging.
"After today, I won't buy Apple products anymore. They are covered in the blood of Foxconn workers," wrote a user called Beimo Xiaobing "I call for netizens to boycott these products and kick Foxconn out of China."
Even China's best-known blogger, heartthrob former racecar driver Han Han, joined the fray. On his blog, Han Han called low-wage factory workers "China's bargaining chip, hostages to GDP." (Read the English translation of his blog post.)
A tide of anti-Apple public opinion comes when the company is making a big push here in China for customers. But Apple's real consumer base lies in the United States and elsewhere, thousands of miles from the factories and workers who make electronic gadgets.
Ultimately, labor groups say, the responsibility for factory conditions lies in the hands of consumers who buy the products. Chinese factories have taken over the consumer electronics production industry not because of special know-how or technology, but because there is a huge supply of cheap labor.
The Hong Kong-based Students & Scholars Against Corporate Misbehavior (SACOM) today started a petition drive calling for a month-long consumer boycott of all Foxconn-made products, including fourth-generation iPhones.
Debby Chan, SACOM's project manager, said she realizes that many factors influence consumer decisions about what products to buy and changing minds will be challenging.
"SACOM can only show the reality of the working conditions of workers who produce the electronic products to the consumers through our investigations and reports," said Chan. "We believe that some customers will respond to our calls."
Apple did not respond to requests for comment.
The company told AFP on Thursday: "Apple is deeply committed to ensuring that conditions throughout our supply chain are safe and workers are treated with respect and dignity."
Foxconn offers pay rises and suicide nets as fears grow over wave of deaths
• Families look for motives for suicides at plant in China
• Labour activists point to harsh conditions in factory
Jonathan Watts. Longhua.
Friday 28 May 2010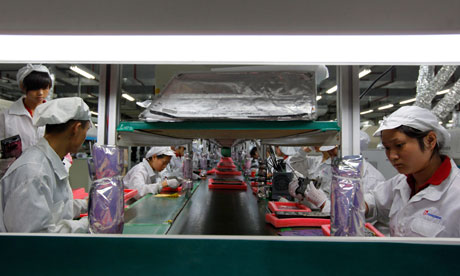 Construction workers began erecting anti-suicide nets today at an industrial plant in southern China that makes millions of the world's mobile phones and computers. Five-metre long steel poles were bolted into the walls below the roofs to support webbing that will eventually cover 1.5m square metres.
To stem an epidemic of workers leaping to their deaths, the Taiwanese electronics company Foxconn – which works with Apple, Dell and Sony – has also pledged to raise salaries by 20% and offered counselling to its 420,000 employees here.
Though far less well known than the brands it assembles, Foxconn is the world's biggest contract maker of IT goods, including iPhones and Motorola displays. Its mega-facility at Longhua, Guangdong province, so dominates the local economy that officials pay little heed to complaints by labour groups of secrecy, military discipline and low wages.
But a harsh new light has been cast on these problems in recent months by a spate of suicides and allegations of murder.
After the death of a worker in January, at least a dozen employees have jumped from buildings in and around the complex. The problem appears to be growing worse. There were two cases in March, three in April and six in May.
On Wednesday, the billionaire president of Foxconn, Terry Gou – Taiwan's richest man – said the problem was so bad that he had trouble sleeping because he feared the phone would ring with news of another death. Hours later that is exactly what happened. A day later, another worker reportedly slashed his wrists.
Psychologists note that suicides often come in clusters. Given its size, the rate of self-killing at Foxconn is not necessarily far from China's relatively high average. But the current outbreak has several disturbing characteristics.
The first death, that of Ma Xiangqian, occurred on 23 January and still remains shrouded in mystery. The battered body of the 19-year-old migrant from Henan was found outside a company building in the wake of a dispute with his manager.
Ma's family allege that he was murdered. After being forced to clean toilets for a week, they claim Ma was held by Foxconn guards for two days, beaten to death and his body thrown off a roof.
"There was a bruise on his arms and injuries on his wrist. Foxconn have never given us a proper explanation, nor even shown us where he is supposed to have jumped from," said his sister, Ma Hui. "He told me he was unhappy because of the manager, and he was planning to quit."
Foxconn rejects these allegations and police say there is no evidence of murder. Whatever the cause of Ma's death though, the damage to Foxconn's reputation was enormous. Perhaps for this reason, when a second employee plunged to his death in March, word quickly spread that the company had paid extra compensation to keep the family quiet. Foxconn has not confirmed this, but other cases followed.
The motives are unknown, but a statistical analysis suggests the difficulty of adjusting to a new city and new job may well have been a factor. The 12 known deaths since June were all of migrant employees in the 19-24 age range. Most of the eight men and four women were in their first job since leaving school. Half had been there for less than four months. Most leapt from Foxconn buildings.
Some employees blame the spirit-sapping work at the plant. "It's very tough," said Liu Jichang, a 19-year-old migrant from Guangxi province, who earns 2,000 yuan (£200) a month polishing the cases of Apple computers 10 hours a day, 6 days a week. "We are not allowed to talk while we are working. In any case, it is too noisy to have a conversation."
Heading to their crowded dormitory after a night shift, several workers said pressure and the frequent scolding by management might be factors. But opinion was divided. The majority said the pay and conditions were better than elsewhere in Guangdong.
Foxconn is proud of the fact that it provides a swimming pool and other facilities to its staff, as well as organising chess, calligraphy, mountain climbing and fishing. Labour activists, however, said few workers have time to indulge.
"It's certainly not the worst place to work in China, but it's far from being the best," said Geoff Crothall, of Hong Kong-based campaign group China Labour Bulletin. "They pay on time according to legal rates, but apart from that, it's the same old story of workers having to put in excessively long hours to make a living wage. At Foxconn, there is also a quasi-military style of management that seeks to isolate individual workers. They actively discourage social interaction."
Others believe that motives included not just misery and revenge, but also a grim pragmatism.
"Many people believe they did it for the money," said Li, a doctor at the clinic outside the factory gates. "The families of the victims have been promised more than 400,000 yuan. That's more than the workers could expect to earn over their entire lives so they might have thought that by jumping, they could solve all of their family's financial problems."
This may have been the case for Liang Chao – a 21-year-old migrant from Anhui province, who had been at Foxconn for six months before his body was found outside his dormitory. His family said they had no inkling he might be depressed. Liang appeared to be satisfied with his job as a line manager – a position recommended by his brother, also an employee. A few hours before his death, Liang called to say he was returning home from a night drinking with friends. He sounded normal.
His uncle, Wu Senyan said there was no suspicion of foul play. "We think it was suicide," he said. "But we cannot understand why he killed himself."
He added: "Foxconn have taken good care of us. According to the law we should get compensation of 10,000 yuan, but they have paid extra."
Though it is far from certain that the wave of suicides at Foxconn was economically motivated, the company's recent actions suggest they consider this a real possibility. Earlier this week, managers tried to make staff sign a declaration that the company would not be liable for extra compensation beyond the legal requirement. And this morning the firm raised the base salary by 20%, which labour activists say will keep it narrowly ahead or in line with a rise in the minimum wage. These two measures appear designed to persuade employees that they are worth more alive than dead, at least compared with the start of the week.
But even as suicide nets were being erected, newly arrived migrants from the countryside were queueing up outside the factory to apply for jobs.
"I've been waiting for three days," said Wu Zongying, 20, from Henan. "I really want a job here. It's better pay than the shoe factory where I used to work. I've heard about the suicides but I'm not worried. Nobody made those people jump. They were unhappy. They should have just left. I don't really understand it."
Chinese factory working conditions in focus
Timothy McDonald reported this story on Friday, May 28, 2010
SHANE MCLEOD: Amid plenty of fanfare the computer company Apple is launching its tablet computer the iPad in Australia today.

But while fans of the company's products are lining up labour activists are urging consumers to think carefully about where the devices are being made.

There have been 10 suicides and three attempts this year at the factory of a contractor that makes Apple products.

Two of those attempts have come after the company Foxconn opened the doors of its Shenzhen plant earlier this week in an attempt to prove that the workers there are treated well.

Timothy McDonald.

TIMOTHY MCDONALD: Foxconn's Shenzen complex isn't just a factory. It is almost a self-contained city. It employs hundreds of thousands of workers and makes products for Apple, Dell, Hewlett-Packard, Motorola and Nintendo among others.

Earlier this week the Taiwan based company threw open the doors of its southern China plant to journalists in an attempt to show that the plant treats its workers well.

Foxconn's chairman Terry Gou says the company is taking the suicides and attempts very seriously.

TERRY GOU (translated): Firstly I sincerely and seriously send my deepest apology to society, the public and all the employees and their families and relatives.

TIMOTHY MCDONALD: The families of some of those who took their own lives have called for thorough investigations into the deaths.

MAN (translated): There is no place to complain and nowhere to seek for help.

TIMOTHY MCDONALD: Terry Gou defended the company's record saying that given the size of the operation the suicide rate isn't unusual.

TERRY GOU (translated): I think that you should look closely into both the Chinese and the international rates and statistics. According to experts once a regional GDP per capita reaches $US3,000 a year then these incidents tend to happen. We have 540,000 employees in our company and according to experts the suicidal rate is within the normal range.

TIMOTHY MCDONALD: Since the factory was opened to journalists there have been more suicide attempts. Labour advocates say there is reason for concern.

Geoffrey Crothall works for the Hong Kong based organisation China Labor Bulletin.

GEOFFREY CROTHALL: There is something clearly very worrying happening at that plant.

TIMOTHY MCDONALD: Has that plant come to your attention before?

GEOFFREY CROTHALL: It's a very well known factory in southern China. It has been the centre of numerous investigations by labour rights groups over the years for its management style and the conditions that workers are employed under.

You know it's certainly not the worst place to work in China but the peculiar thing about Foxconn is that it has a very strict disciplinarian management style. You could almost call is quasi-military management style.

The workers there are put under a lot of pressure to work as quickly and efficiently as possible. They work excessively long hours. They are not allowed to talk to each other on the work floor. So you know it's a bit of a pressure cooker environment there.

TIMOTHY MCDONALD: It is a very large factory. We are not just talking about a factory. We are talking about a complex with hundreds of thousands of people. The chairman has actually suggested that the suicide rate, when you consider the size of the factory, actually isn't that high at all.

GEOFFREY CROTHALL: Yes and I think that is a fair point. But he is ignoring the fact that there are a lot of suicides in a very short period of time. And there clearly is something very worrying happening at that plant.

You have to ask yourself why are these young men and women choosing to commit suicide in this particular very public manner. I think it's fair to argue that there is an element of protest in these very public suicides.

TIMOTHY MCDONALD: Geoffrey Crothall says consumers should give careful consideration to where their products have come from when making purchases.

Apple says it is in direct contact with Foxconn's senior management and believes the company is taking the matter very seriously.

A team from Apple will independently evaluate the steps Foxconn takes to address the deaths.

Strikes, Suicides Sign of Growing Labor Tensions in China
Peter Simpson
Beijing  28 May 2010
Striking workers demanding better wages have shut down four Japanese-owned Honda Motors assembly plants in southern China.  The dispute comes as Honda sales recorded a 30 percent jump in sales in China in four months of this year, to 219,514 vehicles.
Company officials say they hope to resolve the dispute as soon as possible.

Strikes are rare in China, largely because laws are not clear about the right to strike for better working conditions or pay.

"Strikes are not illegal nor are they completely legal. There's no right to strike in the Chinese constitution," said Geoffrey Crothall, who is with the China Labour Bulletin in Hong Kong. "That was removed from the constitution in 1982 but it's not illegal to strike. It's a grey area.

But, he adds, unions are weak and are not independent, which helps make strikes rare.

"There's only one union, the government's All-China Federation of Unions, and every enterprise union has to be affiliated to it and they are heavily influenced by management. I can't think of one trade union branch in a factory in China that really whole heartedly represents the interest of workers," said Crothall.

In another sign of labor troubles, a worker at the world's largest electronics maker, Foxconn, attempted suicide Thursday, the third unsuccessful attempt this year. 10 workers at the factory in southern China have taken their own lives this year.
Crothall believes the suicides at Foxconn contrast greatly with the collective action of Honda workers.
He says this reveals the inconsistency in management skills in Chinese factories and is the result of the lax laws governing workers rights and unionism.

Foxconn, a Taiwan company, manufactures mobile phones and electronic equipment for top brands including Dell computers and Apple. Its employs more than 400,000 people at its plant in Shenzhen.

It has been criticized in the past for its military-style discipline, long hours and low pay.

The Chinese media has been reporting about the Honda strike and the Foxconn suicides, but is banned from reporting about labor action at domestically owned companies.
Apple's No 1 but there's blood on your iPhone
Venkatesan Vembu / DNA
Friday, May 28, 2010
Hong Kong: An epidemic of suicides, including three more unconfirmed deaths on Thursday, at a factory in southern China that assembles Apple iPhones and iPads, among other branded electronic goods, has reinforced the darkest stereotypes of Chinese sweatshops, and prompted a global campaign for a boycott of Made-in-China consumer electronics.
Reports and photographs of the latest alleged deaths — including a 'double suicide' — surfaced on Chinese web sites on Thursday, but were swiftly deleted by censors. If confirmed, they could take the number of suicides at Foxconn's sprawling factory in Shenzhen since January to 14. Two other workers survived suicide attempts.
Labour activists told DNA most of the dead were young migrant workers from rural China, who worked for up to 60 hours a week, for a pitiful minimum wage, at a "military-style" disciplinarian workplace in an unfriendly city without access to social benefits and no sense of community.
Most of them jumped to their death from their dormitories.
"Foxconn workers told us they had no avenues to channel their workplace stress," says Debby Chan, project officer at Students & Scholars Against Corporate Misbehaviour (Sacom), a non-profit organisation that campaigns for workers' rights. Free trade unions are disallowed in China, including at the factories of Foxconn, a Taiwanese-owned Fortune 500 company and the world's largest electronics manufacturer, which has factories in many countries, including India.
"On the production line, workers have to stand all day and complete a task every seven seconds, and cannot talk to one another," says Chan. "And in their spartan dormitories, which they share with 10-12 others, they don't have friends. They live in an atmosphere of alienation and isolation."
Working conditions at Foxconn may be drawing particular attention, but they are by no means unique to the company, says Geoffrey Crothall, communications director at
China Labour Bulletin
, an NGO that promotes Chinese workers' rights.
"The same factory system and the same problems can be found at companies across southern China and in the coastal areas."
In fact, Crothall reckons, similar suicides at other factories may be going unreported. "The reason why this Foxconn factory gets so much attention is, firstly, because it is connected to major international brands, including Apple." Additionally, he adds, the mainland Chinese media has been focussing on it because the company is Taiwanese-owned.
Taiwanese administrators' disrespect for mainland Chinese workers, and management strategies aimed at creation of only short-term jobs are critical reasons underlying the spate of suicides, according to Li Qiang, executive director at China Labour Watch.
Sacom is coordinating with global NGOs to observe June 8 as a "global day of remembrance" for the suicide victims at Foxconn and to urge consumers to boycott Apple iPhones, "which come with the bloodstains of economically exploited Chinese migrant workers".
Crothall sees the consumer boycott call as "a valuable attempt to raise global awareness of the events at Foxconn" but suggests an alternative approach.
"Apple should get actively involved in the problems of Foxconn, and if additional costs are to accrue from giving better wages to workers, Apple could pass them on to consumers — who then have the choice whether or not to buy the product."