A gas explosion at a Xinjiang coal mine on 5 July killed 17 miners, China's official media confirmed on Monday. It was the second major coal mine accident in Xinjiang in the last seven months.
The explosion occurred on Saturday morning at the Dahuangshan Yuxin Coal Mining Co. Ltd., No.1 Pit, located about 120 kilometres from the regional capital of Urumqi. Officials said 20 miners were underground at the time but that only three could be rescued.
The company was part of the Xinjiang Production and Construction Corps (新疆生产建设兵团), the paramilitary economic organization that dominates agricultural production and the extraction industries in the region.
On 13 December 2013, another gas explosion at an illegally-operated coal mine in Xinjiang killed 21 miners. The Baiyanggou coal mine, about 100 kilometres west of Urumqi, had been closed by the authorities in June 2013 for safety violations but had opened again before all the problems had been fixed, according to the State Administration of Work Safety (SAWS).
The majority of major coal mine accidents over the last two years have occurred in relatively remote and under-developed parts of China, away from the well-established and better regulated mining heartland of Shanxi and Inner Mongolia. The 28 major accidents (those involving ten or more deaths) recorded by SAWS since January 2012 were in fact spread over 14 different provinces and regions.
Only two major accidents were recorded in Shanxi and none in Inner Mongolia. The highest concentration of accidents during the last 30 months was in northeast China with three accidents in Heilongjiang, four in Jilin and one in Liaoning. See chart below.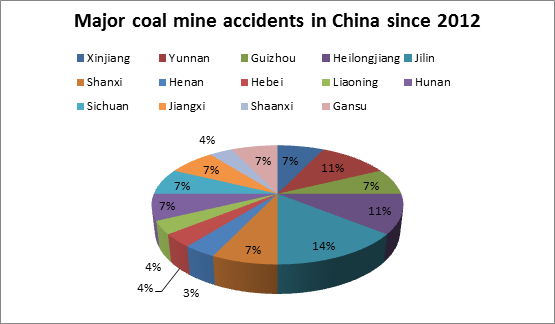 Accident and death rates in China's coal mines have fallen steadily since the mid-2000s. Last year, SAWS reported a total of 589 accidents and 1,049 deaths, both figures down 24 percent compared with 2012.